Gender biased matrimonial laws are being misused in the best possible innovative ways by numerous women. In a recent case reported from West Bengal, a young man was wrongly arrested under Section 498-A IPC and sent to jail for over a month.
However, it has now been proven that a false case had been registered against him by preparing a fake marriage certificate.
Case:
Niladri Dutta (28), a Madhyamgram resident, was arrested under Sections 498A and 307 (attempt to murder) of IPC for cruelty against his 'wife' in December 2022. However, after spending nearly 34-days in jail, Dutta was given bail.
Now, in an unbelievable turn of events, a woman named Bachendri Roy, a resident of Baguiati, has been nabbed from Salt Lake by Dum Dum police on Tuesday in connection with the same case. According to the police, Bachendri prepared a fake marriage certificate with Dutta and then lodged the false complaint against him.
Dutta and Roy are colleagues in an IT firm. According to the police officials, Roy had hatched the plot to put Dutta behind bars and teach him a lesson for breaking up with her. Dutta had earlier refused to marry Roy.
Mohammed Shami Divorce Case: Estranged Wife Hasin Jahan Moves Supreme Court Demanding Arrest Warrant Against Cricketer
Police Statement
Speaking with TOI, an officer said,
Investigation revealed the woman took another youth to a Dum Dum marriage registry office, who posed as Niladri Dutta, and submitted the copies of Dutta's ID, including Aadhaar and voter cards, which she had taken from the victim on the pretext of reference in a job-related issue.

When the marriage registrar had asked why Dutta looked different from the photographs in the ID cards, Roy had told him it was due to an a critical illness and convinced him that the man accompanying her and the one of the ID cards was the same person.
The woman then submitted the fake marriage certificate to the Madhyamgram police station, while lodging the false complaint.
Maintenance Scam By Married Woman, Two Lawyers: Men Who Never Met Applicant Were Being Sent Summons To Pay Up
Bankim Biswas, an officer of Dum Dum police station told TOI,
Investigation by a handwriting expert revealed that Dutta's signature on the marriage certificate was fake and it was another youth who had signed on the document. We are also looking for the youth. Roy has confessed to her crime during interrogation.
The woman was produced in a Barasat court and remanded in police custody for three days.
Ghaziabad Mahila Thana Booked For Allegedly Modifying FIR In Matrimonial Case By Adding "False Miscarriage" Charge
Statement by Accused
Dutta shared his ordeal and said,
I was shocked when Madhyamgram police arrested me under 498A, saying my 'wife' had complained against me. I told the police repeatedly that I wasn't married. I had to spend 34 days in jail, after which I managed to get bail.
Dutta also alleged that Roy had demanded Rs 20 lakh from him to withdraw the complaint.
Rahul Agarwal Case: Jharkhand High Court Grants Anticipatory Bail To Wife, In-laws Despite Detailed Suicide Video By Husband
VFMI Take:
This is not just about misuse of laws by women, but also a big question on the investigating agencies and the process followed before arrest
In India, men are randomly thrown behind bars on mere complaint filed by women (wives), particularly when the men cannot afford good lawyers to get them anticipatory bail
While the accused woman in this case has been arrested, there would hardly be any serious implications against her actions
India treats women as immature weaker sex that are pardoned under the shield of leniency and protection of this gender
Of course, no one will even discuss and debate about the loss of reputation and respect for the man who had to spend 34-days in jail in a false 498A case
LEAVE YOUR COMMENTS BELOW:
#Kolkata: Man Refuses Marriage; Ex-Girlfriend Makes Fake Marriage Certificate & Gets Him Arrested Under Section #498A

▪️Niladri Dutta: I repeatedly told police I wasn't married, spent 34Days in jail. She(Bachendri Roy) demanded Rs 20L to withdraw casehttps://t.co/ObT4bFPC6L

— Voice For Men India (@voiceformenind) May 4, 2023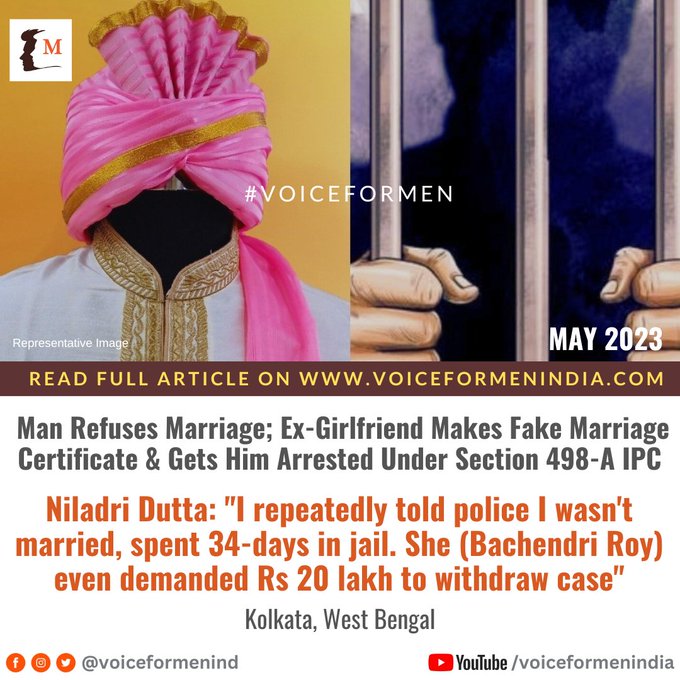 DO WATCH:
Don't Issue Notice Directly To Distant Relatives Of Husband | Kolkata Man Wrongly Arrested In 498A
Chandigarh University Case | Peepoye Akassh Gupta | Rankaj Verma Was Never Involved | Voice For Men
Join our Facebook Group or follow us on social media by clicking on the icons below
Donate to Voice For Men India
Blogging about Equal Rights for Men or writing about Gender Biased Laws is often looked upon as controversial, as many 'perceive' it Anti-Women. Due to this grey area - where we demand Equality in the true sense for all genders - most brands distance themselves from advertising on a portal like ours.
We, therefore, look forward to your support as donors who understand our work and are willing to partner in this endeavour to spread this cause. Do support our work to counter one sided gender biased narratives in the media.
To make an instant donation, click on the "Donate Now" button above. For information regarding donation via Bank Transfer, click here.
Alternately, you can also donate to us via our UPI ID: [email protected]