Remember Rahul Agarwal suicide case from Jamshedpur? Rahul had ended life on May 05, 2022 leaving a detailed suicide video accusing his wife and in-laws of filing false 498-A case against him, his old parents which led to harassment.
The Jharkhand High Court has now granted anticipatory bail to all the five accused wife and in-laws. The anticipatory bail petition was earlier rejected in May by the Additional District and Sessions Judge.
Sonipat Man, His Parents, Die By Suicide After Getting Bail In Alleged False Dowry Harassment Case
Background:
Rahul Agrawal, was a businessman based in Rourkela, Odisha. He was married to one Varsha in 2012 and the couple has twins (one minor son and daughter).
Leaving a detailed suicide video, Rahul had accused his wife Varsha and his in-laws of implicating him in a false dowry harassment case (498-A IPC), which had caused him acute mental trauma. In his video, Rahul had elaborated on how he and his old parents had to run around courts for bail application, and that he could not take it anymore seeing his parents going through this ordeal.
Husband Commits Suicide Alleging Ill-Treatment From Wife & In-Laws; HC Calls This 'Very Strange Case'; Bail Granted
Rahul sent his last video to brother Ankit Agarwal as well as to the SP City before jumping off from a building in Bistupur in Jamshedpur.
Subsequently, Rahul's wife Varsha, her father and city businessman Pradip Chudiwala, mother Kusum Chudiwala, brother Piyush Chudiwala and sister Megha Chudiwala, were booked for torturing Agrawal which led to his suicide.
31-Year-Old Gurugram Man Dies By Suicide Within Three Years Of Marriage Alleging Threats of False Cases By Wife, In-Laws
A complaint against the five accused was lodged at the Bistupur police station by brother of the deceased. In his complaint, Ankit had also accused the Sonari police station in-charge Balmukund Prasad.
Suicide Prevention Helplines
Men in distress due to family problems or facing threats of false cases from in-laws can contact either of the Men's Rights NGOs:
You can also contact Government of India 24×7 toll-free mental health rehabilitation helpline '
KIRAN

' on 1800-599-0019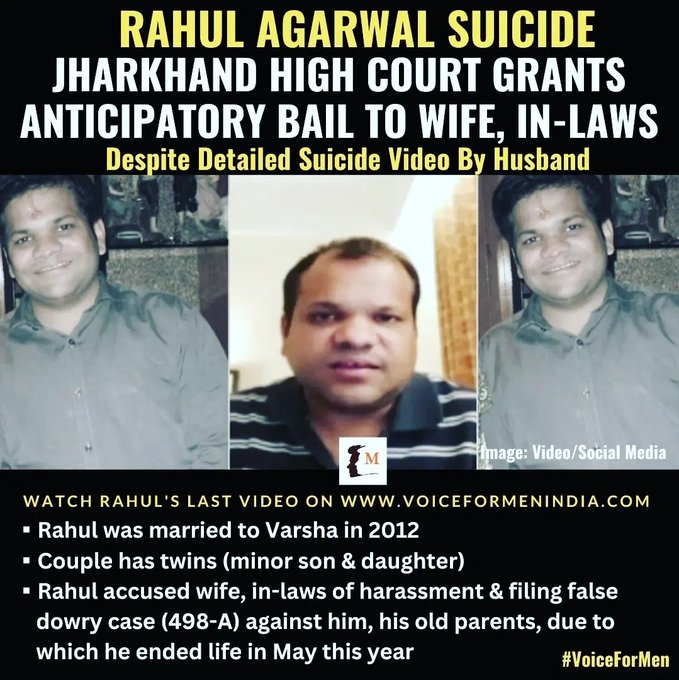 WATCH RAHUL'S LAST VIDEO:
Rahul Agarwal from Rourkela, Odisha, has ended life due to the draconian Section #498A law.

He leaves behind his last video accusing his father-in-law, mother-in-law & brother-in-law of harassment.

Cont… pic.twitter.com/ZbR6i0qhyu

— Voice For Men India (@voiceformenind) May 6, 2022
READ RELATED ARTICLE
WATCH VIDEO | Can't See My Old Parents Running Around Courts: Rourkela Man Ends Life Due To Alleged False Dowry Case By In-laws
Join our Facebook Group or follow us on social media by clicking on the icons below
Donate to Voice For Men India
Blogging about Equal Rights for Men or writing about Gender Biased Laws is often looked upon as controversial, as many 'perceive' it Anti-Women. Due to this grey area - where we demand Equality in the true sense for all genders - most brands distance themselves from advertising on a portal like ours.
We, therefore, look forward to your support as donors who understand our work and are willing to partner in this endeavour to spread this cause. Do support our work to counter one sided gender biased narratives in the media.
To make an instant donation, click on the "Donate Now" button above. For information regarding donation via Bank Transfer, click here.
Alternately, you can also donate to us via our UPI ID: [email protected]