Several women rights organisations keep crying injustice against women. How many of them raise their voice when false cases are registered by disgruntled wives, in connivance with law and order officials – to falsely frame husbands and their families?
In a recent case reported from NCR, Ghaziabad police has booked unnamed personnels at its women's police station for allegedly conspiring with a woman to modify an FIR.
According to a report by The Indian Express, the FIR was modified with an additional charge of voluntarily causing a woman to miscarry, in a complaint referred to them by the Parivar Paramarsh Kendra, a family counselling centre set up by the government. The woman has also been booked in the case, officials said.
Mahila PSI Sent To Custody For Demanding Rs 35 Lakh Bribe From Rape Accused Businessman
Background:
Based on an application at Nandgram police station, a husband and wife had been called to the Parivar Paramarsh Kendra for mediation and a date was fixed in July 2022.
The husband allegedly refused to appear until September and thus, counsellor Neha Chauhan had suggested to the wife to file an FIR against her husband who had refused to attend mediation sessions in an ongoing matrimonial case.
Subsequently, an FIR was filed at the Mahila Thana in Ghaziabad on September 15 under:
Section 498-A (cruelty by husband)
Section 323 (voluntary hurt)
Section 504 (insult likely to breach peace)
Section 506 (criminal intimidation)
Section 312 (voluntarily causing woman to miscarry)
…of the Indian Penal Code
Provisions of the Dowry Prohibition Act were added as well.
The husband later obtained a copy of the recommendation letter via Right To Information (RTI), officials said.
However, on December 26, 2022, Chauhan filed an FIR at the Sihanigate police station stating that the second page of the September complaint was changed, and the charge related to miscarriage had not been revealed earlier to her at any point.
All 50 Personnel At Women's Police Station Suspended After SI Attempts Suicide Over Sharing Of Bribe
Police Action
Taking note of this modification, ACP (Sihanigate) Alok Dubey said,
The allegation is that the second page of the complaint has been changed in some way. The matter is now being looked into by the investigating officer and action will be taken based on the findings.
Thereby, a case was filed under:
Section 420 (cheating)
Section 409 (criminal breach of trust by public servant)
Section 120b (criminal conspiracy)
…of the Indian Penal Code.
SHOULD THERE BE STRICTEST ACTION AGAINST ANYONE WHO FILES FALSE CASE?
LEAVE YOUR COMMENTS ON THIS CASE BELOW:
Ghaziabad Mahila Thana Booked For Allegedly Modifying FIR In Matrimonial (498A) Case By Adding "False Miscarriage" Charge

▪️Counsellor: "2nd page of FIR was changed…charge related to forced miscarriage was never revealed earlier to me"#VoiceForMenhttps://t.co/MroYJLTjm1

— Voice For Men India (@voiceformenind) January 9, 2023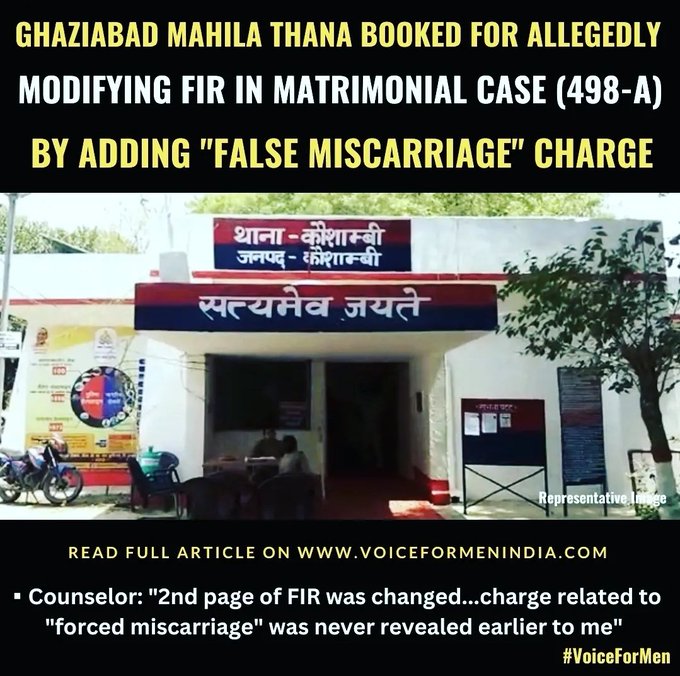 DO WATCH:
Matrimonial Lawyer Mrunalini Deshmukh On Misuse Of Section 498-A IPC | Hypocrisy Exposed
Join our Facebook Group or follow us on social media by clicking on the icons below
Donate to Voice For Men India
Blogging about Equal Rights for Men or writing about Gender Biased Laws is often looked upon as controversial, as many 'perceive' it Anti-Women. Due to this grey area - where we demand Equality in the true sense for all genders - most brands distance themselves from advertising on a portal like ours.
We, therefore, look forward to your support as donors who understand our work and are willing to partner in this endeavour to spread this cause. Do support our work to counter one sided gender biased narratives in the media.
To make an instant donation, click on the "Donate Now" button above. For information regarding donation via Bank Transfer, click here.
Alternately, you can also donate to us via our UPI ID: [email protected]