Freebees for women as poll promises is the new appeasement card for all political parties. While Aam Aadmi Party started this trend to woo women voters, the same has been extended by all political outfits as a part of their manifesto.
More Boys Dropped Out Of School Than Girls At Secondary Level In India In 2019-20 | UDISE+ Report
Indian National Congress won the state elections of Karnataka recently with a thumping victory. The five guarantees that were part of the party's manifesto included:
Free bus rides to women
Rs 2,000 per month to women head of families
Rs 3,000 unemployment allowance to graduates
Rs 1,500 allowance to diploma holders
10 kg of rice and 200 units of free power to every household every month
WATCH VIDEO | IAS Officer Slammed For Questioning Constant Need Of Freebies Demanded By Women | Share Your Comments?
However, one of the schemes promised by Congress 'Gruha Lakshmi' – where Rs 2,000 would be deposited monthly as cash incentive in the account of the woman head in every household has triggered a conflict amongst the atthe (mothers-in-law) and the sose (daughters-in-law) in the family.
One of the major point of dispute between the saas and bahu is who will receive this cash incentive! Since the Congress manifesto did not specifically mention which woman of the house will receive this, arguments between women living in joint families have already begun.
The lack of clear eligibility criteria in the Congress' assembly election manifesto, where they pledged to grant the monthly subsidy to the woman head of the family, has further contributed to the confusion among households.
WATCH | Will Pay Maintenance To Wife From Rahul Gandhi's NYAY Scheme; Husband To Court Before Lok Sabha Elections 2019
Women Rights Activists
According to a TOI report, some women rights activists feel that the grant should be shared equally between the mother-in-law and daughter-in-law if there is no consensus on who is the female head of the family. Speaking with media, C Nagaratna, a woman activist, said,
This way there won't be problems in the family.
Another activist, Kavitha D, told TOI,
It is very difficult to take sides on this issue. The government should give money to both mother-in-law and daughter-in-law.
Fully-Abled Women To Enjoy Free Bus, Metro Rides In Delhi From October; Is #GenderEquality About Entitlement?
Women & Child Development Minister, Karnataka
Following the controversy, Laxmi Hebbalkar, women and child development minister said that the decision should be left to the family. However, later, Hebbalkar clarified that ideally the amount should be credited to the account of the mother-in-law, since technically she is the head of the family as per Indian tradition. Hebbalkar added,
She (MIL) can share the money with the daughter-in-law, if she wishes.
PWD minister Satish Jarkiholi also agreed with Hebbalkar that the mother-in-law should be considered as woman head of the family.
Lastly, Hebbalkar concluded that it was too early to talk about terms and conditions in the implementation of the scheme, as the department has yet to discuss the modalities. She said,
Some clarity will emerge after Thursday's cabinet meeting.
After Kejriwal's Rs 1,000 Per Month, Mamata Banerjee Promises Rs 5,000 Per Month To All Women Of Goa
Voice For Men India View:
Political parties offering any form of freebee to voters in exchange of votes is nothing but bribing in the name of welfare schemes
This additional state cost only adds to the burden of the exchequer
India is losing its plot on empowering women; the schemes offered in the name of women welfare are only making women more dependent on privileges instead of becoming self dependent
Share your thoughts on this below:
Karnataka Gruha Lakshmi Scheme: Saas Vs Bahu Clashes Have Begun For Rs 2,000 Cash Incentive Every Month@laxmi_hebbalkar: "Amt should be credited to MIL since she is head of family as per Indian tradition. MIL can share it with DIL if she wishes"https://t.co/wwOclrKwED

— Voice For Men India (@voiceformenind) June 1, 2023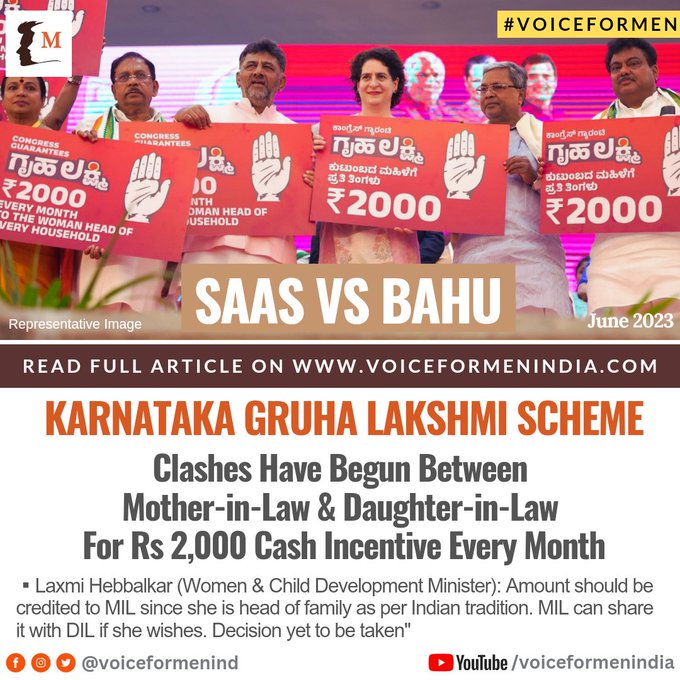 ALSO WATCH:
Pune Court Orders Woman To Pay Rs 50,000 Alimony To Husband
Join our Facebook Group or follow us on social media by clicking on the icons below
Donate to Voice For Men India
Blogging about Equal Rights for Men or writing about Gender Biased Laws is often looked upon as controversial, as many 'perceive' it Anti-Women. Due to this grey area - where we demand Equality in the true sense for all genders - most brands distance themselves from advertising on a portal like ours.
We, therefore, look forward to your support as donors who understand our work and are willing to partner in this endeavour to spread this cause. Do support our work to counter one sided gender biased narratives in the media.
To make an instant donation, click on the "Donate Now" button above. For information regarding donation via Bank Transfer, click here.
Alternately, you can also donate to us via our UPI ID: voiceformenindia@hdfcbank