A Delhi Court via its order dated May 20, 2023 has granted bail to a POCSO accused citing contradictions in the testimony of the victim vis-a-vis her previous statement given to the doctor at the time of her medical examination.
The accused has been in jail since October 28, 2022. 
Case:
A minor girl informed her parents that she had been physically violated by one accused named Chirag Sharma in October last year.
According to the statement made by the complainant to the doctor, she claimed to have visited the apartment of the accused on October 26, 2022 at 11.30am, where he offered her snacks and coffee. The girl after consuming the same allegedly felt asleep and when she woke up, her clothes were 'dirty'. 
The girl then claimed to have left the accused's home at 5pm that same day and visited her friend's house, where she complained of "Gandi Harkat" with her. 
READ ORDER | Allahabad High Court Grants Bail To Accused Man In POCSO Case After Parents Of 8-Year-Old Girl Refuse To Get Her Medically Examined
Arguments by Accused
While arguing for a regular bail application under section 439 CrPC, counsel for the accused said that his client had been falsely implicated in this case. Advocate Shailendra Pratap Singh informed the court that the accused was in custody since October last year and the present case was based on false and fabricated misleading facts.
Advocate Singh then pointed out the CDR record of mobile phone of victim and accused, where a total of 16 calls were made by them to each other on 26.10.2022 between 11:22 AM to 04:00 PM. The arguments for the bail rested upon:
If they were together in a flat then why they would call each other on mobile. As per the location chart of victim, she was present at Address X at 12:52:05 hours on 26.10.2022 whereas the location of accused was at Address Y at 12:53:16 hours on 26.10.2022. Both the places are faraway from each other.

Therefore, accused cannot be present at his flat as alleged by the victim. The FSL result is still awaited. The recording of evidence of other witnesses is likely to take considerable time. 
POCSO Court Grants Bail To Class XII Boy In Alleged Rape Case After He Spends 35-Days In Jail
Bail Opposed
Ld. Additional Prosecutor for the State opposed the bail application on the ground of nature and gravity of the offence and the child victim and other public witnesses are yet to be examined. The Investigating Officer too opposed the bail application of the accused. The minor victim had also appeared through Video Conferencing and opposed the bail application of accused.
Dwarka Court, Delhi 
Gagandeep Jindal, ASJ, POCSO Court, Dwarka, expressed that while under the POCSO Act, one needs to deal with the accused strictly, each case has to be accessed on facts and circumstances. 
The Court observed,
The present FIR u/s 376 IPC & Section 4 POCSO Act has been registered on the complaint of mother of the victim lodged on 27.10.2022.

The victim in her statement recorded u/s 161 Cr.P.C. has stated that on 25.10.2022, she was talking with her friend on phone. Her Bua and sister had seen her and scolded her.

On 26.10.2022 at 10:00 AM, she went to meet accused at his flat without informing him family members where accused did wrong act with her and sent back.
Kerala High Court Grants Bail To 35-Year-Old Mother Arrested Under POCSO For Raping Minor Son
The Court then noted:
In her statement recorded u/s 164 Cr.P.C., she has stated that on 26.10.2023, accused Chirag called her at his flat where he did wrong act with her. At the time of her medical examination, she had stated to doctor on 26.10.2022, she met with accused with common friend A.
Court Grants Bail To 22-Year-Old Man In False POCSO Case After Woman Admitted Reason As Marital Spat
The Court stated that there were contradictions in the statement given by minor girl. It remarked:
There is contradiction as to how victim met with accused whether they met through common friend A or through Instagram. There is contradiction as to whether victim herself went to the flat of the accused or she was called by accused. There is also contradiction with regard to the time till when she remained at the flat of accused. At one point of time, she left the flat of accused at 05 :00 PM while in her examination in chief, she left the flat of accused at 10:00 PM.

There is also contradiction as what wrong act had been done with her by the accused. At the time of her medical examination, she stated that she slept after having snacks and coffee and she woke up at 05 :00 PM, she found her clothes dirty but did not describe how her clothes were dirty. Whereas in her examination in chief, she deposed that the accused made physical relations with her at about 03:00-04:00 PM. 
High Court Grants Bail To 63-Year-Old School Manager After Finding Rape, POCSO Charges By Woman "Vague"
Citing these inconsistencies in the statement, the Dwarka Court granted bail to the accused after furnishing of personal bond and surety bond in the sum of Rs 20,000 each. The Court also added that this order may not be treated as an expression of opinion on the merits of the case.
LEAVE YOUR COMMENTS BELOW:
READ ORDER | Delhi Court Grants Bail To Accused In POCSO Case After Citing Contradictory Statements By Minor Girl

▪️Arguments: "16 calls b/w victim & accused at the time of alleged act. Why would they call each other if they were in same apartment?"https://t.co/pHXPm4l2xW

— Voice For Men India (@voiceformenind) May 31, 2023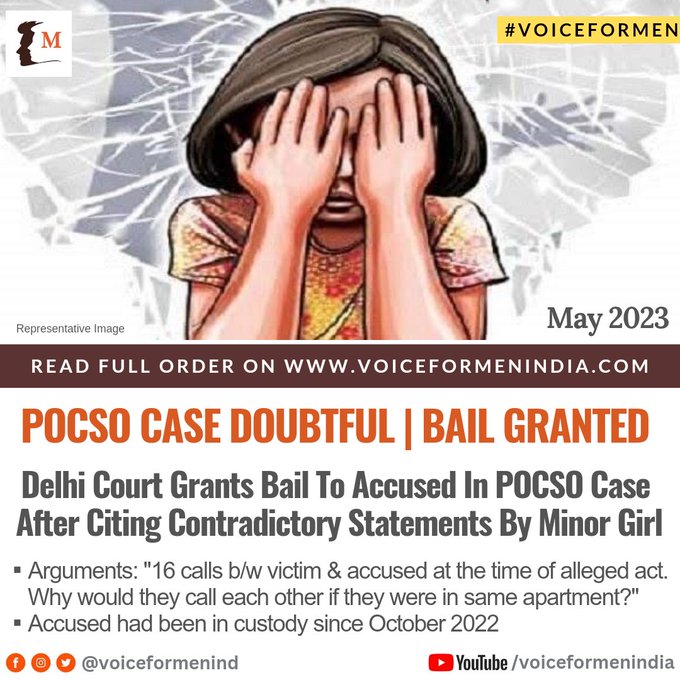 MUST WATCH:
Vijay Babu Pre-Arrest Bail Granted By Kerala HC | Discussion With Activist Mithun Vijay Kumar
https://www.youtube.com/watch?v=9-hFIN-d6zE
Join our Facebook Group or follow us on social media by clicking on the icons below
Donate to Voice For Men India
Blogging about Equal Rights for Men or writing about Gender Biased Laws is often looked upon as controversial, as many 'perceive' it Anti-Women. Due to this grey area - where we demand Equality in the true sense for all genders - most brands distance themselves from advertising on a portal like ours.
We, therefore, look forward to your support as donors who understand our work and are willing to partner in this endeavour to spread this cause. Do support our work to counter one sided gender biased narratives in the media.
To make an instant donation, click on the "Donate Now" button above. For information regarding donation via Bank Transfer, click here.
Alternately, you can also donate to us via our UPI ID: voiceformenindia@hdfcbank