False rape cases are only rising in India and sadly have become a medium of extortion by women and their gangs. In a recent case reported from Gujarat, a young man ended his life after he was falsely implicated and threatened for money in a false rape case.
Now after the man is dead, police has investigated the matter and learnt of the trap laid for him.
Aspiring Muzaffarnagar Athlete Dies By Suicide After He Was Jailed For 19-Months In Alleged False Rape Case
Case:
A 22-year-old woman from Ahmedabad had lodged a rape complaint against 32-year-old Dilip Ahir, a Bhuj-based transport businessman. Ahir died by suicide hours after the complaint was lodged on June 4 night.
After the Kutch police found Ahir's body, their investigation revealed that the young man had fallen prey to an extortion racket that demanded Rs 4 crore from him.
Disabled Man Dies By Suicide After Woman, Her Father File False Rape Charges In Cheque Bounce Case
Police Investigation
According to the investigation led by Gujarat police, a woman named Manisha Goswami had laid the trap for Ahir. Goswami is also one of the accused in the sensational murder of BJP leader Jayanti Bhanushali who was shot dead in a moving train in January 2019.
What is more surprising is that Goswami orchestrated the entire plot using a smartphone from Palara jail in Bhuj where she has been lodged since her arrest in November 2019.
The Nakhatrana police has booked Manisha Goswami, her husband Gajju, Akash Makwana, Komal Jethwa, their lawyers Aziz Sama, Ajay Prajapati, Akhlaq Pathan, Divya Chauhan and also a woman named Riddhi under IPC Sections 306 (abetment to suicide), 389 (extortion) and 120(b) criminal conspiracy. The gang was allegedly blackmailing Ahir for crores of rupees or threatening to make his videos viral.
Sama and Makwana have been currently arrested.
Mumbai Chartered Accountant Suicide: Four-Page Note Alleges Harassment By Police In 'False Rape' Case By Former Colleague & Her Husband
Police Statement:
Speaking with TOI, Dr Karanraj Vaghela, Suprintendent of Police (Kutch) said,
We started doubting the woman's rape allegations after finding Ahir body on the same day of the complaint. Our probe has revealed that the conspiracy was hatched by Goswami from jail. 

The complainant woman Divya Chauhan got in touch with Goswami through her friends Makwana, Sama and Prajapati. 
How was the trap laid?
As per plan, Divya befriended Ahir through social media and the duo started chatting regularly. It was learnt that on one of the occasions, Goswami too had chatted with Ahir.
Later, Divya invited Ahir to a hotel room where both of them got intimate and soon Divya started blackmailing Ahir for Rs 4 crore or threatened to make his videos and photos viral.
On June 3 night, Divya got herself admitted to GK General hospital and filed a rape complaint against Ahir.
NGO Launches Jaipur Helpline For Men In Distress, Addressing Rising Male Suicides & Misuse Of Gender-Based Laws
Role of Gajju
Goswami's husband Gajju would collect details of rich and high-profile businessmen and then pass on the information to his wife, who was lodged at the jail.
Earlier, the gang was planning to trap another man returning from Kuwait and extort Rs 10 crore from him. However, since his plan of coming to India got postponed, the gang zeroed down on Dilip Ahir who owned 200 trucks. 
"Pay Rs 500 Or Face Imprisonment For Seven Days": Faridabad Court To Complainant Woman Who Filed False Rape Case
Voice For Men India Take:
Time and again we have advised men (young and old) to avoid befriending unknown women through social media
Often, men get carried away so much by such gangs that they go to any extent without thinking twice on the repercussions
In case, one still wishes to indulge in these dangerous pleasures, keep all chats, messages, call records saved on your phone
If you happened to be trapped by such gangs, who photograph and videograph you capturing your private moments, do not fall for extortion or threats
Yes, there could be possibility of some shame in society, but walk up straight to the police station and lodge a complaint before the other side files a case of rape
There are chances that you may still be arrested, however, your evidences will help you to a great extent to bail you out and eventually prove that the relationship was consensual
Often, such gangs have a history of trapping other men, and if you alert the police, they may actually unearth a bigger racket
Do not give up on your life under any circumstances, particularly because, Log Kya Kahenge……if that is your main worry, do not get into these one night stands at all
Remember, you may be one of the men for these extortionists, but you are the only one for your family and loved ones back home
Choose life over death
Suicide Prevention Helpline
Men in distress due to family problems, facing threats of false cases from in-laws OR facing false cases by women after failed consensual relationships can contact either of the Men's Rights NGOs:
You can also contact Government of India 24×7 toll-free mental health rehabilitation helpline 'KIRAN' on 1800-599-0019
LEAVE YOUR COMMENTS BELOW:
#Gujarat | Dilip Ahir Suicide Case: Honeytrap, Blackmail, Extortion Demand Of Rs 4 Crore

▪️Manisha Goswami – in jail since 2019 – laid trap for Ahir
▪️Goswami's husband would shortlist rich men for honeytrap
▪️Lawyers booked as well for conspiracyhttps://t.co/SROLGAMnUY

— Voice For Men India (@voiceformenind) June 14, 2023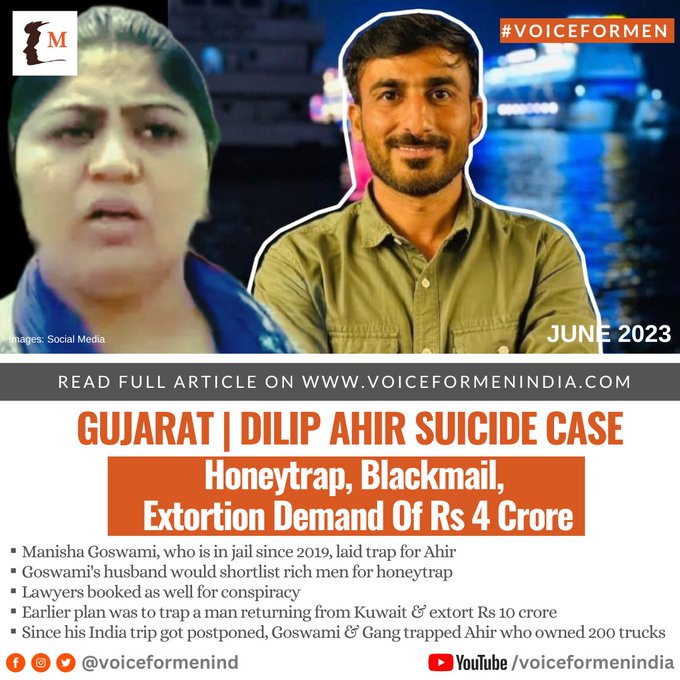 DO WATCH:
How Should Men Face False Sexual Harassment Charges At Workplace? | Interview With Jyoti T Pandey
Join our Facebook Group or follow us on social media by clicking on the icons below
Donate to Voice For Men India
Blogging about Equal Rights for Men or writing about Gender Biased Laws is often looked upon as controversial, as many 'perceive' it Anti-Women. Due to this grey area - where we demand Equality in the true sense for all genders - most brands distance themselves from advertising on a portal like ours.
We, therefore, look forward to your support as donors who understand our work and are willing to partner in this endeavour to spread this cause. Do support our work to counter one sided gender biased narratives in the media.
To make an instant donation, click on the "Donate Now" button above. For information regarding donation via Bank Transfer, click here.
Alternately, you can also donate to us via our UPI ID: voiceformenindia@hdfcbank