Return to Office! Tech giant Tata Consultancy Services (TCS) issued notification asking all employees to end Work From Home and regularise working from their desks at the organisation.
However, the notification was not welcomed by female employees of the organisation, who have now responded with mass resignations!
In the company's annual report, TCS HR Head Milind Lakkad revealed that many women employees have resigned for a similar reason.
Swiggy Announces 2-Day Paid Monthly Period Leave To Female Delivery Partners | Equal Pay Without Equal Work?
Background:
TCS had employed several women candidates where over half of its current workforce was hired after March 2020 when the pandemic struck. Overall net addition in FY23 was 22,600 and the company closed the year with 614,795 employees.
In the fiscal year that ended on March 31, 2023, India's top software services company was left with more number of male employees as its return-to-office policy backfired.
Maharashtra Govt To Reduce Working Hours Of Women Police | Social Media Taunts At Equality & Pay Parity Campaigns
Annual Report, TCS 2023
In the company's latest annual report, Lakkad asserted that when the organisation asked all staff to return to the office, there have been more resignations from female employees because they wanted to continue work from home. Defending TCS on gender disparity, Lakkad clarified that mass resignations from female employees was due to this reason and that there was no relation to any gender discrimination.
TCS reportedly lost more than 20 percent of its workforce in the previous fiscal year. This percentage could include both genders. The IT firm, though, hasn't quoted the exact number of how many women employees might have left the company because of the policy.
Lakkad said,
Historically, women's attrition at TCS has been similar or lower than men's attrition, so this is unusual.

There might be other reasons but intuitively, I would think working from home during the pandemic, reset the domestic arrangements for some women, keeping them from returning to office even after everything normalised.
Adding further, TCS HR Head said that the organisation's aim to promote gender diversity won't go down and that it would continue to hire more, in both genders. Current workforce at TCS now stands at more than 6,00,000 employees, of which 35.7% are women. In addition to this, the report claimed that three-fourths of women at TCS are at the top positions of the company. 
Woman Tops Celebrity List For Charges Per Instagram Post | Should Men Scream #EqualPay?
Concluding on the matter, Lakkad said,
As the world gradually returns to normal after the Covid-19 pandemic, TCS, too, resumes physical engagements. Almost 20% of TCS employees or close to 100,000 TCSers are back in offices. This is significantly higher than the 5% essential staff at the peak of the pandemic. In-person meetings have resumed, as well as client visits to TCS campuses worldwide are also getting regularised.

The company remains committed to the 25×25 model (means that only 25 percent of its global workforce is expected to come to office for work with people spending only 25 percent of their time in the office) and TCS will roll this model out in a phase-wise manner. However, that would require employees to first come back to the office.
Smriti Mandhana Agrees It Is Unfair To Demand #EqualPay If You Don't Generate Equal Revenues
VOICE FOR MEN INDIA TAKE:
TCS is a large organisation where hiring and resignations are a part of day-to-day ops
However, how will this development play out for other mid-size or smaller corporates? Will such moves deter corporates from hiring more women in the future?
Voice For Men India has always stood up for gender equality in terms of hiring – however, the hiring should also be on merit and not just the gender
Mass resignations by women are an indication that women do want to work, but on their own terms
While one may argue that majority of women drop out of workforce because they need to prioritise family commitments, we cannot overlook the fact that the same women employees had been coming regularly to office prior to COVID-19
What about the men? Do men have such a choice to just quit on pretext of taking charge of family and household chores?
While women may claim this move as 'sacrificing their career', one must not forget that the entire financial responsibility of running the home will now shift to the male head of the family
We must also deliberate upon whether women are being compelled to give up on their career, as society has moved from joint to nuclear family?
Can we complain about women ending their careers in isolation without looking at the macro picture of their respective families?
Another strong argument that often comes from women rights activists is why should only the women be nurturers of the home? Of course there is no thumb rule, but the structure remains so because most women do not want their husbands to quit jobs or take 100% charge of becoming the financial providers for their home
Neither genders can have it all once you decide to have a family…In the end, it is about one's respective choice
LEAVE YOUR COMMENTS BELOW:
Mass Resignations By Women Employees As TCS Ends Work From Home | Voice For Men India
TWITTER
Mass Resignations By Female Employees As #TCS Asks Staff To Return To Office

Read Voice For Men India Take:

▪️Are only women sacrificing their career for family?
▪️Wouldn't entire financial burden of home shift to their husbands now?#VoiceForMenhttps://t.co/kAFYEAgbqg

— Voice For Men India (@voiceformenind) June 13, 2023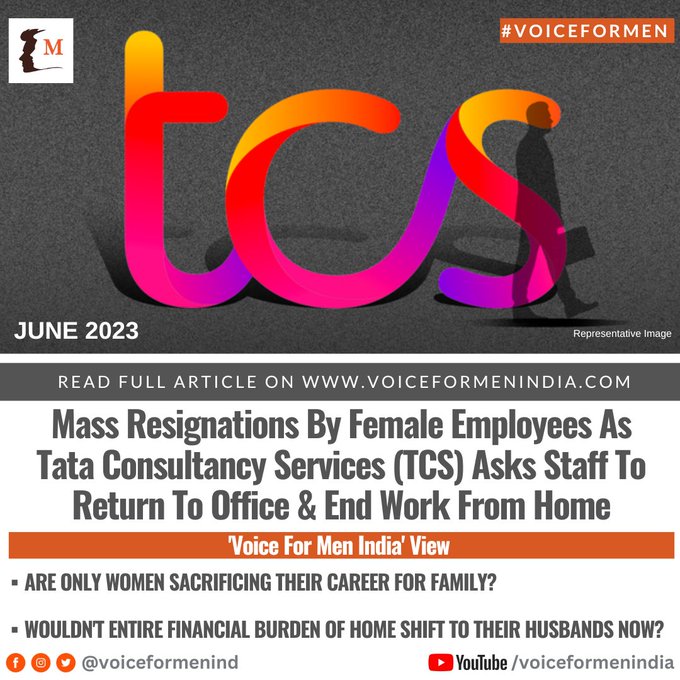 MUST WATCH:
Can Your Organization Fire You If You Are Charged Under Section 498-A IPC | Voice For Men India
Join our Facebook Group or follow us on social media by clicking on the icons below
Donate to Voice For Men India
Blogging about Equal Rights for Men or writing about Gender Biased Laws is often looked upon as controversial, as many 'perceive' it Anti-Women. Due to this grey area - where we demand Equality in the true sense for all genders - most brands distance themselves from advertising on a portal like ours.
We, therefore, look forward to your support as donors who understand our work and are willing to partner in this endeavour to spread this cause. Do support our work to counter one sided gender biased narratives in the media.
To make an instant donation, click on the "Donate Now" button above. For information regarding donation via Bank Transfer, click here.
Alternately, you can also donate to us via our UPI ID: voiceformenindia@hdfcbank