The Punjab & Haryana High Court in its order dated September 6, 2023 quashed a non-bailable warrant (NBW) issued by the lower court against Golfer Sujjan Singh in connection with a domestic violence case filed by his wife Irina Brar.
The couple has been embroiled in a matrimonial battle since 2018.
Shikhar Dhawan Divorce Case: Delhi Court Restrains Estranged Wife From Circulating 'Defamatory Material' Against Cricketer
Case:
Sujjan Singh & estranged wife Irina Brar both are golfers by profession. The couple got married in 2010 and have a 11-year-old daughter. 
In the year 2018, Brar accused Singh of domestic violence and subsequently in January 2020, Singh was booked under:
Section 406 (criminal breach of trust)
Section 498-A (husband or relative of husband of a woman subjecting her to cruelty)
…of the Indian Penal Code
The court has framed charges against Singh on April 11, 2023.
Sujjan is currently working in Dubai as a golf coach, while Irina is living in Chandigarh along with their daughter. While the wife has been giving one-sided interviews to media – levelling multiple allegations – even when the matter is subjudice, the husband has chosen to maintain silence until the final outcome from the Court.
Mohammed Shami Divorce Case: Estranged Wife Hasin Jahan Moves Supreme Court Demanding Arrest Warrant Against Cricketer
Non-Bailable Warrant Issued
The last time Singh visited and departed from India was in April 2023. In May this year, the Supreme Court ordered that Singh did not have unqualified right to travel abroad without prior intimation to the court.
Later, in July, Singh approached the court of judicial magistrate first class Mayank Marwaha, seeking exemption from personal appearance on the next date, as he was currently working abroad and was not permitted to take leave for his personal appearance at the court. 
However, in the interim, the court cancelled his anticipatory bail, granted by the Punjab and Haryana high court dated August 25, 2020, on the grounds that Sujjan travelled abroad without court's permission, which was a violation of the bail condition. Additionally, he was also accused of not appearing in the trial court on requisite dates.
Bail bonds and surety bonds previously submitted by Singh had been forfeited to the state and non-bailable warrants were issued to secure his presence in court on September 8.
Punjab & Haryana High Court
In a relief to the golfer, the Punjab & Haryana High Court on September 06, 2023 has quashed the lower court order that issued non-bailable warrant and a look-out circular.
The high court bench of Justice Meenakshi Mehta, ordered:
The order passed by trial court is not legally sustainable and serves to be quashed.
"I Failed Because I Was Not Aware Of That Field": Cricketer Shikhar Dhawan On Bad Marriage & Ongoing Divorce Case
Voice For Men India Take:
Without commenting on the merits of the case, matrimonial laws in India are largely in favour of the women
It takes years for a trial court to pronounce its final verdict, which then takes another few years by the time the matter goes into appeal in the Supreme Court
In the interim, the men remain accused in such criminal cases, that often affect their career, respect and reputation
Timely judgments and dissolution of dead marriages must be enforced so that there can be a solution/justice, instead of dragging ego battles at court
READ RELATED STORY:
Golfer Sujjan Singh Charged With 498A, Produces 'Dowry' Items Such As Pichkaris, Show Pieces & More
DO WATCH:
My Brother Was Beaten Up In Police Custody On Mere 498A Complaint By His Wife | Husband's Sister
LEAVE YOUR COMMENTS BELOW:
https://x.com/voiceformenind/status/1701907409554272357?s=20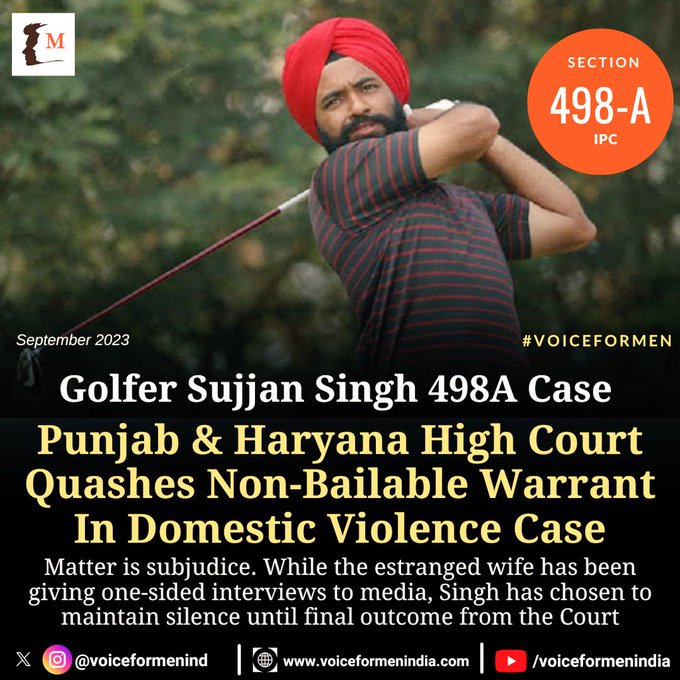 Join our Facebook Group or follow us on social media by clicking on the icons below
Donate to Voice For Men India
Blogging about Equal Rights for Men or writing about Gender Biased Laws is often looked upon as controversial, as many 'perceive' it Anti-Women. Due to this grey area - where we demand Equality in the true sense for all genders - most brands distance themselves from advertising on a portal like ours.
We, therefore, look forward to your support as donors who understand our work and are willing to partner in this endeavour to spread this cause. Do support our work to counter one sided gender biased narratives in the media.
To make an instant donation, click on the "Donate Now" button above. For information regarding donation via Bank Transfer, click here.
Alternately, you can also donate to us via our UPI ID: voiceformenindia@hdfcbank