A man in India is responsible to maintain his wife for life, his daughter till marriage, a son till adulthood, his senior citizen parents and so on…. and if the list was not long enough, the man is now also liable to maintain his estranged wife's pet dogs as a part of maintenance allowance during impending domestic violence proceedings.
In a recent order, a Mumbai court ordered a man to pay maintenance for his wife's three dogs since they were dependent on her.
Wife Responsibility Of Husband; Man Liable To Pay Maintenance Even If She Earns More | Mumbai Sessions Court
Case:
Couple got married in 1986 and lived in southern India. The couple has two adult daughters who are married and residing abroad. In 2021, the couple went through separation, post which the wife shifted to Mumbai.
Wife files domestic violence case
The 55-year-old wife filed a case under Domestic Violence Act and sought maintenance from her estranged husband citing age and health related issues. The woman also cited maintenance for her three rottweiler dogs who resided with her.
She claimed that she had no independent source of income and that her husband had assured her of providing maintenance and other basic necessities.
In her plea, the woman demanded Rs 70,000 per month as maintenance from her husband.
READ ORDER | Mumbai Court Denies Rs 1 Lakh Maintenance To Dentist Wife; Asks Her To Find Job
Arguments by Husband
On the other hand, the husband of the woman claimed that he was not at fault and that his wife had left his house on her will. Further, the man said that he was not having sufficient sources of income, citing losses in business. The man also claimed to have paid certain amounts to her in the intervening period.
Mumbai Court Orders Businessman To Pay Rs 1.50 Lakh Per Month Maintenance After Wife Files Domestic Violence Case
Mumbai Court
The court went through the records and stated that the woman was entitled to relief of interim maintenance.
The court considered the woman's age and ailments justifying her demand for maintenance.
The court rejected the man's arguments that he did not have sufficient income to provide for his estranged wife. Infact, the court went a step further and said,
Even if he had suffered any losses in the business, the same would "not be enough to disown liability."
The court's stand was clear that the respondent-husband cannot be exempted from the payment of maintenance, as it will constitute economic violence.
Despite Nude Photographs, Whatsapp Messages, Wife Is Entitled To Maintenance Until Allegations Of Adultery Are Proven: Mumbai Sessions Court
Maintenance for Pet Dogs
The Court then went on to analyse that the pets kept by the woman were also accruing financial liability to her.
In their detailed statement the court remarked:
Dogs fulfill any emotional deficit that may have occurred on account of broken relationships.
The Court added,
The parties belonged to a good financial background, thus, the maintenance must be granted and that too with a lifestyle and requirements suitable to her.
Interim Maintenance Ordered
Subsequently, the court partly allowed the woman's plea and instructed the husband to pay Rs 50,000 as interim maintenance to his estranged wife, from the date of filing of her application till the decision is taken on her main plea.
Mumbai Court Orders Leander Paes To Pay Monthly Maintenance To Former Live-in Partner Rhea Pillai | Read Alimony Details From Second Husband Sanjay Dutt
Voice For Men India Take:
Maintenance laws are extremely unfair and completely favour women in India
Husband is ordered to pay interim maintenance, purely on his income or failure to prove lack of income
Interim maintenance is granted to an estranged wife on merely filing an application, without any fault of the husband being proven
Interim maintenance in India can be dragged by women for years/decades, refusing to conclude arguments in the main divorce/domestic violence petition
Effectively, women are permitted to unilaterally walk out from a marriage, get interim maintenance, not conclude divorce, retain her status of wife, thereby, trapping her estranged husband for life
The courts of course never consider age of the man, his needs, his health issues as he is also turning old
There is almost zero sympathy towards married men at Indian courts, and the top most priority is to ensure that wives lead a comfortable life irrespective of the man's flaw
DO WATCH:
Divorce | Judicial Reforms, Eco System of Lawyers, Ground Realities for Husbands, Child Custody
LEAVE YOUR COMMENTS BELOW:
Estranged Wife's Dogs Also Entitled To Maintenance From Husband: Mumbai Court

VFMI:

▪️Interim maintenance is granted on mere application by wife, without any fault of husband being proven

▪️Interim maintenance can be dragged for decades w/o divorcehttps://t.co/teDNY02iW1

— Voice For Men India (@voiceformenind) July 17, 2023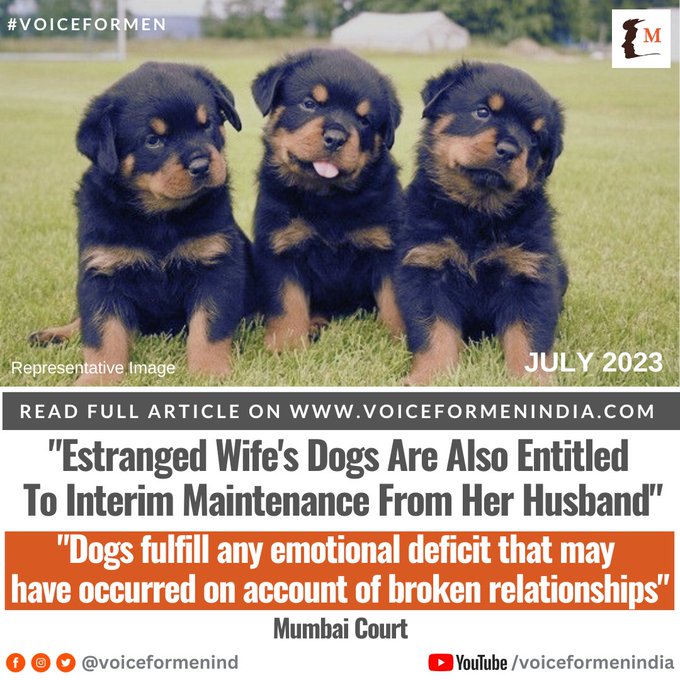 Join our Facebook Group or follow us on social media by clicking on the icons below
Donate to Voice For Men India
Blogging about Equal Rights for Men or writing about Gender Biased Laws is often looked upon as controversial, as many 'perceive' it Anti-Women. Due to this grey area - where we demand Equality in the true sense for all genders - most brands distance themselves from advertising on a portal like ours.
We, therefore, look forward to your support as donors who understand our work and are willing to partner in this endeavour to spread this cause. Do support our work to counter one sided gender biased narratives in the media.
To make an instant donation, click on the "Donate Now" button above. For information regarding donation via Bank Transfer, click here.
Alternately, you can also donate to us via our UPI ID: voiceformenindia@hdfcbank