Interim Maintenance in India is granted on mere allegations by wife and there is no end date for the same, as the trial can go on endlessly for years/decades once the monthly maintenance is ordered.
A Court in Mumbai in its recent order directed a businessman to pay Rs 1.25 lakh per month + Rent to his estranged wife, after she filed a case of Domestic Violence against him and his parents.
Case:
Parties had an arranged marriage in 2011 and have two minor children. The husband is a businessman who runs a chain of restaurants in Mumbai.  Woman's parents are based out of Dubai.
In 2020, the woman filed a domestic violence case against her husband and in-laws making several allegations.
Despite Nude Photographs, Whatsapp Messages, Wife Is Entitled To Maintenance Until Allegations Of Adultery Are Proven: Mumbai Sessions Court
Accusations by Wife
The woman in her domestic violence petition stated that her husband was an alcoholic and drug addict. She said under the influence of liquor and drugs, he indulged in emotional, economical and physical violence.
According to her, at the time of the wedding she was assured that she could continue to work. However, the family went back on its word later. She also alleged that her husband would come home very late and avoid her company.
She submitted that her in-laws ignored her troubles, saying such behaviour was normal in young age and the man would eventually settle down. With little change in his behaviour, the woman moved out of the house with their two children.
Mumbai Court Orders Leander Paes To Pay Monthly Maintenance To Former Live-in Partner Rhea Pillai | Read Alimony Details From Second Husband Sanjay Dutt
Defense by Husband, His Parents
The husband and his family have rubbished her allegations. They said she wanted to "live a free and independent working life", not a "married life". They further claimed that despite providing her with a lavish lifestyle, she was unsatisfied. The family said the woman had filed the application with the intention to grab money as she wanted to go Dubai without any burden of responsibility.
Mumbai Court|Husband Has To Pay Maintenance Even If He Is A Beggar Or Disabled
Mumbai Court
According to the magistrate, the wife had "succeeded in making out prima facie case of domestic violence".
Subsequently, the court ordered the husband to pay a monthly interim maintenance of Rs 1.25 lakh to his estranged wife. The interim maintenance of Rs 1.25 lakh includes Rs 75,000 for the wife and Rs 25,000 for each of their two children.
Further, it said the amount will attract an annual increment of 5% from August 2023 so that the woman, who lives in Bandra, does not have to knock on its doors repeatedly for enhancement of the amount.
Additionally, the court has ordered the man to pay Rs 25,000 towards her rent until her main complaint is decided. The husband will also have to pay over Rs 20 lakh in maintenance arrears.
2016 | Humiliated By Judge's Questions On Non-Payment Of Maintenance, Husband Hangs Himself Outside Court
The magistrate said,
The assets and liabilities affidavit filed by the woman reflects that she is earning some income, but it is not enough to lead day-to-day life with dignity and as per her lifestyle in society to which she and her children belonged. Both the parties belong to higher economic strata. The order needs to be in tune with their social status and day-to-day necessities.
The court further said the man had various sources of income from his hotel and other businesses. The magistrate said,
The husband and in-laws are leading a wealthy life, though the applicant and her children are in distress and in need of money and shelter. As such, monetary relief of maintenance and other expenses need to be granted.
Bombay High Court Sends Parsi Husband To Civil Jail For Not Paying Maintenance To Wife In Divorce Case
Concluding the order, the court added,
If the respondent (husband) fails to comply with the order, the applicant is directed to file an application for its enforcement, which will be decided separately on merit.
Mumbai Court Orders Businessman To Pay Rs 1.50 Lakh Per Month Maintenance After Wife Files Domestic Violence Case

▪️Husband to pay: Rs 1.25L pm, Rs 25K Rent pm, Rs 20L arrears (5% increment from Aug 2023)
▪️Husband: Wife wants to grab money & go to Dubaihttps://t.co/mUNkDceP5Z

— Voice For Men India (@voiceformenind) July 26, 2022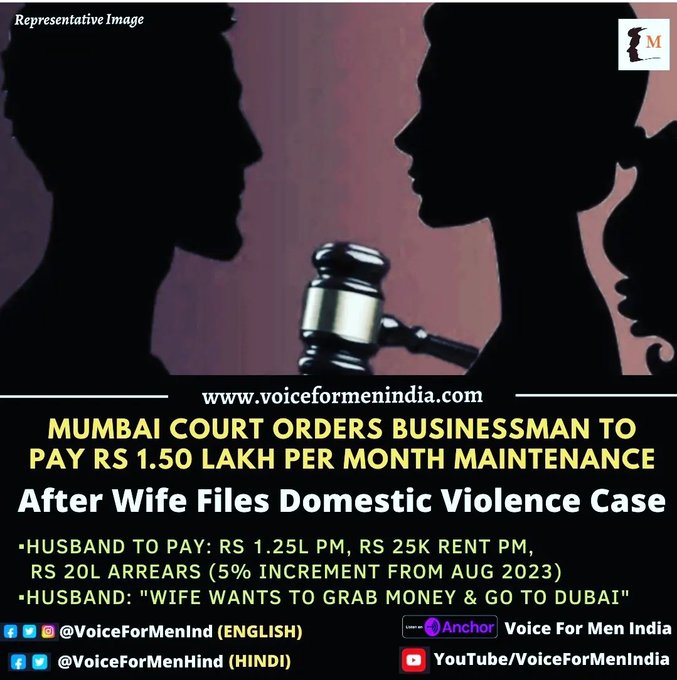 WATCH:
Lalu Prasad Yadav's Son Tej Pratap Threatens To Release Domestic Abuse Videos Amidst Divorce Case
.
Join our Facebook Group or follow us on social media by clicking on the icons below
Donate to Voice For Men India
Blogging about Equal Rights for Men or writing about Gender Biased Laws is often looked upon as controversial, as many 'perceive' it Anti-Women. Due to this grey area - where we demand Equality in the true sense for all genders - most brands distance themselves from advertising on a portal like ours.
We, therefore, look forward to your support as donors who understand our work and are willing to partner in this endeavour to spread this cause. Do support our work to counter one sided gender biased narratives in the media.
To make an instant donation, click on the "Donate Now" button above. For information regarding donation via Bank Transfer, click here.