Many a times, Voice For Men India is questioned if we are fighting a lost battle. There are many occasions, when we actually feel so, since the entire system, including lawmakers and every single political party has turned a blind eye, unconsciously or deliberately, towards the misery of men in our country.
However, our platform will keep striving to bring out the Voice for all such men who are left helpless or have no voice after they are gone.
In yet another tragic case reported from Delhi, a young jounalist named Akashdeep Shukla (31), ended his life on August 14. Akashdeep who was working as an Assistant Editor at the digital channel 'Aaj Tak,' was found dead in his rented apartment in Pandav Nagar, East Delhi on last Monday. According to the Delhi Police, Akashdeep hanged himself from a ceiling fan. No suicide note was recovered.
Mumbai Chartered Accountant Suicide: Four-Page Note Alleges Harassment By Police In 'False Rape' Case By Former Colleague & Her Husband
Police Statement
Shukla's wife was questioned and her statement was recorded. Last week, the police said the spot was inspected by the crime investigating team and stated:
No foul play has been found so far…
To many, this may seem as yet another statistic added to our NCRB Suicide Report. We may all read these stories, feel sad exactly for 5 seconds and then move on with our daily lives. Our society has failed our men because, forget outrage, it does not even question why such a young man randomly ended his life! No hashtag campaigns, no candle marches either!
Rahul Agarwal Case: Jharkhand High Court Grants Anticipatory Bail To Wife, In-laws Despite Detailed Suicide Video By Husband
More to the Story
When mainstream media fails to highlight such cases or run campaigns for justice, few Men's Rights Activists share the other side. In this case, documentary filmmaker, Deepika Bhardwaj revealed several details about Akashdeep, which are distressing to say the least.
After the news of Akashdeep's suicide broke, Bhardwaj took to X (formerly known as Twitter) and shared that the young journo had been grappling with severe mental distress owing to alleged constant threats of legal action levied against him by his wife and her parents.
Kerala Man, Father, Die By Suicide After Wife Filed 498-A Case Against Husband & His Family
Sadly, Akashdeep had spoken to Bhardwaj just a day before his suicide, for nearly 20 minutes, where he expressed the emotional turmoil he was going through due to his wife and her parents. He also informed Bhardwaj that infact his marriage itself had been conducted by force with threats of legal repercussions if he did not give in.
Adding further, Bhardwaj also shared that Shukla was also subjected to instances of physical assault and defamed by his wife on social media which had tarnished his reputation. Akashdeep alleged that after being forced to marry his wife, he was constantly facing pressure from his father-in-law for significant amount of financial expenditure on a social gathering, which was beyond Shukla's means. 
Co-incidentally, in July this year, Akashdeep even penned an authored article on Jyoti Maurya case titled:
Are husbands only as good as tissue paper? This is not just Alok Maurya's story, how easy it is for women to give threats of filing case under Section 498-A IPC
On Aug 20, Bhardwaj shared an update stating that Akashdeep's father has now filed a complaint with Delhi Police alleging abetment of his son's suicide by his wife & in-laws. Aakash had reportedly called his father in extreme distress that morning asking him to come to Delhi immediately.
BREAKING : Father of Journalist #AkashdeepShukla who died by suicide recently has filed complaint with @DelhiPolice alleging abetment of his sons suicide by his wife & in-laws. Aakash had called his father in extreme distress that morning asking him to come to Delhi immediately pic.twitter.com/1j1lK7E2TJ

— Deepika Narayan Bhardwaj (@DeepikaBhardwaj) August 20, 2023
Voice For Men India Take:
Since there is no suicide note, legally no one can be directly accused
However, does that mean that these suicides should be forgotten?
It pains us to see how the Journalist fraternity chooses to skip this story or even discuss and debate on what is driving newly married men to suicide
Did you know, as per Indian matrimonial laws, if a married woman dies under mysterious circumstances within seven years of her marriage, her husband and in-laws can be directly framed and arrested (most often on mere complaint from her parents/family)
However, when we reverse the genders, men rarely get justice (in many cases wives are not arrested despite a suicide note naming them)
Feminist Portal The News Minute Dismisses Baiju Raju's Suicide As His Mental Problem; Gives Clean Chit To Wife Justifying Adultery
In our opinion, media is largely responsible for, which case gets attention or which case can be sidelined
If the same instance would have occurred with a female journalist, we would have seen endless primetime debates, husband arrested without evidence and demand of bringing in even more stringent laws against men and their families
Since #HusbandSuicide stories do not garner enough TRP or brand sponsorship, business oriented media houses rarely care to bring these conversations to our drawing rooms
While mainstream media fails us on these cases, social media does empower all of us to speak about these issues
Women can be victims, there is no denial about that. But women are not the only victims. Men too deserve fair share of balanced laws and justice
Do consider sharing this article, before it is your son or brother next
HELPLINE NUMBERS

| Save India Family Helpline

+91 8882 498 498

OR register with

mynation.net
MUST WATCH:
Marital Rape Law | Advocate J Sai Deepak | Voice For Men India | Other Side
ALSO WATCH:
Manav Singh | 2-Years | Father Shares Life At Courts After Loss Of Only Son 

#JusticeForManav
LEAVE YOUR COMMENTS BELOW:
Aaj Tak Assistant Editor #AkashdeepShukla Suicide:

▪️"Have Gender Biased Fellow Journalists Failed Own Colleagues?"

▪️"Media is largely responsible for, which case gets attention or which case can be sidelined…"#VoiceForMen #HusbandSuicide @aajtakhttps://t.co/K89Io6KuPW

— Voice For Men India (@voiceformenind) August 22, 2023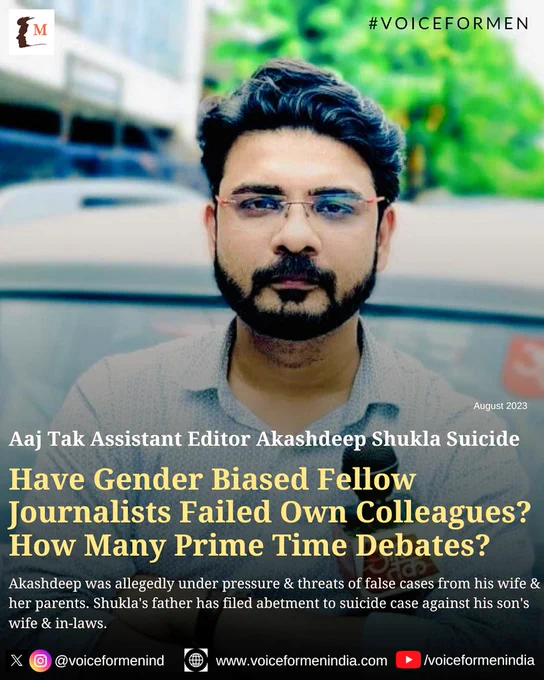 Join our Facebook Group or follow us on social media by clicking on the icons below
Donate to Voice For Men India
Blogging about Equal Rights for Men or writing about Gender Biased Laws is often looked upon as controversial, as many 'perceive' it Anti-Women. Due to this grey area - where we demand Equality in the true sense for all genders - most brands distance themselves from advertising on a portal like ours.
We, therefore, look forward to your support as donors who understand our work and are willing to partner in this endeavour to spread this cause. Do support our work to counter one sided gender biased narratives in the media.
To make an instant donation, click on the "Donate Now" button above. For information regarding donation via Bank Transfer, click here.
Alternately, you can also donate to us via our UPI ID: voiceformenindia@hdfcbank