The sessions court in Ahmedabad has made it clear that a man cannot be compelled to marry his girlfriend, if she files a case of rape on promise of marriage.
The court has acquitted the accused of all charges.
READ ORDER | Can't Be Rape On Promise Of Marriage If Complainant & Accused Were In Love For Five Years: Karnataka High Court
Case:
A woman named Ms X got married in the year 1999 and has two children from the marriage. She got acquainted with Bhavesh Patel, a bank employee, (accused in the case), got into an intimate relationship with him, after he helped her obtain a loan.
According to Ms X, Patel asked her to get divorced from her husband so that the duo could get married. Subsequently, Ms X obtained a divorce from her husband in the year 2017 by preparing a divorce deed on a Rs 100 stamp paper. When Patel later backed out, she charged him with rape on promise of marriage.
READ JUDGMENT | Fully Grown Up Lady Who Voluntarily Consented To Sexual Intercourse Cannot Cry Rape On False Promise Of Marriage: Calcutta High Court
Submission by Accused
According to Bhavesh Patel, in 2020, he introduced Ms X to his parents expressing his desire to marry her. However, his parents were against the union because the woman was previously married and had two children as well.
When Patel conveyed to Ms X that he would not be able to marry her, she lodged an FIR against him under Sections 376, 420 and 506(2) of the IPC, accusing him of raping her after promising marriage, and cheating and criminal intimidation.
READ ORDER | Relationship Was Consensual, But Consent Was Obtained On False Promise Of Marriage: Bombay HC Refuses Anticipatory Bail To Police Officer In Rape Case
Sessions Court, Ahmedabad
A sessions court that heard the matter expressed that a rape case is not a mode of forcing a man to fulfil his promise of marriage.
Additional Sessions Judge Amandeep Sibia refused to accept the woman's accusations that she was forced and lured into the relationship on a false promise of marriage.
Adult Woman Not Legally Divorced
The court also noted that the complainant was 36-years-old and a mother of two at the time of alleged incidents in 2017. More importantly, the court rejected the submission that the complainant divorced her husband through a deed prepared on stamp paper, which cannot be held as legally valid.
The court also remarked that the woman could not have been naive enough to get into a physical relationship with a person when she was already married.
Interview | Rape Law On Ground Of False Promise Of Marriage Is Highly Archaic: Hemant Batra (Public Policy Advocate)
The Court added,
A married woman entering a relationship with the accused cannot say that he had cheated her by falsely promising marriage, as it is not possible for the accused to marry a married lady who had not obtained legal divorce.

The accused had taken the prosecutrix (victim) to introduce her to his parents, but they did not give their consent for the marriage. In these circumstances, it cannot be said that the accused had cheated her. A prosecution under Section 376 IPC is not a mode of enforcing a promise of marriage.
Accordingly, the accused was acquitted from the said charges.
It Is Difficult For Indian Woman To Live Alone After Failed Live-in Relationship: Allahabad HC Justifies FIR In Rape On Promise Of Marriage Case
VFMI Take:
Some women have turned rape laws into a joke
Many women believe it is absolutely alright to have extra-marital affairs (adultery is decriminalised, but still a ground for divorce in India), but term is as cruelty if the husbands do so
When the women are betrayed by their paramours, they do not even spare them by taking advantage of gender biased laws
Relationship between adults, if consensual, should be kept out of the ambit of the law
Physical intimacy between two consenting adults should not be allowed to be converted into charges of rape, if the man backs out from marriage
There are numerous cases where women have married better prospects, thereby, dumping previous boyfriends
For the men, we have an advice as well – As an adult, you also need to be sure before making commitment to your partners. Knowing a situation well, being committed and then backing out due to non-acceptance from parents, is also not something that VFMI appreciates
With regards to complainant casually making a divorce deed: This act demonstrates how women in India have zero fear of law, particularly when they know that their husbands may not take any action due to threats of false criminal cases against them and their families
LEAVE YOUR COMMENTS BELOW:
Rape Case Is Not Mode Of Forcing Man To Fulfil His Promise Of Marriage: Ahmedabad Sessions Court

▪️Complainant was married for 18yrs, mother of 2 kids
▪️Divorces husband on Rs 100 stamp paper
▪️Boyfriend backs out
▪️She files case of rape#FalseRapehttps://t.co/MCjfZfBCXu

— Voice For Men India (@voiceformenind) May 3, 2023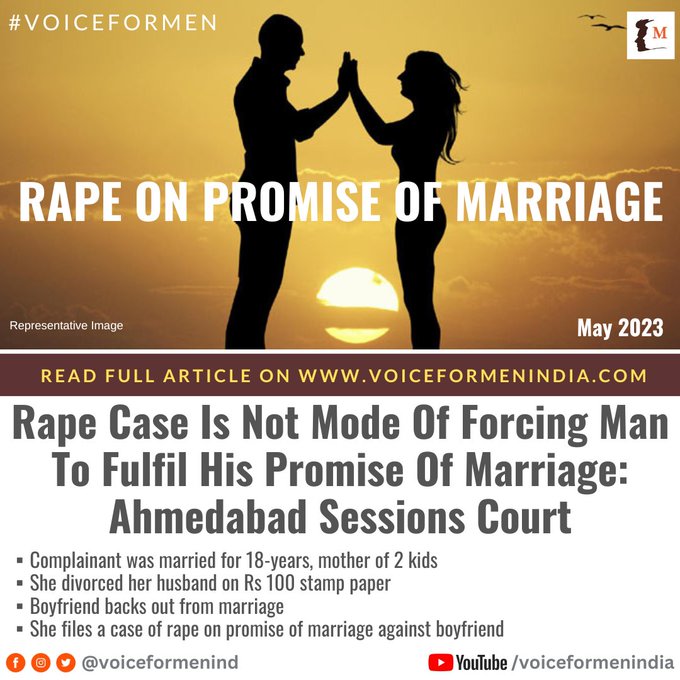 DO WATCH:
Marital Rape Debate | Justice For Women OR Political Opportunism
Join our Facebook Group or follow us on social media by clicking on the icons below
Donate to Voice For Men India
Blogging about Equal Rights for Men or writing about Gender Biased Laws is often looked upon as controversial, as many 'perceive' it Anti-Women. Due to this grey area - where we demand Equality in the true sense for all genders - most brands distance themselves from advertising on a portal like ours.
We, therefore, look forward to your support as donors who understand our work and are willing to partner in this endeavour to spread this cause. Do support our work to counter one sided gender biased narratives in the media.
To make an instant donation, click on the "Donate Now" button above. For information regarding donation via Bank Transfer, click here.
Alternately, you can also donate to us via our UPI ID: [email protected]