The Punjab & Haryana High Court has given stern instructions through its recent judgment with regards to summoning of husband's relatives in domestic violence case filed by wife.
The High Court has laid down the procedure for magistrates to follow in the states of Punjab and Haryana, along with the UT Chandigarh.
Section 12 empowers an aggrieved woman to file an application before the magistrate for various reliefs under the Domestic Violence Act.
Senior Citizen Parents Approach Punjab & Haryana High Court Demanding Love & Affection, Not Money, From Married Son
Case:
The current matter pertained to a domestic violence complaint by a woman against not only her husband, but also distant relatives and family friends.
As per process, the jurisdictional magistrate, vide an order dated September 23, 2022, issued a notice to the petitioners, along with the husband and all others named in the complaint. Subsequently, the petitioners moved the High Court through advocate PS Ahluwalia for quashing the complaint and the impugned notice.
READ ORDER | Wife Caused Enough Cruelty To Husband Even After His Acquittal In False Cases Filed By Her: Punjab & Haryana High Court
Punjab & Haryana High Court
Justice Jagmohan Bansal went through facts on record and expressed his concern over petitions being daily filed before the High Court assailing pleas under Section 12 and subsequent notice under Section 13 of the Protection of Women from Domestic Violence Act.
In order to have checks and balances in all such random cases, Justice Bansal has made it clear that the magistrates dealing with such matters may not issue a notice at the first instance to distant relatives.
Justice Bansal also directed the Registrar-General to circulate the judgment among all District and Sessions Judges within the jurisdiction of the Punjab and Haryana High Court.
New Procedure to be followed
Elaborating on the procedure, Justice Bansal asserted that all respondents may not be mechanically issued a notice under Section 13 in case of a petition under Section 12 of the DV Act. Justice Bansal ordered:
A notice at the first instance may not be issued to distant relatives.
Justice Bansal further asserted that the magistrate was expected to apply his mind regarding "distant and sundry relatives of the respondents" arrayed by an aggrieved person. The presence of respondents may not be required where they were represented through a counsel, reported The Tribune India.
Justice Bansal ruled that the magistrate was expected to pass an appropriate order in case of an application by the respondents on the grounds of jurisdiction, maintainability or deletion from array of respondents. He said,
In case an application was filed seeking alteration, modification or revocation of an order passed under the Act, the magistrate in terms of Section 25 of the DV Act is expected to pass an order, if parties are able to show change of circumstances.
Nisha Sharma False Dowry Case | After 9-Years, Court Observed Her Decision To Call Off Wedding Was Pre-Planned
Referring to multiple judgments on the issue, Justice Bansal asserted that the proceedings under Section 12 were civil in nature and the notice issued under Section 13 was not a summons under the provisions of the CrPC. A petition before the High Court under Section 482 of the CrPC was not maintainable against a petition under Section 12 or notice under Section 13.
While Domestic Violence Act is civil in nature, Section 498-A IPC deals with the criminal aspect of matrimonial cruelty. In the landmark judgment Arnesh Kumar Vs Bihar (2014), the Supreme Court of India has also down guidelines for arrests in all such matters.
Transfer Petition By Wife In Matrimonial Cases Most Misused Provision Aimed To Harass Poor Husband Trying To Seek His Matrimonial Rights | Punjab & Haryana High Court
What is 41A Notice of appearance before police officer?
[The police officer shall], in all cases where the arrest of a person is not required under the provisions of sub-section (1) of section 41, issue a notice directing the person against whom a reasonable complaint has been made, or credible information has been received, or a reasonable suspicion exists that he has committed a cognizable offence, to appear before him or at such other place as may be specified in the notice
Where such a notice is issued to any person, it shall be the duty of that person to comply with the terms of the notice
Where such person complies and continues to comply with the notice, he shall not be arrested in respect of the offence referred to in the notice unless, for reasons to be recorded, the police officer is of the opinion that he ought to be arrested. 4 [(4) Where such person, at any time, fails to comply with the terms of the notice or is unwilling to identify himself, the police officer may, subject to such orders as may have been passed by a competent Court in this behalf, arrest him for the offence mentioned in the notice
LEAVE YOUR COMMENTS BELOW:
"Do Not Issue Notice Directly To Distant Relatives Of Husband In Domestic Violence Case": Punjab & Haryana HC Lays Down New Guidelines

▪️In current matter, woman filed DV complaint against husband, distant relatives, his family friends#VoiceForMenhttps://t.co/cgIpZR2RgA

— Voice For Men India (@voiceformenind) May 4, 2023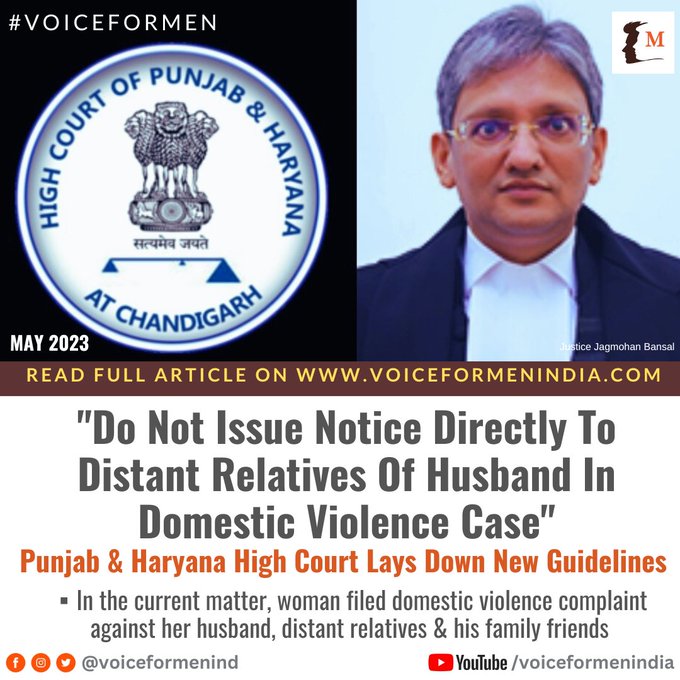 DO WATCH:
Don't Issue Notice Directly To Distant Relatives Of Husband | Kolkata Man Wrongly Arrested In 498A
Sarvjeet Singh Bedi | Cant Prosecute Jasleen Kaur U/s 340 CrPC For Mere Loss Of Reputation: Delhi HC
Join our Facebook Group or follow us on social media by clicking on the icons below
Donate to Voice For Men India
Blogging about Equal Rights for Men or writing about Gender Biased Laws is often looked upon as controversial, as many 'perceive' it Anti-Women. Due to this grey area - where we demand Equality in the true sense for all genders - most brands distance themselves from advertising on a portal like ours.
We, therefore, look forward to your support as donors who understand our work and are willing to partner in this endeavour to spread this cause. Do support our work to counter one sided gender biased narratives in the media.
To make an instant donation, click on the "Donate Now" button above. For information regarding donation via Bank Transfer, click here.
Alternately, you can also donate to us via our UPI ID: [email protected]