When an adult man is in consensual relationship with a minor girl, he is charged for rape under POCSO (Protection Of Children from Sexual Offences). However, reverse the Genders, and society says 'Love Is Blind'!
Such is one case reported from the Churu district in Rajasthan, where a 35-year-old married woman fell in love with a 17-year-old boy. Not just this, the married woman also re-married this minor boy, without securing divorce from her husband.
Dehradun HIV+ Woman Rapes 15-Year-Old Nephew Due To Her Jealousy Towards His Family
Case:
A 35-year-old married woman fell in love with a 17-year-old minor boy. This boy also happens to be the woman's nephew. 
Husband Files Police Complaint
The woman's husband approached Sadar police station and registered a complaint against his wife for remarriage, without taking divorce from him.
The husband informed police that the duo had been married since 10-years and both of them enjoyed a happy relationship. The couple also has two children and according to the aggrieved husband, there were no issues of dispute in the family. 
However, the husband alleged that his wife's nephew had visited their home sometime ago, and also spent somedays with them. It is then that the wife and her nephew developed an extra-marital affair, post which the minor boy started frequenting their home often. 
Ayodhya | 17-Year-Old Boy Arrested For Murdering 35-Year-Old Married Teacher Who Pressurised Him To Continue Relationship
The husband informed police,
If I had to go for family functions or anywhere, my nephew used to stay with us. My wife and her nephew would bond and have fun together, but we never doubted any ill intentions since they were a family.
Soon, this relationship developed into love and the husband expressed how his wife did not even think that her nephew was not even half her age.
The relationship had reached to a point, where his wife and her nephew secretly got married to each other, without any formal divorce from the husband.
Wife Informed Husband Of Her Second Marriage
According to the husband, his wife did not let any other family members know of this illicit relationship, however, after getting married to the minor boy, she intimated the husband how she had settled down again and wanted to spend her life with the 17-year-old boy.
Family Learns Of Woman's Remarriage
Soon the news of this marriage spread across, and both side families were left in shock. Despite everyone trying to convince the woman and the minor boy, both remained adamant and insisted that they wanted to be together. 
The family also tried to convince the woman, that the boy was a minor and could not understand life so much, however, as a mother of two children, she should understand the complications.
23-Year-Old Woman Arrested Under POCSO For Abducting & Sexually Assaulting 17-Year-Old Minor Boy
Woman Refuses To Return
After several efforts trying to convince the woman and the minor boy, the wife bluntly informed her husband and in-laws that she would not return.
VFMI Take:
Strict biased matrimonial laws only favour women in India – If a man remarries without divorce, he would be behind bars at once
However, when a husband tries to exercise his right, the application of law fails miserably, and seldom women are charged with bigamy or sent to jail
In the case above, the boy is a minor, which is even more shocking that there was no arrest of the woman on charges of POCSO
If a 35-year-old man would have married a 17-year-old girl, he would have been charged for rape and child marriage
But, once again, taking advantage of her gender, the woman has gotten away without any fear of law whatsoever
#Rajasthan | 35-Year-Old Married Woman Remarries 17-Year-Old Nephew Without Divorce; Refuses To Return Despite Husband's Police Complaint

▪️Woman was married for past 10-years & is mother to two children who she left behind with husband & in-laws#POCSOhttps://t.co/82l1Jf9sVO

— Voice For Men India (@voiceformenind) September 19, 2022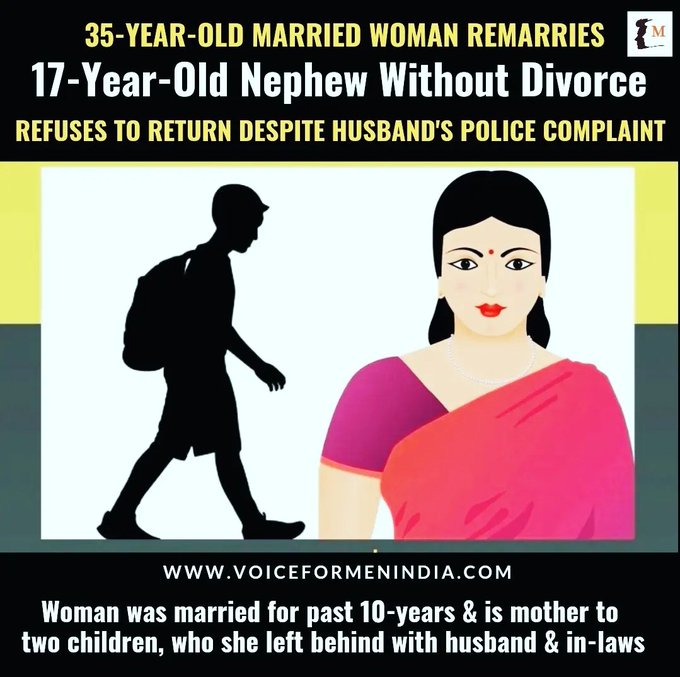 Join our Facebook Group or follow us on social media by clicking on the icons below
Donate to Voice For Men India
Blogging about Equal Rights for Men or writing about Gender Biased Laws is often looked upon as controversial, as many 'perceive' it Anti-Women. Due to this grey area - where we demand Equality in the true sense for all genders - most brands distance themselves from advertising on a portal like ours.
We, therefore, look forward to your support as donors who understand our work and are willing to partner in this endeavour to spread this cause. Do support our work to counter one sided gender biased narratives in the media.
To make an instant donation, click on the "Donate Now" button above. For information regarding donation via Bank Transfer, click here.