The Bombay High Court in its order dated September 14, 2022 granted bail to a man charged with rape, after observing that the complainant woman was married twice and would know the consequences of having physical relations with anyone.
Case:
The complainant woman is 22-years-old and has two children from her first marriage. Accusing her husband of being an alcoholic, she separated from him and then remarried a caterer.
READ ORDER | Relationship Was Consensual, But Consent Was Obtained On False Promise Of Marriage: Bombay HC Refuses Anticipatory Bail To Police Officer In Rape Case
Rape FIR
While returning home on December 21, 2021, husband had directed the wife to accompany the accused (bail applicant) who was riding back on his motorcycle, since there was no space for her in the tempo (in which the goods and catering material were being transported).
According to the woman, after travelling a particular distance with the applicant on his motorcycle, he took an abrupt turn and stopped the vehicle near a naala (drain). This is where he allegedly indulged into sexual intercourse with her by force.
It was also alleged that he threatened her not to disclose the incident to anyone.
After the woman returned home, initially, she justified her delay to the husband stating that the duo had to wait at the petrol pump for filling up the tank. Later, when the husband probed her further, the wife disclosed that she had been allegedly raped by the applicant. 
Subsequently, an complaint of rape had been filed by the woman and her husband on December 27, 2021. 
The aforesaid complaint resulted in registration of FIR which invoke Sections 376, 506 II and 323 IPC. The statement of the victim was recorded u/s.164 of Cr.P.C where she reiterated her stand in the complaint.
After completion of investigation, the charge-sheet was filed by the police. The applicant was arrested on December 28, 2021 and since then has been in jail. 
Bombay High Court Directs False Rape Accuser Woman To Pay Rs 25,000 To Maharashtra Police Welfare Fund
Complainant Wife Turns Intervenor In False Rape Case
The complainant wife now admits that she was having an extra marital affair with the accused man. The woman has turned into an intervenor in the rape case and states in her application:
Intervener to save her marriage stopped meeting the accused. That after some days, when Intervener's husband returned home, he started inquiring about her and applicant, as he was told by someone that she and the applicant were having an affair, and that they were seen on number of occasions.

That due to this, she got very scared, and with sole intention to save her marriage, she lied that applicant and she had no extra marital affair, and that on 20.02.2021, they reached late, as he raped her, and that prior to that she had not gone with him anywhere.

As her husband believed her, he took her to police station on 27.02.2021, and she had registered complaint against applicant i.e. C.R.No.122 of 2021 at Kandivali police station under Section 376, 506(ii), 323 of IPC.
Bombay High Court Grants Bail To Engineering Graduate After 7-Months In Jail In Alleged False Rape Case
Bombay High Court
The Bombay High Court initially observed that the prosecutrix is not supported by medical evidence, since she is a married woman and had borne two children.
Justice Bharati Dangre further remarked,
Being married on two occasions, she is capable of understanding the consequences of indulging physically with any person and from the narration of the applicant where she has specifically stated that the applicant committed sexual intercourse with her in standing position on two occasions within the shortest possible time that was available, in any case, her story would not inspire confidence.
Granting bail to the accused, the Bombay High Court said,
Now the prosecutrix herself has intervened and made a disclosure that the relationship was consensual, but to save her marriage, she lodged the false complaint, I see no reason why the applicant should remain incarcerated.

Ultimately, his fate would be decided at the time of trial when she would step into the witness box and the success of prosecution case would depend upon her testimony.
Bombay HC Grants Bail To Sub-Inspector In False Rape Case; Cites Lady Constable Was In Consensual Relationship
Are Women making a mockery of Rape Laws in India? Aren't courts equally responsible to encourage this menace by not sentencing such women to imprisonment?
Leave your comments on this case below:
READ ORDER | Bombay High Court Grants Bail To Lover As Complainant Woman Filed #FalseRape Case To Save Her Marriage

▪️This is woman's 2nd marriage
▪️Lover in jail since Dec 2021
▪️Woman turns intervenor accepting she filed false rape case#VoiceForMenhttps://t.co/BVVw5CUPA9

— Voice For Men India (@voiceformenind) September 19, 2022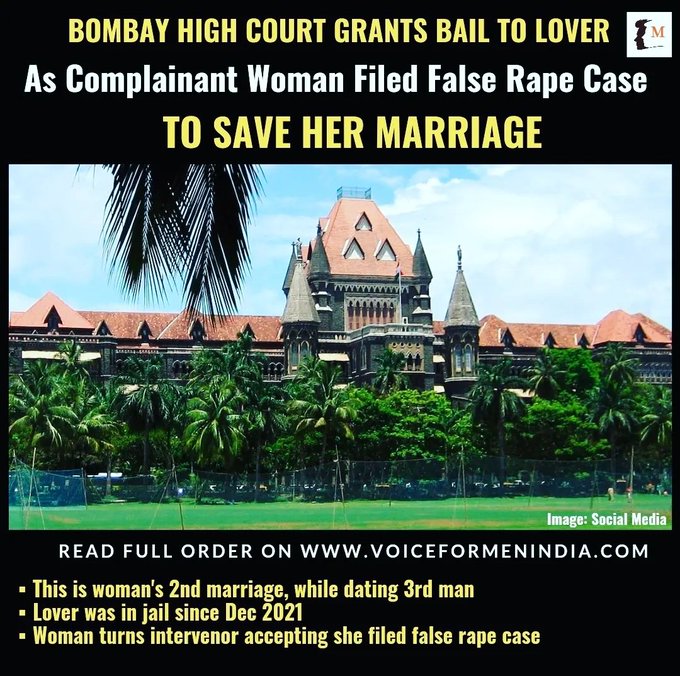 Join our Facebook Group or follow us on social media by clicking on the icons below
Donate to Voice For Men India
Blogging about Equal Rights for Men or writing about Gender Biased Laws is often looked upon as controversial, as many 'perceive' it Anti-Women. Due to this grey area - where we demand Equality in the true sense for all genders - most brands distance themselves from advertising on a portal like ours.
We, therefore, look forward to your support as donors who understand our work and are willing to partner in this endeavour to spread this cause. Do support our work to counter one sided gender biased narratives in the media.
To make an instant donation, click on the "Donate Now" button above. For information regarding donation via Bank Transfer, click here.