Voice For Men India is republishing this 2020 story, since we were made to delete the same fraudulently. Details at the end of this article. 
Physical Violence & Cruelty Against Husband
In July 2020, news agency IANS reported how a woman abruptly stopped a black SUV in the middle of the road in South Mumbai and created a public scene with her husband. 
Here's What Happened!
It was a Saturday evening on July 13, 2020, where a woman stopped a vehicle at Peddar Road and created a huge 'tamasha'.
As per several media reports, by News18, Republic TV, ScoopWhoop, Deccan Herald, Latestly and also Inshorts, the man driving the SUV was none other, but her husband. The man was travelling with his female friend, and the wife suspected them of having an affair. 
VIDEO:
In the video, the woman is seen shouting, screaming and banging the windshield of the car. Not just this, the woman also climbs up on the bonnet of the car and brings the traffic to a halt. 
The traffic police, who rushed to control her, so that the vehicular movement is not restricted, couldn't do much, while the woman continued demonstrating her drama in the middle of the road.
Later, the husband stepped out, tried to escape the embarrassment caused by his wife, but the woman caught hold of him and virtually dragged him towards the car, even kicking him on a couple of occasions. 
The police directed the husband to park the vehicle near the footpath when the woman again stepped out, ran to her husband's black SUV parked a few metres away, opened the driver-side door and started physically assaulting the husband and other woman seated besides the man.
Action by Traffic Police
The police later merely slapped a fine (challan) for the offence on the wife – for abandoning her vehicle on the road.
Speaking with IANS back then, Gamdevi Police Station Senior Police Inspector Rajendra Mohite said,
There was no physical violence, this falls in the category of non-cognisable offence so we can do nothing about it… However, the lady was fined for traffic rule violations and let off.
WATCH FULL VIDEO (By Hindustan Times):
#Watch | Mumbai couple's dramatic 'street fight' brings traffic to a halt. The woman was also seen climbing the bonnet of the vehicle and kicking her husband as he stepped outside the car. pic.twitter.com/7KVYrvvyf2

— Hindustan Times (@htTweets) July 13, 2020
VFMI Take:
Women in India get away with any action, literally
In the case above, it was alleged that the husband was travelling with a female friend with whom he shared a relationship
Let us remind all our readers, that the honourable Supreme Court of India has decriminalised Adultery in 2018, terming it as a progressive step for married women, who were deemed to be chattels of husbands, as per colonial law
Now, coming back to the video in question, infidelity as alleged, is no longer a legal wrong
One may argue the same to be morally correct or incorrect, however, under no circumstances, it empowers either spouse to turn violent and physically abusive towards the other partner
Under the law, both husband and wife have civil recourse of filing for divorce, if they suspect their spouse of having an extra-marital affair, during the subsistence of marriage
The woman in the video seems to have no respect for law, and if we reverse the genders here, the husband would have been booked under Section 498-A IPC for Cruelty, Domestic Violence, Section 354 IPC Assault and Outraging Woman's Modesty, and possibly also disturbing law and order for common citizens
But our Gender Biased system is so weak and considerate even towards violent and abusive women, that the lady in question was let off with a mere fine
We do not promote or encourage adultery, however, a husband too, cannot be a property of the wife, and if the marriage is not working out, both can legally approach court for justice 
VFMI Was Tricked In Deleting Earlier Article
Voice For Men India had covered the publicly avaiable story, expressing our views on the same on July 13, 2020. Click here for our old tweet in this case
On August 31, 2022, after more than 2-years, we receive an email from Ms Uma Aggarwal, the wife in the above video, asking us to delete the July 2020 article, since 'matter had been settled and she was getting defamed'
VFMI agreed to remove names of the parties from the older article, however, we refused to delete the same, since all major media houses still carried the story
The woman kept repeatedly sending us emails, asking us to delete the same, and we politely kept refusing to do so
On September 09, 2022, we received an SOS from our website backend, that the Data Server wants us to immediately delete the article, as they had received a Copyright Infringement Complaint for the same 
The complainant, by the name of Ms Shanaya Kapoor, claimed to have written the blog (https://www.tumblr.com/namify1/694635119501279232/wife-climbs-on-husbands-suv-thrashes-kicks-him) and accused VFMI of plagiarism
The Data Centre also sent messages such as 'website could be shut down if we didn't delete the blog immediately'
At the request of our website manager, and in the larger interest, we removed our July 2020 blog

(https://voiceformenindia.com/mumbai-woman-suv-peddar-road-thrashes-husband/)

on Sept 09, 2022
On the same day, we sent out a detailed email to the complainant Shanaya Kapoor asking us to share the exact date and time when she had penned the article, which she accused us of plagiarising
We even sent her a strong reminder, however, there was no response whatsoever from Kapoor
It is now learnt by our team, that this was a cyber fraud played by 'someone', copy pasting excerpts of our original article and filing a complaint of copyright against us
It is thus, that we have gone ahead and republished this entire story again 
VFMI Article Dated July 13, 2020 (now deleted by us)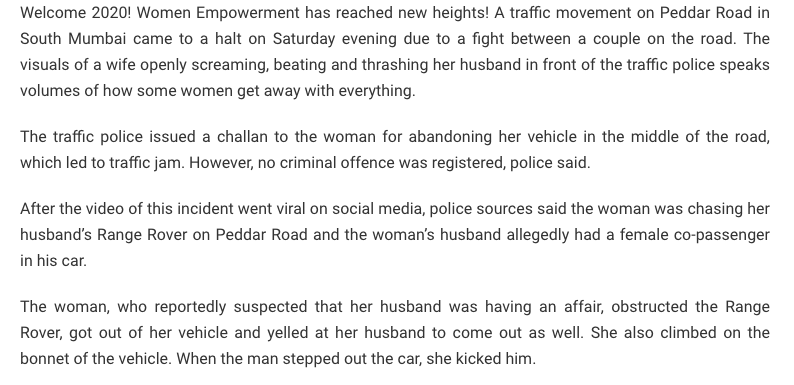 BLOG PENNED BY ONE @NAMIFY1/NAMIFY1.TUMBLR.COM WITHOUT DATE OR TIME
(Complainant Name Shanaya Kapoor) 
The same was copy pasted from our original article, later accusing us of plagiarism.
Leave your comments below:
WATCH PEDDAR ROAD DRAMA | Woman Climbs On Top Of Husband's SUV Car, Thrashes Him, Slaps Windshield With Chappal

▪️VFMI was tricked in getting this 2020 article deleted
▪️Republishing same
▪️How we were conned by some women to get this off our websitehttps://t.co/LuFwYwdEqS

— Voice For Men India (@voiceformenind) September 21, 2022
Join our Facebook Group or follow us on social media by clicking on the icons below
Donate to Voice For Men India
Blogging about Equal Rights for Men or writing about Gender Biased Laws is often looked upon as controversial, as many 'perceive' it Anti-Women. Due to this grey area - where we demand Equality in the true sense for all genders - most brands distance themselves from advertising on a portal like ours.
We, therefore, look forward to your support as donors who understand our work and are willing to partner in this endeavour to spread this cause. Do support our work to counter one sided gender biased narratives in the media.
To make an instant donation, click on the "Donate Now" button above. For information regarding donation via Bank Transfer, click here.