Maintenance cases after husband is dead can be tricky. This is why all women either need to be self dependent during the existence of marriage, especially when there are no kids involved.
The Aurangabad bench of the Bombay high court in it's July 2022 order ruled that a widowed daughter-in-law does not have a right to claim compensation from any in-laws or relatives of the husband.
This was man's second marriage, and the legality of the same was also contested by his family.
It Is A Fashion To Rope In All Poor Relatives Of Husband Under Section 498-A IPC Even If They Never Lived Together: Bombay High Court Aurangabad Bench
Case:
The man who worked as a talathi (government officer) in the State Revenue Department of Maharashtra had his first marriage in 2008 and the couple's divorce petition was pending before a family court for many years.
The man then remarried in 2016, without an official divorce from the Court. However, post remarriage, his divorce came through in September 2017.
After his demise, the second wife approached court to direct her in-laws to pay maintenance for her subsistence.
Bombay HC Aurangabad Bench Upholds Order Directing Wife To Pay Monthly Interim Maintenance To Estranged Husband
Submission by Second Wife
Lawyer Mayuri Kasturkar, who appeared for the "widowed daughter-in-law", submitted that the in-laws had allegedly forced the woman out of their house after the husband's death. The wife also contested that the mother-in-law had sold a piece of land to the husband of her daughter in November 2016. The woman was unable to maintain herself as her husband's property was in the hands of her in-laws.
Argument by In-laws
Lawyer Sandeep Rajebhosale, who represented the in-laws, argued that as such, the second woman's marriage during the subsistence of the husband's first marriage, was not legally tenable.
Bombay High Court Stays Eviction Of Son From Mother's Flat; Also Stays Maintenance To Widow
Magisterial Court, Aurangabad
On November 10, 2021, the magisterial court at Sillod in Aurangabad district directed notices against the mother-in-law, married sister-in-law and her husband in response to an application by their "widowed daughter-in-law" seeking maintenance from them.
Bombay High Court Aurangabad Bench
Justice Vibha Kankanwadi of the Bombay High Court Aurangabad Bench quashed and set aside the entire proceeding before the lower court against the three in-laws. The judge relied on two citations from the Punjab and Haryana high court and the Andhra Pradesh high court in support of her observation.
Citing limitations for maintenance under Section 125 CrPC, the Judge observed,
There is no such provision, much less the interpretation of Section 125 of CrPC (Code of Criminal Procedure) by any stretch of imagination, would not give a right to a widowed daughter-in-law to seek maintenance from father-in-law, mother-in-law or any of the relatives of the husband.
Adding further, the bench pointed out,
Maintenance under Section 125 of the code of criminal procedure can be sought by a person against another who has refused to maintain his wife or his illegitimate minor child, his father or mother.
Transfer of Property from Husband to In-Laws
The High Court also observed that the property transaction by mother-in-law to her son-in-law was done at the time when the husband was alive, and he (son) never objected to the transaction.
Supreme Court Orders Brother-in-Law To Pay Monthly Maintenance To Widow Wife & Child
VFMI Take:
At the outset, it may look very unjust that the widow is left to fend for herself
However, one cannot overlook the duration of marriage, which seems to be less than five years and no children
Secondly, the second wife was fully aware of the circumstances under which she got married to her husband, even before his divorce
As an adult, she is fully responsible for her life decision which could have legal hurdles in front of her in the future
The property that was sold within family in 2016, same year of second marriage, which means the second wife had no contribution whatsoever in owning the same
When women expect in-laws to take care of them for life after death of the husband, why is similar onus not been put on the widow's parents, siblings equally, with whome they have lived for at least two decades?
While we do empathise loss of partner for the woman, we strongly advise all married/unmarried people to be independent and plan and secure themselves well for any unforeseen situations in the future
It is also imperative to mention, that old in-laws also cannot claim maintenance, from daughters-in-law, post demise of their son
Widow Can't Demand Maintenance From In-Laws Under Section 125 CrPC | Bombay HC Aurangabad Bench

▪️Man's 1st marriage 2008
▪️Man's 2nd marriage 2016
▪️1st Divorce comes through 2017
▪️2nd wife wants maintenance from MIL, Married SIL & her Husbandhttps://t.co/LmOTHqkk90

— Voice For Men India (@voiceformenind) September 21, 2022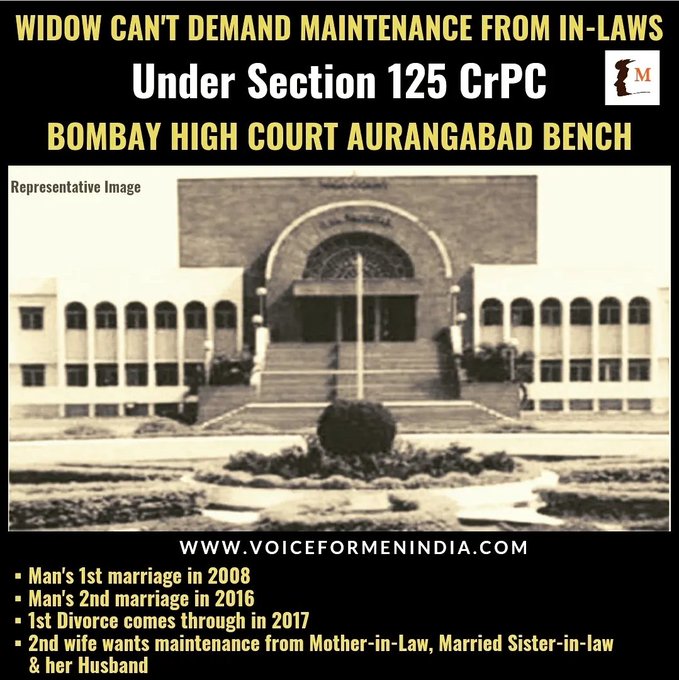 WATCH:
Harshvardhan Jadhav, Former MLA, Alleges False Case By Father-in-Law After He Filed For Divorce
Join our Facebook Group or follow us on social media by clicking on the icons below
Donate to Voice For Men India
Blogging about Equal Rights for Men or writing about Gender Biased Laws is often looked upon as controversial, as many 'perceive' it Anti-Women. Due to this grey area - where we demand Equality in the true sense for all genders - most brands distance themselves from advertising on a portal like ours.
We, therefore, look forward to your support as donors who understand our work and are willing to partner in this endeavour to spread this cause. Do support our work to counter one sided gender biased narratives in the media.
To make an instant donation, click on the "Donate Now" button above. For information regarding donation via Bank Transfer, click here.