No other chairperson for any Women's Commission is regularly or notoriously in the news, other than Delhi Women's Commission Chief Swati Maliwal. Once again, Maliwal is trending on Twitter due to her recent allegations against her 'dead' father.
Speaking to ANI at an event in the capital over the weekend, Maliwal quoted:
My own father used to sexually assault me when I was a young girl. He used to beat me up a lot. I was terrified when he came home, and often hid under the bed…I used to plan every night how I would help women get their due, and teach a lesson to such men who exploit children.
Detailing her ordeal further, Maliwal said her father held her by her ponytails and banged her head against the wall. She said,
I used to bleed from the head on impact. I believe when a person suffers a lot of atrocities, only then do they understand the pain of others, and it awakens a fire that can shake the entire system.
WATCH VIDEO:
#WATCH | "I was sexually assaulted by my father when I was a child. He used to beat me up, I used to hide under the bed," DCW chief Swati Maliwal expresses her ordeal alleging her father sexually assaulted her during childhood pic.twitter.com/GsUqKDh2w8

— ANI (@ANI) March 11, 2023
However, this time around, social media was not too kind to DCW Chief, exceptions being usual feminist handles that supported her without an iota of evidence, especially when the 'accused father' is no more alive to defend himself.
To begin with, Swati Maliwal's ex-husband, Naveen Jaihind, took to Twitter and posted a cryptic message after the above video started going viral. He quoted:
The new name of the film should have been "Tu Mahajhuthi Main Mahamakkar". Human being becomes dead when he attacks the dead. 
फ़िल्म का नया नाम होना चाहिए था "तू महाझूठी मैं महामक्कार" जब आदमी मक्कार.मौक़ामार और मुर्दा हो जाता है तो वो मुर्दों पर ही वार करता है आदमी में हरामीपन आ जाता है लोभ लालच तन मन पर छा जाता है तो वो ज़िंदा लोगो के कुकर्मों पर नही बोल पाता है।मुर्दों पर बोलके मर्द नहीं बनते घटिया🫢

— नवीन जयहिन्द (@NaveenJaihind) March 11, 2023
Perhaps, after being hounded by media for his statement, Naveen posted another tweet which read:
I request with folded hands to journalist friends, media and social media friends that I do not want to get into the gutter, there is a lot of dirt in the gutter, so friends, keep me away from this mud/dirt. I have a lot of work to do. No journalist friend should call for my statement. 
🙏मेरी हाथ जोड़ के प्रार्थना है पत्रकार साथियों मीडिया व सोशल मीडिया के साथियों से कि मैं गटर में नहीं उतरना चाहता बहुत गंदगी होती है गटर में तो इस कीचड़/गंदगी से मुझे दूर रखे दोस्तों।मेरे पास और बहुत काम है मुझे मुर्दों(आत्माओ)पर सवाल करने के लिए कोई पत्रकार साथी फ़ोन ना करे 🙏

— नवीन जयहिन्द (@NaveenJaihind) March 11, 2023
Soon, the political mudfest commenced where BJP's Priti Gandhi tweeted Maliwal's earlier statement of 2016, where she had addressed herself as 'proud daughter of an armyman'.
In 2016, Swati Maliwal was a proud daughter of an Armyman… and in 2023, her father was a sexual assaulter.

Will the real Swati Maliwal please stand up?!?! pic.twitter.com/UGa0XNYeq4

— Priti Gandhi – प्रीति गांधी (@MrsGandhi) March 11, 2023
Next in line was Radhika Khera of the Indian National Congress, who questioned whether Maliwal's statement was a gimmick before Haryana Assembly Elections. Khera wrote:
The people of Delhi are now in fear as to which hypocrites they have trusted to govern them! The intoxication of power is so much, the disease of publicity is so much that they can say anything. Elections are nearing in Haryana, is that why Swati and her husband have now accused her (armyman) father? Expose AAP one by one!
डर तो अब दिल्ली की जनता रही है कि किन पाखंडियों पर विश्वास कर के उन्हें दिल्ली सौंपी!

सत्ता का नशा इतना है, छपास की बीमारी इतनी है कि कुछ का कुछ बोल दें।

हरियाणा में चुनाव आने को है क्या इसीलिए स्वाति व उनके पति ने अपने फ़ौजी पिता पर अब आरोप लगाए?

एक एक कर AAP बेनक़ाब! pic.twitter.com/kkDwVYSbjJ

— Radhika Khera (@Radhika_Khera) March 12, 2023
Former DCW chairperson Barkha Shukla (BJP) also condemned Swati Maliwal's accusation against her father and said she probably has lost her mental balance. Speaking to ANI, Barkha Shukla said,
I think Swati Maliwal has lost her mental balance. That's why she talks like this. First, she made many serious allegations about her husband, after which she is now accusing her dead father. It is absolutely wrong and extremely shameful.
यह महिला इस पद के लायक़ नहीं है ।
जिस महिला की ख़ुद की मानसिक स्तिथि ठीक नहीं हो वह भला दूसरी महिलाओं को क्या इंसाफ़ दिलवायेगी ।
कल तक जिस पिता के लिये बोल रही है की गर्व है , आज वही पिता इसको दरिंदा नज़र आ रहा है ।
इतने समय तक चुप क्यूँ बैठी थी । @SwatiJaiHind pic.twitter.com/SNX8U6Nd6a

— Barkha Shukla Singh (@barkhasingh45) March 12, 2023
Adding further, Shukla said,
In the year 2016, Swati Maliwal had said that her father is a soldier and she is proud of him. He can even give his life for the country and the same father, when he is not alive today, Swati Maliwal is talking about him. She is accusing him of physically assaulting her when he is not in this world and is dead.

I request the LG sir that she should be immediately dismissed from her post because it will create a lot of trouble in the society. This is a wrong message that will affect the women and daughters of Delhi. This is a wrong notion about the relationship between father and daughter.
We must add this is not the first time, Maliwal had done a flip flop against her family member. In 2020, when Maliwal publicly posted her announcement of divorce, she then wrote:
My fairytale ended. Sometimes, best of people can't stay together…
However, within 1.5 years of her divorce, Maliwal tweeted the below sharing how she felt free from a bad marriage. In May 2021, Maliwal attacked her ex-husband while quoting:
So much better to get out of a bad marriage than to suffer silently.
▪️During divorce in Feb 2020 | "My fairytale ended. Sometimes, best of people can't stay together"

▪️In May 2021 | "So much better to get out of a bad marriage than to suffer silently"#SwatiMaliwal NEEDS SERIOUS HELP OR NEEDS TO BE SACKED FOR HER DAILY DRAMA ATTACKING MEN pic.twitter.com/tjPvDwegEQ

— Arnaz Hathiram (@ArnazHathiram) March 12, 2023
Here are some of the other social media reactions on this controversy: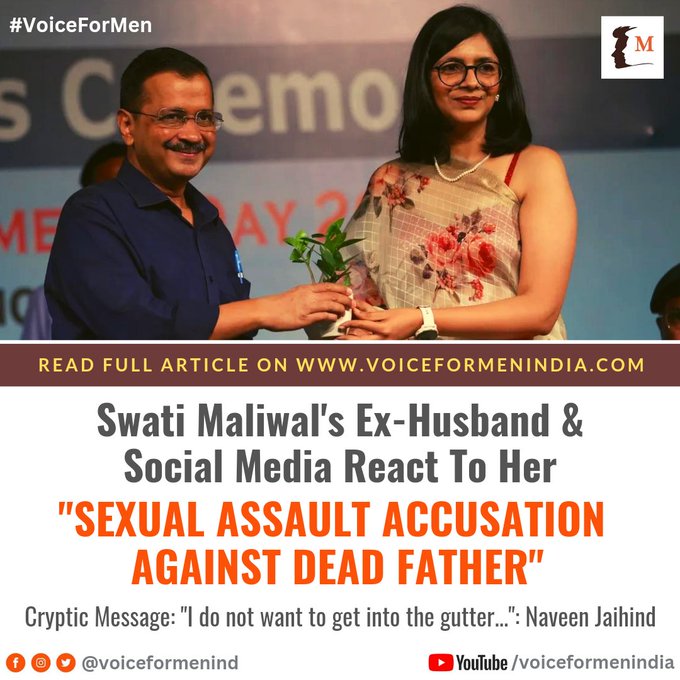 Isn't she the same person who stood on Delhi roads in the middle of the night and stopped cars to create some ruckus and get attention and when that didn't work she put her hand inside the car and began screaming? All for attention & controversy? https://t.co/JHtKtIOauE

— Piyush Kulshreshtha (@ThinkersPad) March 12, 2023
She was proud of her father who was from armed forces today she is saying the same father sexually molested her.

How can a women be proud of sexual offender?

Looks like another publicity stunt by @SwatiJaiHind @AamAadmiParty is filled with bunch of liars and actors. https://t.co/DbjPHyGd0U pic.twitter.com/afKhwlFhHV

— Sumeet Bhasin (@sumeetbhasin) March 12, 2023
Because of such venomous women the kids are brainwashed against innocent fathers and the gap increases and we can never end the #parentalalination and have sharedparenting ever , because of one such women no man will trust women ever https://t.co/ztVDEFolh0

— HARMIT SINGH (@THEHARMITSINGH) March 11, 2023
Some people can even sell themselves for name and fame !! https://t.co/nPZAwcQGYH

— Dhruv Chauhan (@DrDhruvchauhan) March 11, 2023
Swati Maliwal's father is there to state his version? https://t.co/0iuPPjySgW

— Divya Kumar Soti (@DivyaSoti) March 11, 2023
What an uncouth woman @SwatiJaiHind is. Maligning the father and daughter relationship.
A father is the first hero and the only sole protector a daughter sees and idealize. By the way if your father was such ruthless then who was paying your Amity university fee. https://t.co/25pJR2xRLh

— Akanksha Ojha (@obsolete_utopia) March 11, 2023
Now Father has become the new fall guy for children ratings https://t.co/bgixbrkFzT

— Narayanan 🇮🇳 (@kutty983) March 11, 2023
इतना मत गिरो की अपने पिता को रेपिस्ट कहने लगो https://t.co/Puyofi0SUw pic.twitter.com/cUHHo8PHME

— Ritesh Jha (@exRiteshJha) March 11, 2023
This is the new fashion of accusing father of assaulting for career prosperity.
If #SwatiMaliwal 's father is alive he should come in public and answer it. It is really a heinous crime why she was mum all those years ?

Kuch bhi bol do🤦kaise jamana aa gaya hai j. https://t.co/lTjI03NwuY

— Debarupa 🇮🇳 (@ipalitDebarupa) March 11, 2023
Now a days as a father you have to be scared while saying anything to your daughter. May be when she will grow up one day and will become Swati Maliwal type, she may call your scoldings for not eating properly or to do homework on time as sexual abuse. Typical AAPtard. https://t.co/IT6JilhOul

— The Critical Doc (@TheCriticalDoc) March 11, 2023
Seems like she doesn't understand difference between Physical Harrasment and Sexual Harrasment… Till now . This are Some politically motivated Drama Queens who rant anything infront of media https://t.co/PgINAGipmR

— Di£eep À🧢 (@Dileep_JaiHind) March 12, 2023
@SwatiJaiHind has proved that it is not easy to become liberal. You have to sacrifice your Dad and Chatacter. https://t.co/EKon6jttVy

— Amit (@ConvertedSoul) March 12, 2023
Creating a platform for their western masters for #ParentalAlienation in India. Feminists spreading fake narratives, telling fancy stories to widen the gap between fathers and their children. First they successfully broke our families now they want a fatherless society. Shameful https://t.co/M6fKNlxsBT

— Hakuna Matata (@ProudPahariya) March 11, 2023
DO LEAVE YOUR COMMENTS ON THE TWEET BELOW:
Swati Maliwal's Ex-Husband & Social Media React To Her 'Sexual Assault Accusation Against Dead Father'

"I do not want to get into the gutter…": @NaveenJaihind #SwatiMaliwal #ArvindKejriwal #AamAadmiParty #AAP #VoiceForMen https://t.co/wahdi8sqnp

— Voice For Men India (@voiceformenind) March 12, 2023
ALSO READ:
WATCH VIDEO: Delhi Mahila Court Grants Bail To Man Accused Of Dragging DCW Chief Swati Maliwal By His Car
Ghaziabad Gang Rape Case False: Why Has DCW Chief Swati Maliwal Not Deleted Her Misleading Tweets & Video Yet?
Delhi NGO Files Complaint With Juvenile Justice Board Against Swati Maliwal For Breaching Her Powers As DCW Chairperson
MUST WATCH:
Justice S N Dhingra | Former Delhi High Court Judge | Marital Rape | Men Welfare Trust | Sifar
Join our Facebook Group or follow us on social media by clicking on the icons below
Donate to Voice For Men India
Blogging about Equal Rights for Men or writing about Gender Biased Laws is often looked upon as controversial, as many 'perceive' it Anti-Women. Due to this grey area - where we demand Equality in the true sense for all genders - most brands distance themselves from advertising on a portal like ours.
We, therefore, look forward to your support as donors who understand our work and are willing to partner in this endeavour to spread this cause. Do support our work to counter one sided gender biased narratives in the media.
To make an instant donation, click on the "Donate Now" button above. For information regarding donation via Bank Transfer, click here.
Alternately, you can also donate to us via our UPI ID: [email protected]