Few years ago, could anyone imagine that a rape or gang rape case would be fabricated and planted to settle personal scores? Well, this is surely not a new phenomenon, but due to the presence of social media, the other side of such cases are also getting their share of attention.
This week, social media was abuzz with a horrific news of Ghaziabad (alleged) Gang Rape going viral. However, after medical examination of complainant woman and thorough police investigation, Ghaziabad police has issued their full statement calling the alleged gang rape as false, which was fabricated out of property dispute.
Mumbai Brothers Spend Nearly Two Weeks In Jail In False Gang Rape Case; Bail Granted After Intervention Of Mumbai Police Commissioner
Background:
On Wednesday, a 38-year-old woman had dialled 112 calling for urgent police help after she claimed to have been kidnapped and gang raped by five men in Ghaziabad.
Since the woman is a resident of Delhi, DCW Chief Swati Maliwal latched onto the opportunity without waiting for a medical report or detailed statement from police. Calling out one Men's Rights Activist as "Sick Mindset Fake Activist", Maliwal tweeted,
एक लड़की के साथ गैंगरेप करके उसके अंदर रॉड डालके सड़क पर बोरे में फेंका गया लेकिन अभी भी कुछ घटिया मानसिकता के 'फ़र्ज़ी ऐक्टिविस्ट' इसे झूठा केस बता रहे हैं। लड़की ने खुद अपने अंदर रॉड डाली, खून से लथपथ खुद को बोरे में डालकर खुद ही सड़क पर लेट गयी? थोड़ी तो शर्म करो!

(A girl was gang-raped and thrown in a sack on the road after putting a rod inside her, but still some 'fake activist' of poor mentality is calling it a false case. The girl herself inserted the rod inside herself, put herself in a sack covered in blood and lay down on the road herself? Have some shame!)
एक लड़की के साथ गैंगरेप करके उसके अंदर रॉड डालके सड़क पर बोरे में फेंका गया लेकिन अभी भी कुछ घटिया मानसिकता के 'फ़र्ज़ी ऐक्टिविस्ट' इसे झूठा केस बता रहे हैं। लड़की ने खुद अपने अंदर रॉड डाली, खून से लथपथ खुद को बोरे में डालकर खुद ही सड़क पर लेट गयी?

थोड़ी तो शर्म करो!

— Swati Maliwal (@SwatiJaiHind) October 19, 2022
Prior to her tweet above, Maliwal had posted a video hurriedly stating,
हर दिन दरिंदगी, हैवानियत देख देखकर मन टूटता है। महिलाओं और बच्चियों की चीखें कानों में गूंजती हैं। क्या बेटियाँ ऐसे ही मरती रहेंगी?
It breaks my heart to see cruelty, cruelty every day. The screams of women and girls resonated in the ears. Will daughters keep dying like this?
हर दिन दरिंदगी, हैवानियत देख देखकर मन टूटता है। महिलाओं और बच्चियों की चीखें कानों में गूंजती हैं। क्या बेटियाँ ऐसे ही मरती रहेंगी? pic.twitter.com/dLz2IZooBc

— Swati Maliwal (@SwatiJaiHind) October 19, 2022
Police Investigation, Medical Report
Doctors at Delhi's GTB Hospital strictly denied that the complainant woman had any internal injury.
Ghaziabad police did a press conference last evening where they called out this case to be false – a false gang rape case which was pre planned only to settle property dispute with the accused.
The police in their press statement, Praveen Kumar, UP's regional police chief said,
On Wednesday, when she was found, she was first taken to a government hospital in Ghaziabad; then asked to move to Meerut; but she refused to undergo medical examination at both the places.

Upon her insistence, she was admitted to GTB Hospital in Delhi.

She had said she was kidnapped when waiting for a bus for Delhi after attending a birthday party in Ghaziabad. Her brother had dropped her off at the bus stand, she had said, from where five men in a car dragged her into it and raped her in captivity.

Police said mobile signal tracking showed that one of her friends had switched off his phone right at the spot where she was found, near Ashram Road that connects Ghaziabad with Delhi.
Nagpur False Gang Rape Case | DCP, 25 Officers Remained Without Food Throughout Investigation
Fake Kidnap Story
Kumar added,
She was with two of her friends for the two days — the duration for which she'd alleged she'd been kidnapped and raped by five men.

The complaint was all a conspiracy hatched to file a rape case on the five men.
Kumar also said, that the woman was likely to face action.
WATCH VIDEO | Hyderabad Police Commissioner Apologises To 4 Wrongly Accused Auto Drivers In False Gang Rape Case
Money Transferred To Create Publicity About False Gang Rape
Kumar also shared,
Evidence has also been found that one of them gave money to a person through PayTM to give more publicity to the rape case. That friend already has three criminal cases registered against him.
Car Recovered
The police has confirmed recovering the car in which the woman went with her friends and stayed with them for two days.
Police have detained three of the woman's associates.
Delhi Shakur Basti Station GANG RAPE FALSE | Woman Wanted To Get Rid Of Old Husband & Marry Paramour
DCW Chief Tweet Not Deleted (as on Oct 21, 2022; 1.10pm)
Five men were arrested and put behind bars after the panic created on social media. Fake news was peddled that the current incident was similar to that of Nirbhaya gang rape case (2012) and false narratives of rod being inserted inside the complainant were also shared widely.
Despite a detailed press conference by Ghaziabad Police dated October 20, 2022, 5.29pm, DCW Chief Swati Maliwal has not deleted her tweets/videos nor issued any byte retracting her statements.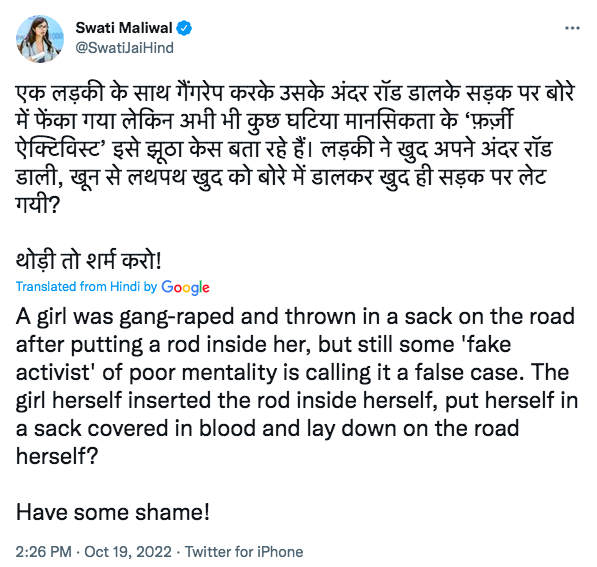 VFMI Take:
Such false rape/gang rape cases are a blot on genuine rape victims
People who claim to be concerned for heinous crimes such as rape, have failed to be vocal about strictest punishment to such false accusers
Rape cases are sadly turned into political opportunism by all parties attacking opposition in different states
UP Government must set a very strong example this time so that no woman dares to file false rape case in the future
#Ghaziabad Gang Rape Case False: Why Has DCW Chief @SwatiJaiHind Not Deleted Her Misleading Tweets & Video Yet?

▪️Will @ArvindKejriwal take action against such irresponsible panic spread in social media?#VoiceForMen @ghaziabadpolice @DeepikaBhardwaj https://t.co/qPNwCHIQQJ

— Voice For Men India (@voiceformenind) October 21, 2022
DETAILED PRESS CONFERENCE BY GHAZIABAD POLICE
Ghaziabad Gang Rape Case Fake; Girl Planned False Rape Due To Property Dispute: Police
ALSO READ –
Disha Rape Case | Encounter Of Accused Men By Hyderabad Police Fake: Commission Report
No Anticipatory Bail To Rape Accused Or Those Booked Under POCSO | Uttar Pradesh Government Passes Bill
GHAZIABAD GANG RAPE CASE FAKE | @ghaziabadpolice

▪️Fake Case planned due to property dispute b/w alleged victim & accused
▪️Girl was with friends for 2 days when she alleged kidnap
▪️Money paid through PayTM to give more publicity to rape case
▪️Car recovered#VoiceForMen CONT pic.twitter.com/xdDzAsm8Lp

— Voice For Men India (@voiceformenind) October 20, 2022
Join our Facebook Group or follow us on social media by clicking on the icons below
Donate to Voice For Men India
Blogging about Equal Rights for Men or writing about Gender Biased Laws is often looked upon as controversial, as many 'perceive' it Anti-Women. Due to this grey area - where we demand Equality in the true sense for all genders - most brands distance themselves from advertising on a portal like ours.
We, therefore, look forward to your support as donors who understand our work and are willing to partner in this endeavour to spread this cause. Do support our work to counter one sided gender biased narratives in the media.
To make an instant donation, click on the "Donate Now" button above. For information regarding donation via Bank Transfer, click here.