Divorce proceedings can be really messy. If you happen to be an established figure, it can get even worse.
The latest matrimonial drama which is now out in public domain is that of Sridhar Vembu, co-founder & CEO of Zoho, who has been accused by his wife Pramila Srinivasan of divesting a chunk of his shares in the company and placing it with his sister and her husband, without informing her.
Zoho is a US based company that builds software suites and is valued at $ 5 billion.
Paatal Lok Actor Swastika Mukherjee Publicly Apologised For Filing 498A Case Against Husband's Family
Background:
The couple was based in California, US, for nearly 25-years before Sridhar decided to move back to Tamil Nadu in early 2020. Later, in August 2021, Sridhar filed for divorce in California.
Allegations by Wife
According to a Forbes report, Pramila has accused Sridhar of shifting Zoho's intellectual property to India. During a court filing in January this year, Pramila claimed:
He decided to make fictitious transfers or 'sales' of our most valuable community asset to his family members without their paying any cash or other consideration, and without ever telling me or asking my permission.
In a statement to Forbes, Pramila's attorney John Farley said that community property law in California does not allow a spouse during marriage to secretly dispose of assets without obtaining the other spouse's consent. He said,
After all 'community' property in effect means jointly owned — a duty to be transparent with your spouse and not to engage in secret transactions to try to evade the 50-50 legal requirement.
Forbes also reported that, in December 2011, a new company, Zoho Corporation Private Limited, was set up in India by Vembu and his brother-in-law Rajendran Dandapani, according to a memorandum of association, showing them owning 43% and 57%, respectively. But Vembu's lawyers have maintained that he only ever owned 5% of the India-based company.
Golfer Sujjan Singh Charged With 498A, Produces 'Dowry' Items Such As Pichkaris, Show Pieces & More
According to a capitalisation table filed by Pramila's lawyers, by the end of 2011:
Vembu's sister Radha got a 49% stake
Her husband Dandapani received 34%
Tony Thomas (Co-founder Zoho) held 8%
Vembu 5%
Three others owning the remaining 4%
Thomas and Vembu sold Zoho's intellectual property to the new entity ZPCL for $50 million, though it's unclear how and when the money was paid.
Pramila also alleged that Vembu had abandoned her and her son who is on the autism spectrum in 2020.
Flipkart Co-Founder Sachin Bansal's Wife Files Section 498A Alleging Dowry & Sexual Harassment
Other Side
After name calling and mudslinging started on social media against Sridhar, he decided to share his side of the matter with all. Through his Twitter account @svembu, Sridhar expressed the below: 
With vicious personal attacks and slander on my character, it is time for me to respond. This is a deeply painful personal thread. My personal life, in contrast to my business life, has been a long tragedy. Autism destroyed our lives and left me suicidally depressed.

My wife Pramila and I were in this fight against autism for over 15 years. She is a super mom and her passionate cause is curing our son of autism. I worked hard along with her. To ensure his safety I also took some of his treatments so I could know what they did to him

As our son got older (24 today) I felt the endless treatments he was under were not helping much and he would be better off in rural India, closer to loving people and helping to lift up people. She felt I was giving up. Our marriage collapsed under that stress.

Unfortunately the end of our marriage brought a new conflict. She is making unfounded allegations in court about my ownership interest in Zoho Corp and she has chosen to go to the press too. The matter is in court in the US, my filings are public.

I will say this unequivocally: I never ever transferred my shares in the company to anyone else. I lived in the US for the first 24 years of our 27 year history and much of what constitutes the company was built in India. That is reflected in the ownership.

It is complete fiction to say I financially abandoned Pramila and my son. They enjoy a far richer life than I do and I have supported them fully. My US salary for the last 3 years has been with her, and I gave our house to her. Her foundation also is supported by Zoho.

All of this mess was caused by my uncle Ram (my father's younger brother) living in the US, who I gave shelter to due to his terminal cancer, taking out his own long running frustrations with my father. He is doing that by spreading malicious rumours about me and my siblings.

My uncle Ram from Alaska was estranged from my father and us for decades and we had little or no communication until I invited him to live with us in California a few years ago, purely on compassionate grounds due to his terminal cancer and his lack of family to care for him.

My uncle described my father, his own elder brother; under oath as "my brother could not rub two nickels together" and that is how low he can get. Yes my father was poor but he is a proud man who never took anyone's handout. My uncle was never part of our lives for decades.

Sadly Pramila has chosen to trust my uncle Ram who still lives rent free at our home, due to her own frustration that she feels I abandoned the fight on autism. All I can say is that if I am not serving the causes and people I serve now, my will to live would have left me.

We have lived this tragic personal life. Now due to my uncle Ram's falsehoods, the tragedy has added a messy legal dimension. I have always supported Pramila and my son and will continue to support them as long I live. I am confident truth and justice will prevail.

I have endured vicious personal attacks before and I will endure this one too. I will continue to build institutions and capabilities in rural India, my only remaining purpose in life. My prayer is that someday my beloved son will join me here. Please pray for us.
Voice For Men India refrains from taking either side as the matter is subjudice. However, it is important for all to hear both sides of the story before becoming social media warriors and champions.
Leave your comments below:
#SridharVembu Divorce Case | Zoho CEO Shares His Side

"It is complete fiction to say I financially abandoned Pramila & my son. They enjoy far richer life than I do & I have supported them fully.

My US salary for last 3-years has been with her, & I gave https://t.co/k8Cj0n3aPL… https://t.co/yqSpAHSr8n

— Voice For Men India (@voiceformenind) March 14, 2023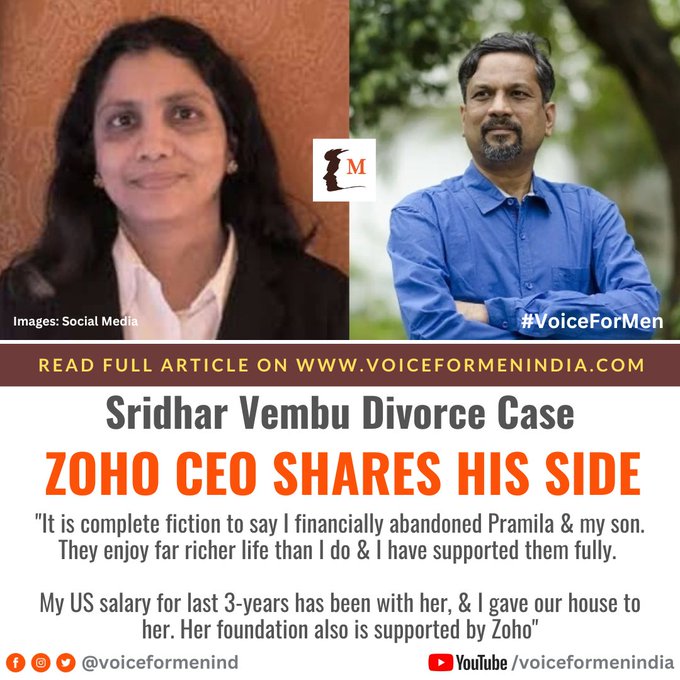 DO WATCH:
Marital Rape Verdict | Advocate J Sai Deepak | Other Side
https://www.youtube.com/watch?v=BYwJ-MDdudo&t=1521s
Join our Facebook Group or follow us on social media by clicking on the icons below
Donate to Voice For Men India
Blogging about Equal Rights for Men or writing about Gender Biased Laws is often looked upon as controversial, as many 'perceive' it Anti-Women. Due to this grey area - where we demand Equality in the true sense for all genders - most brands distance themselves from advertising on a portal like ours.
We, therefore, look forward to your support as donors who understand our work and are willing to partner in this endeavour to spread this cause. Do support our work to counter one sided gender biased narratives in the media.
To make an instant donation, click on the "Donate Now" button above. For information regarding donation via Bank Transfer, click here.
Alternately, you can also donate to us via our UPI ID: [email protected]