Crime Has No Gender. In the absence of stringent laws with regards to Crimes By Women, several men have been falling prey to violent and revengeful attacks by this gender.
In a shocking case reported from Delhi, a man was attacked with acid by a disgruntled woman, because he refused to marry her.
Case:
25-year-old Shyam Singh lives with his aunt Anita in Mayur Vihar, Delhi since the demise of his parents. He got acquainted with a girl named Anjali from Sonepat, Haryana, over the phone and soon a friendship between the two developed.
Recently, Anjali expressed her desire to marry Shyam, however, Shyam's aunt was reluctant of taking this alliance forward, which infuriated Anjali.
Bihar | Acid Attack On Husband | Man Beaten Up By Wife & In-Laws; Critical | Domestic Violence Against Men
Acid Attack
On October 26, Anjali attacked Shyam with acid as she kept screaming,
If you are not mine, then I will not allow anyone else to come into your life.
Shyam has been admitted to a private hospital after the incident. Doctors have kept him in ICU and his condition is said to be critical.
Statement by Shyam's Aunt
The boy's family members informed police that Anjali belonged to Bidhal village and started talking to Shyam over the phone. During their telephonic conversations, a friendship developed between the two. Meanwhile, Anjali told Shyam that she wanted to marry him, but Shyam refused. 
Meanwhile, before Diwali, Anjali landed up at Anita's house with her mother to inform her of their 'relationship'. However, Anita's negative response made Anjali extremely unhappy. Anita said,
She left the house with a warning that Shyam will get married only to me, otherwise no one.
Shyam had been living in fear since then.

With regards to the acid attack, Anita said,
Shyam stepped out for bringing milk on Wednesday evening. Anjali suddenly appeared and started pressurising him again for marriage. At that time, Anjali had some acid-like liquid in her hand in a 5 litre can.

When Shyam categorically denied that he could not marry her without my consent, she literally bathed him by pouring acid all over his body.
The aunt added that Anjali kept looking at Shyam as he was suffering. When neighbours reached the spot, Anjali fled. Shyam was rushed to a hospital where his condition remains critical.
19-Yr-Old Girl Attacks Boyfriend With Acid After He Refuses To Marry Her | Where Are #KabirSingh Critics?
Anjali Was Married Earlier
Interestingly, Anita, who was present in the hospital, informed media that Anjali had been married earlier, however, had sent her husband to jail. According to the victim's aunt, Anjali keeps roaming around with someone else throughout the day, and was now eyeing Shyam for marriage for his wealth. This was the reason why she had disapproved of this alliance. 
No Arrest Even After 24-Hrs
Shyam's aunt Anita alleges that she has given a police complaint against the woman and others, but even after 24 hours, the police did not take any action. Anita concluded,
If a man would have poured acid on a woman, then by now the police would have picked up all his family members as well. We want justice. Those who spoiled the life of my boy should be arrested immediately.
Separated Woman In Coimbatore Throws Acid On Ex-Boyfriend Who Refused To Marry Her
Police Statement
Investigating officer of the case ASI Parvind told media that a complaint of acid attack on a youth named Shyam has been received in Mayur Vihar. He added that the accused girl took such a step due to Shyam's refusal to marry her. He said that the police is taking further action in the matter.
ASI Parvind also said that there is a ban on the sale of acid in Haryana, so they are investigating how Anjali got hold of acid in so much quantity.
While an FIR has been lodged, the accused woman is yet to be arrested.
Girl Throws Acid On Hisar Boy As He Wanted To Delay Marriage For Higher Studies
Update as on November 1, 2022
Independent journalist Deepika Narayan Bhardwaj wrote,
ANJALI HAS BEEN ARRESTED.

Won't name cop but when i called up & enquired why she did it, he laughingly said – He wasn't marrying her & "using her" that's why. When i questioned that she's much elder to him & already married, he had nothing to say then!

A WEEK TO TAKE ACTION!
WATCH AUNT ANITA'S STATEMENT TO DAINIK BHASKAR (after attack, before arrest)
#WATCH | Sonepat Woman Attacks Man With Acid After His Refusal To Marry Her; No Arrest Even After 24-Hrs

▪️Acc to boy's aunt, accused woman is married & sent her husband to jail

▪️She kept screaming, "If you're not mine, then I will not allow anyone else to come into your life" pic.twitter.com/b93SHehJRI

— Voice For Men India (@voiceformenind) October 28, 2022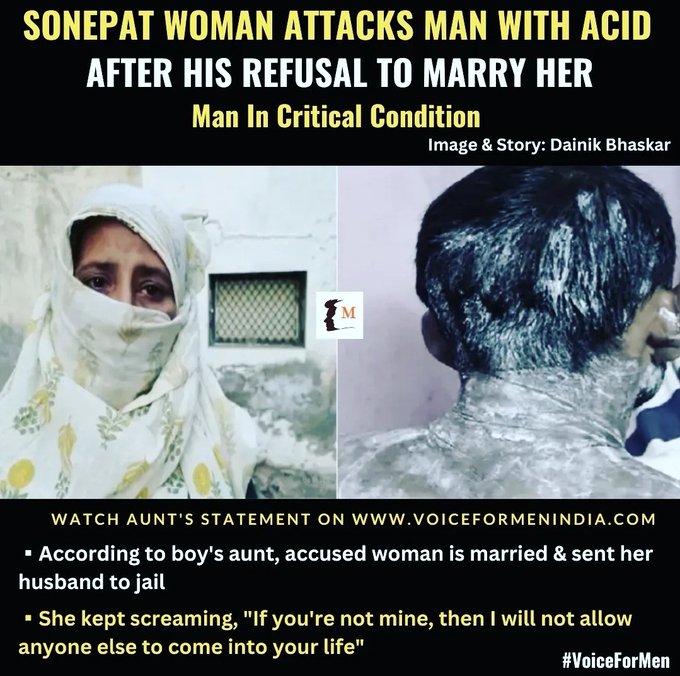 ALSO WATCH:
Kerala Woman Throws Acid On Boyfriend's Face For Rejecting Marriage Proposal | Crime Has No Gender
Join our Facebook Group or follow us on social media by clicking on the icons below
Donate to Voice For Men India
Blogging about Equal Rights for Men or writing about Gender Biased Laws is often looked upon as controversial, as many 'perceive' it Anti-Women. Due to this grey area - where we demand Equality in the true sense for all genders - most brands distance themselves from advertising on a portal like ours.
We, therefore, look forward to your support as donors who understand our work and are willing to partner in this endeavour to spread this cause. Do support our work to counter one sided gender biased narratives in the media.
To make an instant donation, click on the "Donate Now" button above. For information regarding donation via Bank Transfer, click here.