The Bombay High Court in its order dated February 1, 2022 quashed an FIR against a matchmaker, a senior banker, booked along with the husband and his family.
A division bench of Justices Revati Mohite Dere and Prithviraj Chavan observed,
A match-maker, who praised the groom before the prospective bride's family, cannot be charged with cheating merely because the man allegedly treated the woman badly and is now accused of domestic violence.
Bombay High Court|Women Are Making Vague Allegations Against Every Member Of Husband's Family Under 498A
Case:
Shailendra Kumar Dubey, works as an Assistant General Manager, for Bank of India in West Bengal. Presently, he is posted as a Deputy General Manager. He acted as a matchmaker for a marriage that got solemnised in 2018. 
Now, the woman (whose marriage was arranged by Dubey), has filed a domestic violence complaint against her husband and in-laws, alleging that soon after the wedding, she was subjected to physical and mental cruelty as well as dowry demands.
In her supplementary statement to the police, the woman also accused Dubey of cheating them by exploiting her father sentimentally, praising her husband and in-laws and saying that they are decent, cultured and refined and that the boy has also a very good job in a foreign country.
In 2019, Dubey, along with others, was booked in the case registered at Bandra Kurla police station in Mumbai under Sections 376, 377, 498A, 354, 506(2), 420, 406, r/w 34 of the Indian Penal Code. The matchmaker is already on Anticipatory Bail granted by the Sessions Court, Mumbai on 13.01.2021 in A.B.A. No.1467 of 2020.
Subsequently, Dubey approached high court to get the FIR quashed against him.
Bombay High Court Allows 498A FIR In Mumbai For Alleged Harassment That Happened In Eastern UP
Bombay High Court
The Bombay High Court heard the petition and observed:
This is nothing but an abuse of process of law by the Investigating Officer which cannot be countenanced.

The allegations made in the FIR and the final report under Section 173 of the Cr.P.C., even if, taken at their face value and accepted in their entirety, do not prima facie constitute any offence or make out a case against the applicant.
Bombay High Court: "Every Case Of Harassment To Married Woman Is Not 'Cruelty' Under Section 498A"
Adding further, the division bench of Justices Revati Mohite Dere and Prithviraj Chavan said,
This, in our view, cannot be said to be the offences, even remotely, attracting ingredients of Sections 406 or 420 of the Indian Penal Code.

As a matter of fact, it appears that the petitioner, in good faith, acted as a mediator for fixing the marriage of the respondent no.1 (wife) with the accused, providing the contact details of both parties to each other. He is in no way related with any of the parties.
"Charges By Wife Were Actuated By Design To Harass & Humiliate" | Bombay HC Quashes 498A Against Family
The Bombay High Court cited the State of Haryana & Ors. Vs. Bhajan Lal & Ors adhering to the guidelines that have been laid for quashing of FIR, and said it is a fit case to invoke jurisdiction under Section 482 of the Cr.P.C. and under Article 226 of the Constitution of India.
Leave Your Comments Below:
READ ORDER | Woman Can't File Cheating Case Against "Matchmaker" Because She Has Accused Her Husband Of Domestic Violence: Bombay HC

▪️Matchmaker, who works as DGM for Bank of India, had to approach HC to get FIR quashed against him#VoiceForMen https://t.co/G68Hlp8vyM

— Voice For Men India (@voiceformenind) February 13, 2023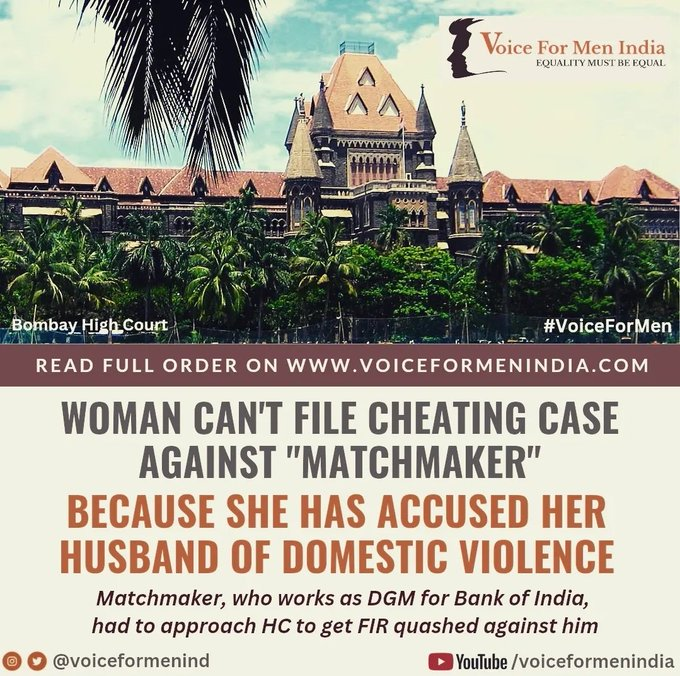 DO WATCH:
Justice S N Dhingra | Former Delhi High Court Judge | Marital Rape | Men Welfare Trust | Sifar
Join our Facebook Group or follow us on social media by clicking on the icons below
Donate to Voice For Men India
Blogging about Equal Rights for Men or writing about Gender Biased Laws is often looked upon as controversial, as many 'perceive' it Anti-Women. Due to this grey area - where we demand Equality in the true sense for all genders - most brands distance themselves from advertising on a portal like ours.
We, therefore, look forward to your support as donors who understand our work and are willing to partner in this endeavour to spread this cause. Do support our work to counter one sided gender biased narratives in the media.
To make an instant donation, click on the "Donate Now" button above. For information regarding donation via Bank Transfer, click here.
Alternately, you can also donate to us via our UPI ID: voiceformenindia@hdfcbank