The Dwarka Court in Delhi in its order dated May 02, 2023 rejected an anticipatory bail of a married woman (and her family members) who are accused of forcefully entering her mother-in-law's home amidst a matrimonial battle. 
One of the accused has also been arrested yesterday.
DOMESTIC VIOLENCE | Woman Bites Off Mother-in-Law's Three Fingers After Petty Fight Over TV Volume
Case:
Neeraj got married to Nancy in December 2021. However, the wife started demanding separate residence away from in-laws within few months of marriage. 
Due to non compatibility between wife and in-laws, Neeraj along with his wife moved to a rented apartment in Jankipuri, New Delhi. 
One day post midnight, Neeraj called his parents and informed them that Nancy and her relatives had thrashed him and were heading to their home for beating them up as well. Taking precautions to secure their safety, Neeraj's parents locked the door of their house and went to their neighbour's home. 
Delhi: Woman Arrested For Brutally Murdering Her 86-Year-Old Bedridden Mother-in-Law | Crime Has No Gender
At around 1:45 am, the accused persons Ankit, Ritik, Sunder Devi and Nancy arrived at Nancy's in-laws' place and forcefully entered into the house. They then opened the almirah which was kept in drawing room, took out the cash and valuable articles and walked out of the house using abusive language.
Subsequently, Nancy's mother-in-law, Lata Saroj dialled 112, called the cops and registered a complaint against all four accused. 
Alwar School Principal Domestic Violence Case | I Suffered In Silence Because Of Our Son
Metropolitan Magistrate Court, Dwarka
The Metropolitan Magistrate Court, Dwarka via its order dated February 02, 2023, directed the SHO Lajpat Nagar police station to register an FIR under the appropriate provision of law. While ordering the FIR, the the Court also raised objections on how the police officer on duty concluded that the mother-in-law's complaint was false and motivated, even without an investigation. Metropolitan Magistrate Siddhant Sihag said,
Before parting with this order, I deem it appropriate to observe that without carrying out any investigation in the instant matter, merely on the basis of a preliminary enquiry, the examining officer has reached the conclusion that the allegations levelled by the complainant are false and motivated.

The said approach taken by the examining officer is contrary to the principles of criminal law.
The accused then approached Dwarka Sessions Court for anticipatory bail. 
Sonipat Woman Thrashes Old Mother-in-Law After Her Son Got Roti For His Daadi
Arguments by Accused
During their arguments, counsel for the accused persons submitted that Nancy's streedhan was kept in the house of the complainant and that is why they entered into the house. The bail application stated:
Anticipatory bail application is moved on the ground that present matter is a matrimonial dispute between the parties and FIR is already registered against the complainant and her family qua the matrimonial dispute and just to create pressure upon the applicant, present complaint is initiated without any rhyme or reasons.
Bombay HC Grants Pre-Arrest Bail To Man For Allegedly Raping Mother-in-Law As Charges Seemed Concocted
Defense by State
Ld. Additional Public Prosecutor for State strongly opposed the bail application on the ground that there are serious allegations against the applicant/accused, therefore, the bail application should not be allowed.
Sessions Court, Dwarka
At the outset, Additional Sessions Judge Vipin Kharb remarked,
Even if, court considers the submission of counsel for accused persons as correct that streedhan of Nancy was kept in the house of the complainant, even then accused Nancy has no right to take the streedhan forcefully without the permission of the complainant as it was in the custody of the complainant.

Further, as accused Nancy is married with son of complainant but Nancy along­with her husband is staying in different house, therefore, the house of the complainant is not her matrimonial home and she has no right to enter into it without permission.
READ ORDER | Mother-in-Law Being Owner Of Property, Can Evict Troublesome Daughter-in-Law From Shared Matrimonial Household: Delhi High Court
Rejecting the anticipatory bail application, the Court thus ordered:
Considering the heinous nature of the offence committed by accused persons at late hours of the night in the house of the complainant and investigation is required to recover the material which was taken out by them from the house of the complainant, therefore, applications for anticipatory bail is dismissed.
One of the accused, Ankit, has been arrested yesterday.
READ ORDER | "Domestic Violence Act Enacted To Protect Women, Not Harass Husbands:" J&K Court Imposes Rs 10 Lakh Fine On Wife For Misusing Law
Speaking with Voice For Men India, Neeraj shared the below:
My wife was abusive and quarrelsome from the very beginning and did not stop her abusive behaviour, even when her demand of separate residence was fulfilled within five months of marriage. She would frequently call her brothers and mother to threaten me and my family.

The day I was beaten by all the accused, I ran off to the police station to seek help, called my parents from on the way and alerted them to take shelter as soon as possible. 
Hisar Woman Smashes Husband's Head With Iron Road As He Called Her Food 'Tasteless'
Neeraj also added,
Luckily all of their misdeeds got captured in CCTV Footage and this helped us in registering an FIR against all 4 including wife under 156(3) u/s 380, 452, 506, 34, 323.

The same CCTV footage, RTI and other evidence played a pivotal role in getting their Anticipatory bail rejected.
LEAVE YOUR COMMENTS BELOW:
READ ORDER | Wife Has No Right To Forcefully Take Streedhan From Mother-in-Law's House; Delhi Court Orders FIR

▪️Husband to VFMI: "Day I was beaten I ran off to police, called my parents on the way & alerted them to take shelter asap"#VoiceForMenhttps://t.co/1yBcHGbyi1

— Voice For Men India (@voiceformenind) May 24, 2023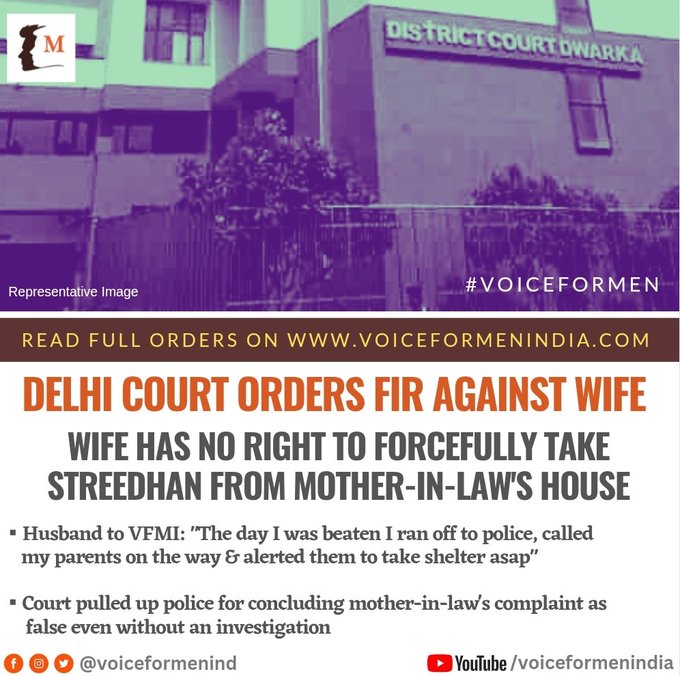 MUST WATCH:
Should Daughter-in-Law Be Allowed In Matrimonial Home After Domestic Violence On In-Laws?
(Man shares how his wife beat up his senior citizen parents with belt & later called the police herself accusing them of domestic violence)
Join our Facebook Group or follow us on social media by clicking on the icons below
Donate to Voice For Men India
Blogging about Equal Rights for Men or writing about Gender Biased Laws is often looked upon as controversial, as many 'perceive' it Anti-Women. Due to this grey area - where we demand Equality in the true sense for all genders - most brands distance themselves from advertising on a portal like ours.
We, therefore, look forward to your support as donors who understand our work and are willing to partner in this endeavour to spread this cause. Do support our work to counter one sided gender biased narratives in the media.
To make an instant donation, click on the "Donate Now" button above. For information regarding donation via Bank Transfer, click here.
Alternately, you can also donate to us via our UPI ID: voiceformenindia@hdfcbank