The Punjab and Haryana High Court in its order dated February 21, 2023 observed that "it has become a trend to abuse the process of law by lodging false first information reports (FIRs) to satisfy ego."
The matter pertained to a case filed by a woman against a man for outraging her modesty and later both approaching court to quash the FIR after mutual compromise.
Saying F'**k Off To A Woman Could Land A Man In Jail For Outraging Her Modesty & Sexual Harassment: Delhi Court's Latest Order
Case:
The instant petition was filed under Section 482 Cr.P.C. seeking to quash FIR dated 30.03.2022, registered under Sections 323 and 354 IPC District Police Commissionerate Ludhiana. The parties had signed an affidavit dated 02.04.2022 after a compromise to put the matter to rest.
Keeping in view the fact that the parties entered into a compromise, the Punjab & Haryana High Court vide order dated 21.04.2022 directed the parties to appear before the Magistrate/trial Court for getting their statements recorded in that regard. Pursuant thereto, a report dated 17.05.2022 has been received from the ChiefJudicial Magistrate, Ludhiana, stating that the compromise arrived at between the parties is voluntary and the same is without any pressure, coercion or undue influence.
Learned State Counsel and learned counsel appearing on behalf of respondent No.2 (complainant woman) admitted to the compromise and submitted that they had no objection to quashing of the FIR on that basis.
WATCH VIDEO | Out On Bail, Sapna Gill Files Counter Complaint Against Prithvi Shaw For Molestation & Outraging Modesty
Punjab & Haryana High Court
Justice Alok Jain came down heavily on the compromise and imposed Rs 1 lakh costs on a woman who filed an FIR against a man for the offence of outraging the modesty of woman and subsequently agreed to its quashing pursuant to a compromise. The Court said:
It has been noticed that it has become a trend to misuse and abuse the process of law by lodging false FIRs like in the present case just to satisfy one's own ego.
Justice Jain further observed that this petition demonstrated how the process of law was abused just for the whims and fancies of a person like the complainant. He quoted:
Complainant, who first slapped the petitioner in full public place and then just to suffice her ego, lodged the present FIR and then has compromised the matter.
False Cases Lead To Wastage Of State Machinery
In a rare order, Justice Jain found that this was a fit case to reprimand the complainant so that such false, frivolous and manipulated FIRs are not registered leading to a waste of the state machinery's time. The High Court remarked,
It is a fit case where appropriate action under law by invoking the provisions of Indian Penal Code, 1860, Code of Criminal Procedure, 1973 and other related provisions against complaint deserves to be invoked so that such kind of false, frivolous and manipulated FIRs are not registered, which ultimately lead to wastage of time of the State Machinery, which is thrown into action.
Justice Jain added,
Ultimately, it is the tax payer money which has been wasted on account of the false FIR lodged by the complainant.
READ ORDER | Woman Withdraws False Rape Charges Against Father-in-Law After Husband Pays Rs 65 Lakh In Settlement
Imposing Rs 1 lakh costs on the complainant, the High Court said,
Although, the Court was of the view to take strict action against the complainant, however, taking a lenient view and by issuing a word of caution, coupled with imposition of heavy cost, this present petition is allowed.

FIR dated 30.03.2022, registered under Sections 323 and 354 of Indian Penal Code, 1860, at Police Station Sarabha Nagar, District Police Commissionerate Ludhiana (Annexure P-1) and all consequential proceedings arising therefrom, are hereby quashed qua the petitioner, however, the complainant/respondent no.2 is imposed with the cost of Rs. 1,00,000/- to be paid within one month from today in the Association Lawyer's Family Welfare Fund bank account.
Don't we need many more judges like Justice Alok Jain? Leave your comments below:
https://twitter.com/voiceformenind/status/1638096738970992640?s=20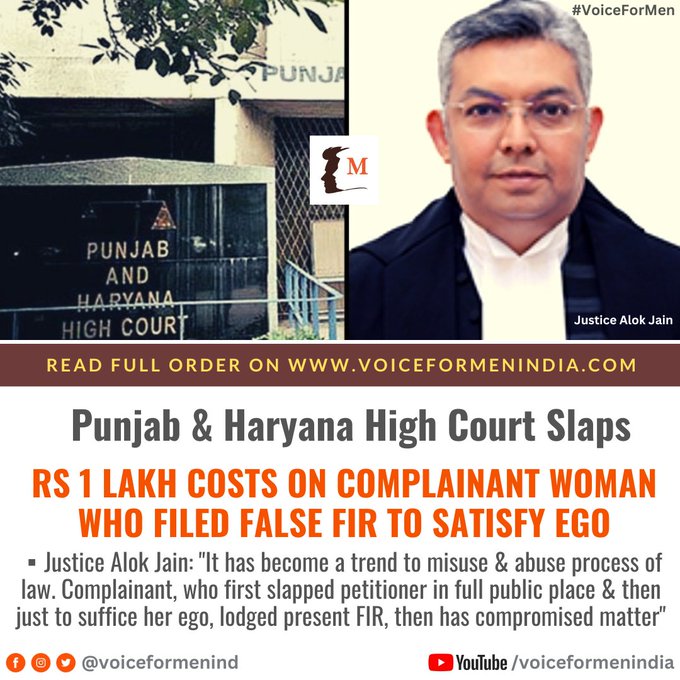 ALSO WATCH:
Chandigarh University Case | Peepoye Akassh Gupta | Rankaj Verma Was Never Involved | Voice For Men
Join our Facebook Group or follow us on social media by clicking on the icons below
Donate to Voice For Men India
Blogging about Equal Rights for Men or writing about Gender Biased Laws is often looked upon as controversial, as many 'perceive' it Anti-Women. Due to this grey area - where we demand Equality in the true sense for all genders - most brands distance themselves from advertising on a portal like ours.
We, therefore, look forward to your support as donors who understand our work and are willing to partner in this endeavour to spread this cause. Do support our work to counter one sided gender biased narratives in the media.
To make an instant donation, click on the "Donate Now" button above. For information regarding donation via Bank Transfer, click here.
Alternately, you can also donate to us via our UPI ID: [email protected]