F**k Off could be a daily Woke lingo at college/university used casually by all genders, however, a woman can charge a man of outraging her modesty and sexual harassment, if the situation goes beyond 'casual'.
A Delhi Court in its recent order observed that the word "f**K off" is a "sexually coloured" remark against a woman, thereby upholding sexual harassment charges against a man accused of threatening the complainant in 2019.
Case:
The complainant woman in May 2019 accused a man with other persons of entering her home and threatening her and her family. Her statement recorded u/s 164 CrPC suggested that the accused wanted to throw them out of their house and also alleged that he addressed her as 'bazaru aurat' (woman of the streets). 
The prosecution argued there was sufficient material to proceed against the accused. The trial court framed charges u/s Sections 354A (sexual harassment), 509 (word, gesture or act intended to insult the modesty of a woman) and 506 (punishment for criminal intimidation) of the Indian Penal Code and subsequently, the accused moved sessions court.
Mumbai Man Sentenced To 6-Months Prison For Showing Middle Finger To Woman In Road Rage
Arguments by Defense
Counsel for the accused contended that his client did not utter any word or made any gesture with the intention to insult modesty of the complainant.
The accused also denied the allegation that he had threatened the woman.
On the term "F**k Off
The counsel further stated that the accused did not make any "sexually coloured remark", and that he had merely asked the woman to leave the premises "by stating the word".
The counsel also cited Cambridge Dictionary meaning of 'f**k off' wherein it is defined as:
…to leave or go away, used specially as a rude way of telling someone to go away……
It was also submitted that the word is generally used in society, colleges and universities.
Additional Public Prosecutor appearing for the State, though, had a difference of opinion and argued that the word is a "sexually coloured remark" which must be construed in its ordinary sense.
The prosecution also submitted that the woman complainant had specifically stated in her statement that the man had used the said word, shouted at her and also made her fear for her life.
Man Held Guilty For Showing Middle Finger To Woman | But Reverse Is Empowerment For Bollywood Feminists
Sessions Court
Additional Sessions Judge Sanjay Sharma of Tis Hazari Court observed that the phrase "f**k off" is an "American vulgar slang". The Judge remarked,
The said word is an offensive word. In Indian society, schools or colleges, this word is not used to ask anyone to leave or go away.

Moreover, given the facts and circumstances of the incident, it cannot be said that the petitioner was merely intending to ask the complainant to leave or go away.
The court added that in ordinary sense, the word is abusive, offensive and humiliating. Upholding the charges framed against the accused, the Court said that it does not find any material illegality, irregularity or jurisdictional error in the impugned order and added,
This court does not find any merit in the contention of Ld. Counsel for the petitioner that dictionary meaning of the said word is defined as to 'leave or go away'. The said word is a 'sexually coloured remark.
Mumbai Woman Booked For Name Calling & Outraging Modesty Of Female Neighbour
The court further observed there is a prima facie case that the man used the word in question with an intent to insult the modesty of the woman. The Court concluded,
The complainant has specifically stated that the petitioner asked her to shut up and sit in a corner. She has specifically stated that the petitioner alongwith other persons threatened her and her family and also threatened to throw them out of the house.
VFMI Take:
Will the same principle be applied if a woman abuses a man and asks him to "f**k off"?
Leave your thoughts below
Saying "F'**k Off" To A Woman Could Land A Man In Jail For Outraging Her Modesty & Sexual Harassment: Delhi Court's Latest Order

▪️Counsel for accused cited Cambridge Dictionary's meaning of 'f**k off'
▪️Sessions Court termed it as American Vulgar Slanghttps://t.co/h5DEQKEhQB

— Voice For Men India (@voiceformenind) November 9, 2022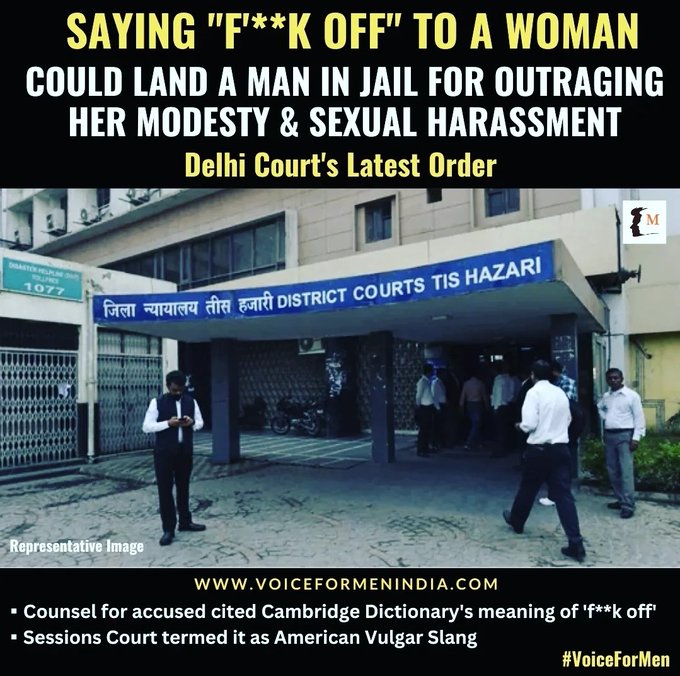 MUST WATCH:
Lt Col Anila Khatri Gives Savage Response To Journalist On Gender Discrimination In Indian Army
Join our Facebook Group or follow us on social media by clicking on the icons below
Donate to Voice For Men India
Blogging about Equal Rights for Men or writing about Gender Biased Laws is often looked upon as controversial, as many 'perceive' it Anti-Women. Due to this grey area - where we demand Equality in the true sense for all genders - most brands distance themselves from advertising on a portal like ours.
We, therefore, look forward to your support as donors who understand our work and are willing to partner in this endeavour to spread this cause. Do support our work to counter one sided gender biased narratives in the media.
To make an instant donation, click on the "Donate Now" button above. For information regarding donation via Bank Transfer, click here.