Yet another #HusbandSuicide has been reported, this time from Rajasthan. The victim was an airforce officer posted in Jammu who had come home for his leave.
The victim left a suicide note alleging mental harassment by wife and in-laws.
WATCH VIDEO | 25-Year-Old Man Dies By Suicide After Constant Harassment From In-Laws To Transfer Deceased Father's Money To Wife
Case:
CPL Nirmal Kumar (30), a resident of Sikar District in Rajasthan, had joined Indian Air Force in 2011. He married Hemlata in the year 2019. The couple was living in Jammu, where Kumar was currently posted. Last month, husband had left his wife at her maternal home in Shivganj at Rajasthan. The couple did not have any children. 
Gwalior Railway Doctor Dies By Suicide Alleging False Dowry & Assault Cases By Wife, In-Laws
Suicide
On October 2, Nirmal had returned home for a day's leave. However, the next morning, he was found hanging in his room. When Nirmal's mother entered the room, she saw her son hanging from the noose.
Hearing the mother scream out of shock, neighbours turned up immediately and took Nirmal to Kalandri Hospital, where doctors declared him brought dead. Subsequently, police took charge of the case.
Nirmal's family members lodged a police complaint at 11pm on October 3, 2022 after brother of the deceased came in from Ahmedabad. The police also informed the Jammu Air Force officials about the death.
Newly Married Patiala Groom Dies By Suicide Due To Rs 70 Lakh Alimony Harassment By In-Laws
Suicide Note
Nirmal left a suicide note on a Rs 50 stamp paper. The note read:
Airforce job is a job of honour, but I am indulging in a cowardly act like suicide. Please inform my officers that I was bitten by a snake and did not die by suicide. 
The police handed over the body to his relatives after conducting postmortem on October 4 morning. According to his last wish, he wanted to be dressed in a pacharangi safa (multicoloured turban). 
Nirmal, in his note, also categorically wrote,
Don't invite anyone from my in-laws' house.
Kerala Man, Father, Die By Suicide After Wife Filed 498-A Case Against Husband & His Family
Accusing his wife and in-laws in the suicide note, Nirmal wrote,
My wife and in-laws used to torture me mentally. Due to this I am ending my life.
Adding further, Nirmal wrote,
I have lot of money in my account. Take it out whenever needed.
Along with the suicide note, a diary has also been found, in which Nirmal has written about his daily routine.
Indian Army Officer Dies By Suicide Within One Year Of Marriage As Wife, In-Laws Allegedly Harassed Him Rs 15 Lakh Alimony
Last Rites
Mount Abu Air Force officer Anil Kumar reached Nirmal Kumar's house with the team and his funeral procession was taken out along with state honours. The Air Force personnel saluted at the crematorium, followed by the funeral.

Other Side Of Beti Bachao | Sonipat Family Dies By Suicide Due To Alleged Harassment By Daughter-in-Law, Her Family
VFMI Take:
Indian Government, both past and present, have completely gone blind towards the apathy of married men
In their urge to woo women voters, they have chosen to look the other way, leaving helpless men to end lives
According to NCRB Suicide Report 2021 (below), number of suicides in married men is 2.8 times than that of married women
However, biased feminist media only paints one sided story, perpetually showing wife as the victim, husband as an abuser
The other side is dark and leave families of men, almost begging for justice, because even after leaving suicide notes and videos against wife and in-laws, its is extremely difficult to get the accused arrested
When genders are reversed entire social media janata pounces on the administration until the accused husband is arrested – even without prima facie investigation
If you are still not speaking up, because the menace has not knocked on your doorstep, it may be just too late for our Sons tomorrow
Leave Your Comments below:
Rajasthan | Airforce CPL Dies By Suicide Accusing Wife & In-Laws Of Mental Harassment; Got Married 3YRS Ago

▪️Suicide Note: "Airforce job is job of honour, but I'm indulging in cowardly act like suicide. Pl inform my officers that I was bitten by snake"https://t.co/1Yz6mJxB1p

— Voice For Men India (@voiceformenind) November 1, 2022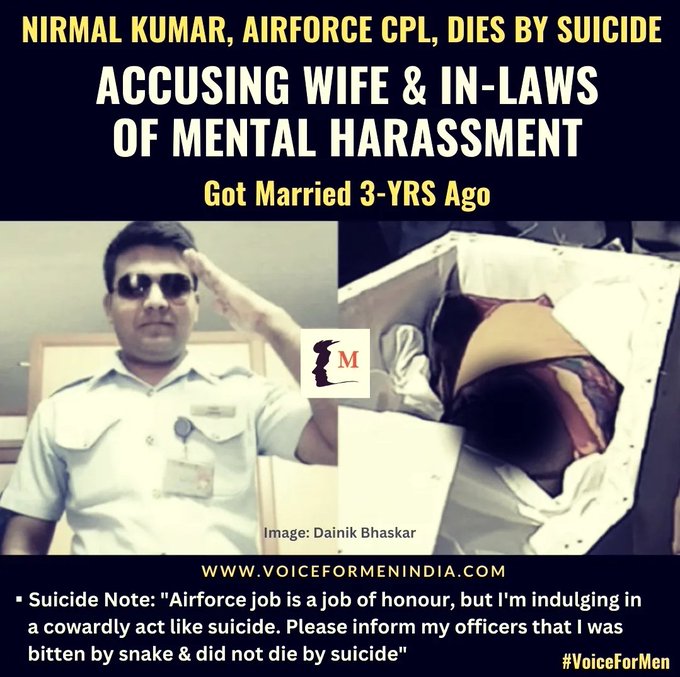 MUST READ:
NCRB Suicide Report 2021 | 72% Men : 27% Women | Married Men 1.82 Times Higher Than Married Women | Top Cause: Family Problems
Jalandhar Man Ends Life Within One-Year Of Marriage Accusing Wife, Mother-in-Law Of Harassment
MUST WATCH:
KBC 13 Contestant Shraddha Khare Accuses Husband Of Domestic Violence | Watch Other Side
Join our Facebook Group or follow us on social media by clicking on the icons below
Donate to Voice For Men India
Blogging about Equal Rights for Men or writing about Gender Biased Laws is often looked upon as controversial, as many 'perceive' it Anti-Women. Due to this grey area - where we demand Equality in the true sense for all genders - most brands distance themselves from advertising on a portal like ours.
We, therefore, look forward to your support as donors who understand our work and are willing to partner in this endeavour to spread this cause. Do support our work to counter one sided gender biased narratives in the media.
To make an instant donation, click on the "Donate Now" button above. For information regarding donation via Bank Transfer, click here.