In a recent order from the Punjab and Haryana High Court, a man was finally granted divorce after his wife had deserted him 31-years ago, since she wanted the husband to live separately from his parents.
It must be noted that the woman in this case can still challenge the divorce in Supreme Court.
Punjab & Haryana HC Dissolves Marriage After 23-YEARS Of Separation Citing Irretrievable Breakdown As Ground For Divorce
Case:
The couple got married in November 1990 according to Hindu rites and ceremonies in Una. After marriage, they lived together as husband and wife but the woman refused to live in a joint family. She did not want her husband to start his medical practice in Oel village of Himachal Pradesh's Una district, where his family was residing.
In January 1992, the woman left her husband when she was pregnant. She gave birth to a male child at her parent's native village Hazara in Punjab's Jalandhar district. The man and his family visited Hazara along with customary gifts, sweets, clothes, etc and requested his in-laws to let her accompany him. However, her parents insisted on the condition of a separate residence.
In 1996, after a family compromise, the woman agreed to join the husband with their son but started pressing for her old demand of living separately from his parents. Since the woman failed to return to her matrimonial home, husband filed for divorce.
Punjab & Haryana HC Dismisses Man's Appeal After 12-Years Separation Since Irretrievable Breakdown Of Marriage Not Grounds For Divorce
Family Court Jalandhar
The Family Court in Jalandhar dissolved the marriage via order dated October 15, 2015. Unhappy with the same, the wife challenged this order in the High Court.
Punjab & Haryana High Court
The Punjab and Haryana High Court has upheld the couple's divorce as the woman used to force her husband to live separately from his parents and had left him after he refused to do so.
A division bench, comprising Justice Ritu Bahri and Justice Manisha Batra observed,
The husband has been able to prove on record that the wife was constantly harassing him to live separately from his parents and was insisting upon him to open his clinic in Jalandhar, where her parents live.

It was the wife who left the matrimonial home when she was in the family way.
SC Dissolves Two-Month Marriage After 16-Yrs | Invokes Irretrievable Breakdown As Ground For Divorce
Adding further, the High Court remarked,
Despite this, the husband, after their child's birth, visited Hazara village in Jalandhar district along with customary gifts, sweets, clothes, etc and requested the parents of his wife to let her accompany him. But her parents insisted on a separate residence for their daughter and made it clear that only then would she and the child accompany him.
The High Court also took notice of the false implication of the man and his family by his wife in a criminal case in which they were later acquitted.
Irretrievable Breakdown In Marriage
After examining both sides, the division bench found that the marriage between the couple had broken down irretrievably and there was no chance of their coming together or living together again. The court also noticed that the woman had filed an application under Section 12 of the Protection of Women from Domestic Violence Act, 2005, which was dismissed for the non-appearance of the appellant-wife. She wanted to linger on the litigation.
No Proposal To Allow Both Parties File For Divorce On Grounds Of "Irretrievable Breakdown" Of Marriage | Modi Government
Husband Ordered To Pay Alimony
Dismissing the wife's appeal, the High Court upheld the divorce awarded by the Jalandhar family court, but ordered the man to pay an amount of Rs 15 lakh to his ex-wife as permanent alimony.
LEAVE YOUR COMMENTS BELOW:
Punjab & Haryana HC Grants Divorce To Man After 31-Years Citing "Constant Harassment By Wife Forcing Him To Live Separately From Parents"

▪️Despite false criminal cases by wife proven, DV case dismissed, husband ordered to pay Rs 15 lakh as alimonyhttps://t.co/s6R4qNNi3i

— Voice For Men India (@voiceformenind) February 23, 2023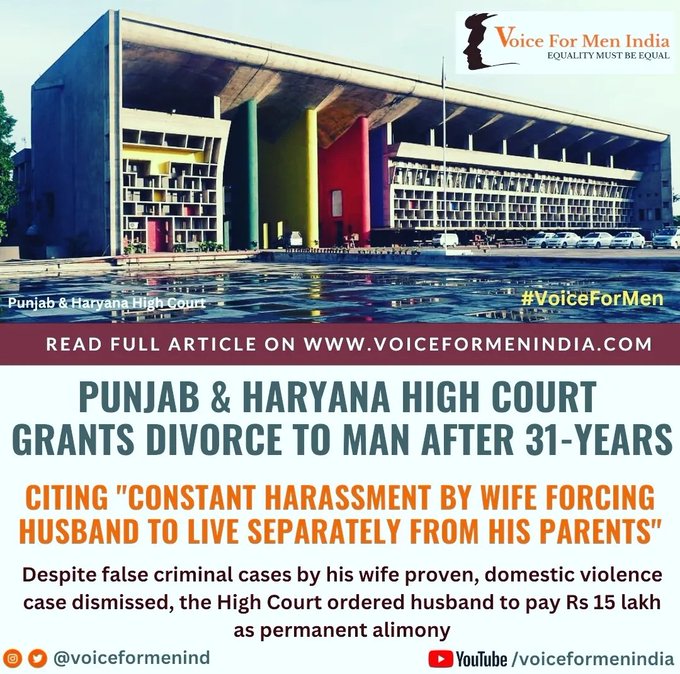 DO WATCH:
Alimony Settlement Discussion | Madhya Pradesh High Court | Voice For Men India
Join our Facebook Group or follow us on social media by clicking on the icons below
Donate to Voice For Men India
Blogging about Equal Rights for Men or writing about Gender Biased Laws is often looked upon as controversial, as many 'perceive' it Anti-Women. Due to this grey area - where we demand Equality in the true sense for all genders - most brands distance themselves from advertising on a portal like ours.
We, therefore, look forward to your support as donors who understand our work and are willing to partner in this endeavour to spread this cause. Do support our work to counter one sided gender biased narratives in the media.
To make an instant donation, click on the "Donate Now" button above. For information regarding donation via Bank Transfer, click here.
Alternately, you can also donate to us via our UPI ID: [email protected]