In a shocking incident reported from West Bengal, a woman killed her 4-year-old son with the help of her boyfriend after he refused to accept him. Both the accused mother and her lover are currently absconding.
Case:
The matter pertains to Kundakhali village which falls under the jurisdiction of Kultali police station in South 24 Parganas, where a woman identified as Mafuza Piadai was in an extra marital relationship with one Abdul Hossain Sheikh (31), a resident of Ghazir Hat, Kultali, since last year.
As per a report by ABP LIVE, the duo met a couple of times after Piadai's husband, Toeb Ali Piadai, moved to Kolkata for work.
Mafuza who had a 4-year-old son, decided to elope with Abdul and marry him, however, the lover of the woman refused to take the child along with them. It is then that the duo not just decided to abandon the child, but also brutally murdered the minor boy to death.
Woman Leaves Husband's Home With 3-Year-Old Son; Later Sells Child As She Wanted To Remarry
Child Murder
Speaking with media, Abu Siddiqui Piadai, uncle of the deceased boy said:
The child was playing on the veranda of his home adjacent to the main road of the village on Tuesday. I heard from villagers that my nephew was dead when I returned from work later in the evening.
Adding further, the uncle said:
The boy had sustained a campaign of torture at his home after Mafuza's boyfriend refused to accept the child if they eloped to get married. The toddler was brutally beaten to death.
Gujarat Woman Plans Murder Of Third Child As Paramour Could Afford Only Two In Their Live-in Relationship
The uncle of the deceased child also revealed that the woman's boyfriend used to consider the child a burden. He said,
Abdul asked Mafuza to get tobacco to buy time and whipped him. As Mafuza went out, he resuscitated him.
The dead body of the child was recovered by locals, who alerted the police on Tuesday evening.
Publisher Spinifex Reacts To Men's Rights Activists On Usha Akella's Poem 'I Will Not Bear You Sons'
Police Statement
Inspector Masood Hasan, Additional Police Super of Baruipur district, said,
Signs on the body of the deceased displayed serious injuries resulting from rigorous negligence and attack. Police are currently investigating circumstances around the death of the toddler.
The accused persons are currently absconding. In the meantime, the body has been sent for autopsy and police are awaiting the report, sources said.
Furthermore, the father of the child has also been informed and he will register a police complaint with Baruipur Police Station.
Kerala Woman Dumps Minor Sons On Road, Abandons Them & Elopes With Boyfriend
VFMI:
Adultery has been decriminalised in India since 2018
Next time you see any woman hailing herself as "single mom", please do question the reason for absence of the father from her child's life
LEAVE YOUR COMMENTS BELOW:
#WestBengal: Woman Kills 4YR Old Son After Boyfriend Refuses To Accept Him

▪️Uncle: "Boy sustained campaign of torture at his home after mother's boyfriend refused to accept him if they eloped to get married. The toddler was brutally beaten to death"https://t.co/xBHApWGC9M

— Voice For Men India (@voiceformenind) February 23, 2023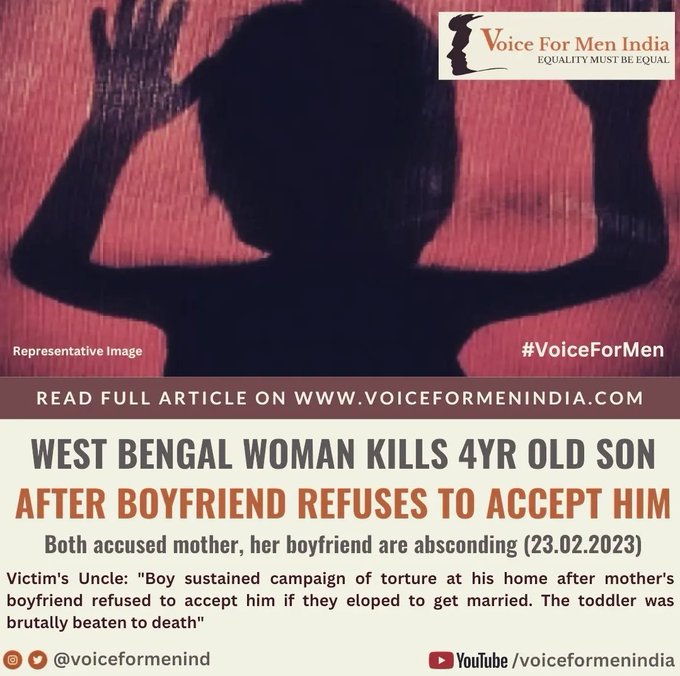 DO WATCH INTERVIEW
Interview With Father Who Lost His 4-Year-Old Son Whose Sole Custody Was Given To Mother By Court
My 13-Year-Old Son Was Falsely Accused By His Female Classmate | Mother Speaks Up
Join our Facebook Group or follow us on social media by clicking on the icons below
Donate to Voice For Men India
Blogging about Equal Rights for Men or writing about Gender Biased Laws is often looked upon as controversial, as many 'perceive' it Anti-Women. Due to this grey area - where we demand Equality in the true sense for all genders - most brands distance themselves from advertising on a portal like ours.
We, therefore, look forward to your support as donors who understand our work and are willing to partner in this endeavour to spread this cause. Do support our work to counter one sided gender biased narratives in the media.
To make an instant donation, click on the "Donate Now" button above. For information regarding donation via Bank Transfer, click here.
Alternately, you can also donate to us via our UPI ID: [email protected]