Are prenuptial agreements valid in India? This is one of the most frequently asked questions. In a recent case from Mumbai, a Family Court has observed:
While a prenuptial agreement cannot be upheld as a binding contract India, it can still be considered to gain insight into the intentions of the parties involved.
Maharashtra: 17 New Family Courts To Be Set Up In Mumbai As Nearly 5000 Divorce Cases Remain Pending
Case:
The 53-year-old petitioner (husband) met respondent (wife) through a matrimonial website in 2009 and the duo got married in the year 2016. This was man's second marriage after being divorced from his first wife prior to 2009.
According to the petitioner, he got acquainted with his second wife after his divorce and reconnected with her in 2012. The man accused the respondent of emotionally pressurising him into marriage by using her mother's deteriorating health as an excuse (due to her daughter's unmarried status).
The petitioner stated that he agreed to marriage as a friend, and got married in July 2016. However, on September 12, 2016, the respondent wife left the petitioner's mother's house, taking some of her belongings, including jewellery gifted by his mother.
Mumbai | 72-Year-Old Woman Arrested For Practicing At Family Court For Decades With Fake Lawyer's License
Allegations by Husband
After leaving her matrimonial home within 32-days of marriage, the respondent wife visited the husband's mother's place without prior information with 8 to 10 individuals (claimed to be her relatives) to allegedly settle the dispute. The respondent also allegedly used force and anti-social elements.
The husband cited multiple instances of cruelty by his wife, including her repeated verbal attacks and conflicts stemming from differences in their sexual desires. He further alleged that his wife also mistreated his mother and sister.
Defence by Wife
The wife on the other hand denied all accusations and alleged that her husband was acting at the behest of his mother and sister. She stated that the husband denied physical relations with her and kept her out of her matrimonial home. She contested the divorce.
Pre-Nuptial Agreement
Since the couple were middle-aged, on July 11, 2023, prior to the marriage, they had signed a prenuptial agreement anticipating that this union may not last forever, and in such circumstances, amicable parting was documented.
Joint Parenting A Rule, Single Parenting Exception|Family Court Mumbai Releases Child Custody Draft Plan In Divorce Cases
Family Court, Mumbai
Going through facts on record, the Family Court in Mumbai initially noted that Section 14 of the Family Court Act, 1984 empowers the court to consider documents which in its opinion, assist it to deal with a dispute, even if they are inadmissible under the Evidence Act.
Taking note of the submissions made by the wife, the court noted that a husband refusing physical relations and denying the respondent entry into their home, must be regarded as serious. However, the Family Court also noted that the facts of this case are peculiar, and thus needs to be understood in depth.
Citing that both parties were in their 45-year age group, the petitioner had endured the loss of his family members and thus respondent's mother played a crucial role in their relationship.
The court also noted that the husband has provided reasons for refusing physical relations, and the wife had not challenged the pre-nuptial agreement, until filing the petition.
Navi Mumbai Court Denies Relief To Mother Booked For Watching Porn, Indulging In Sexual Acts With Lover In Front Of Her Children
Pre Nuptial Agreement
The court highlighted the fact that the prenuptial agreement executed to prevent future litigation, illustrated their initial intentions to form a partnership rather than a relationship. The court opined:
The prenuptial agreement dated 11/07/2016 can be taken into consideration just to understand intention of parties. This document shows parties were in middle age. Therefore, they are anticipated few things and thereby agreed to separate mutually, if any problem arise.

The present respondent had declared that she is educated, qualified and can earn and able to take care of herself if such situation arises. The above agreement shows the parties agreed to enter into partnership and it was not a relation till last breath. This was the foundation of relation.
Mental Cruelty to Husband
The court was not satisfied with the wife's credibility, citing WhatsApp chat evidence that revealed the husband's consistent care and support.
The court concluded that the husband's mental state had been affected by the loss of family members, and he was indeed pressurised into the marriage by his wife and her mother.
Divorce Granted
Granting divorce to the husband, the Family Court observed:
There was hardly any real relationship from the beginning, and the marriage had become deadwood for some time. The court found no potential for future harmony and ruled in favor of the petitioner, invoking Section 13(1)(i-a) of the Hindu Marriage Act, 1955.
Voice For Men India Note: Pre Nuptial agreements are not legally valid in India. This decision from the Court is a one off case, however, the same can be used in your respective matters accordingly. The final verdict of the court will always depend on individual facts and circumstances of each case.
The husband in this case was represented by Advocate Kanupriya Kejriwal. Watch our detailed interview with Kanupriya with regards to the same case, when Court had denied maintenance to the wife three years ago.
DO WATCH:
No Maintenance To Educated Wife | Interview | Kanupriya Kejriwal, Matrimonial Lawyer
RELATED CASE:
Court Rejects Maintenance To Educated Wife For Hiding True Income | Marriage Lasted For 32-Days
LEAVE YOUR COMMENTS BELOW:
Prenup Agreements Not Valid In India, But Signing Prenup Indicates Intent Of Parties: Mumbai Family Court

▪️FC: "Document shows parties were in middle age. They anticipated few things, agreed to separate mutually, if any problem arise"#VoiceForMen https://t.co/0CJx4yQeZY

— Voice For Men India (@voiceformenind) October 11, 2023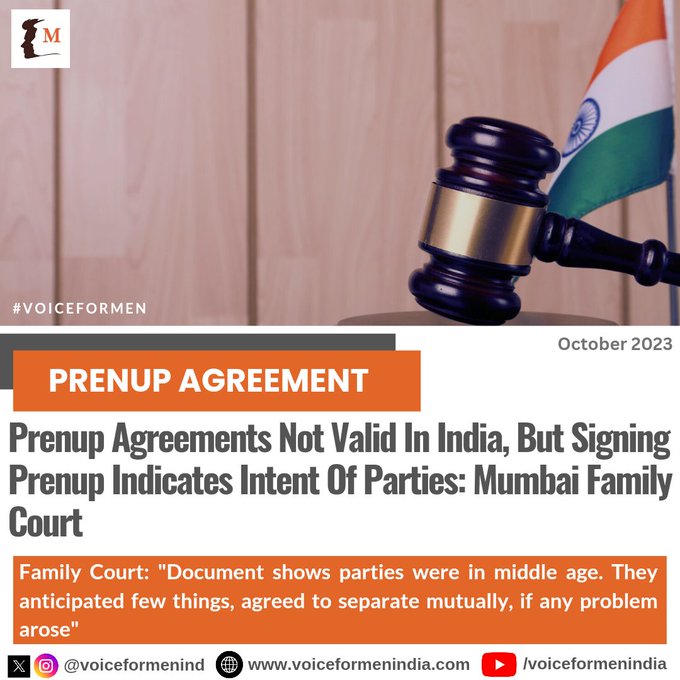 Join our Facebook Group or follow us on social media by clicking on the icons below
Donate to Voice For Men India
Blogging about Equal Rights for Men or writing about Gender Biased Laws is often looked upon as controversial, as many 'perceive' it Anti-Women. Due to this grey area - where we demand Equality in the true sense for all genders - most brands distance themselves from advertising on a portal like ours.
We, therefore, look forward to your support as donors who understand our work and are willing to partner in this endeavour to spread this cause. Do support our work to counter one sided gender biased narratives in the media.
To make an instant donation, click on the "Donate Now" button above. For information regarding donation via Bank Transfer, click here.
Alternately, you can also donate to us via our UPI ID: voiceformenindia@hdfcbank