God couldn't be everywhere, so He made Mothers! That's how society is constantly fed with the narrative that mothers are supreme, while fathers do not matter much. While all women may not be evil towards their children, but some instances like the below shatter our faith in motherhood.
In a recent case from Navi Mumbai, a sessions court in Panvel denied pre-arrest bail to a woman booked under sections of the POCSO Act. The woman has been accused of "sexually harassing" her children by watching porn and indulging in sexual acts with her lover while the minors were around.
Assam: 72-Year-Old Man Dies By Suicide After Being Honey Trapped By College Girl Who Uploaded Their Sex Video On Porn Site
Case:
The husband of the accused woman is a chief engineer on a commercial ship, who is required to be out of the home for work on sea for almost six months every year. The couple has a 10-year-old son and a 6-year-old daughter.
According to a Hindustan Times report, the husband alleged that his wife had an affair with another man who claimed to be a social media influencer. The husband said he learnt of his wife's affair when he returned home in February last year.
Mumbai Shocker | 16-Year-Old Porn Addict Girl Forces Younger Brother For Sex Against His Consent; Now Pregnant
Husband's Complaint
In his complaint, the husband said that he would notice his wife often speaking to an unknown man on the phone. When he checked his wife's mobile, to his shock he found her photographs with the caller in her phone. When he took up the matter with his wife's family, she lodged cases of dowry harassment against him in March 2022.
Soon, the husband was arrested by the police and was rendered jobless for months. However, when he walked out on bail on March 24 this year, he took his children into confidence and enquired what was happening at home while he was away.
According to the husband's complaint, his son informed him that their mother's boyfriend had shifted to their house in his absence, and he had threatened to kill them if they spoke about this affair with anyone. The kids also complained of being locked up in the bathroom and being threatened by wife's lover to not share with anyone about the lover's presence at home in the absence of the father.
Father Finds Daughter's Porn Video; Daughter Files Sexual Abuse FIR Against Father; Wants Him Arrested
Statement by Children
In their statement to the Child Welfare Committee, the children revealed that their mother would often watch porn on mobile and engage in sexual acts with her boyfriend while they were around.
READ ORDER: Kerala High Court Quashes POCSO Case Against Rehana Fathima For Allowing Minor Children To Paint Her Semi-Nude Body
Police Action
The Kharghar police has charged the woman and her lover under POCSO after receiving an official complaint from the husband.
Subsequently, the court has now refused to grant pre-arrest bail to the accused mother.
Woman Shoots Porn Video With Ex-Boyfriend & Makes It Viral | Later Files Case Against Husband
Voice For Men India Take:
Adultery has been decriminalised in India in 2018
Thus, the husband can only resort to a civil remedy of filing for divorce
Whenever a husband confronts his wife with action or divorce, it is easiest for women to strike back by filing false criminal cases against husbands and their families under Section 498A IPC
Many of the false dowry harassment and domestic violence cases are filed in India, when a man finds about his wife's extra marital affair
Next time, you hear social media chatter on how dowry harassment cases are increasing in India, please question them on the number of cases filed Vs acquittal 
DO WATCH:
Mother Indulged In Illicit Acts With Lover In Front Of Her Children | Court Rejects Pre-Arrest Bail
LEAVE YOUR COMMENTS BELOW:
Navi Mumbai Court Denies Relief To Mother Booked For Watching Porn, Indulging In Sexual Acts With Lover In Front Of Her Children

▪️Husband works on ship
▪️When confronted wife of affair, she filed #498A
▪️Lost job, after coming out on bail, kids shared what was happening at home…

— Voice For Men India (@voiceformenind) June 15, 2023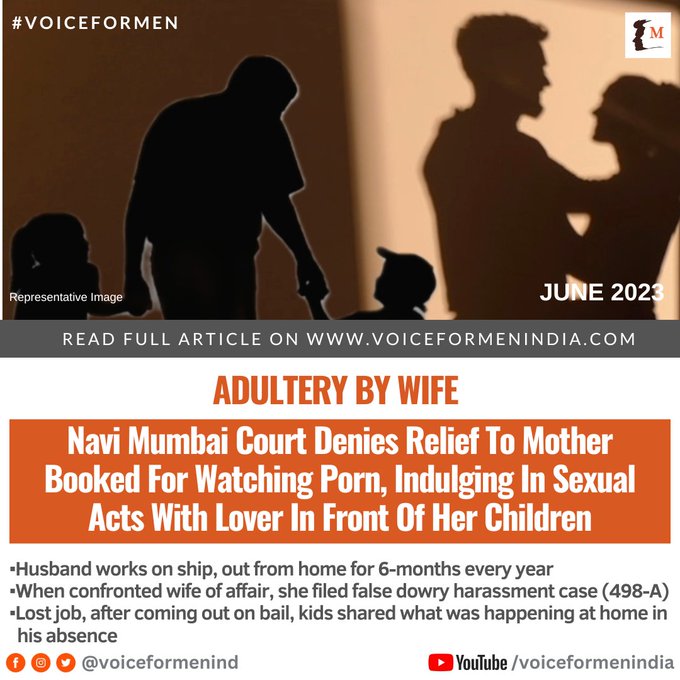 DO WATCH:
Occasional Adultery No Grounds To Deny Maintenance To Wife | Delhi High Court
Join our Facebook Group or follow us on social media by clicking on the icons below
Donate to Voice For Men India
Blogging about Equal Rights for Men or writing about Gender Biased Laws is often looked upon as controversial, as many 'perceive' it Anti-Women. Due to this grey area - where we demand Equality in the true sense for all genders - most brands distance themselves from advertising on a portal like ours.
We, therefore, look forward to your support as donors who understand our work and are willing to partner in this endeavour to spread this cause. Do support our work to counter one sided gender biased narratives in the media.
To make an instant donation, click on the "Donate Now" button above. For information regarding donation via Bank Transfer, click here.
Alternately, you can also donate to us via our UPI ID: voiceformenindia@hdfcbank