Crime Has No Gender. Its about time society stops painting all women as victims.
In a recent case reported from Mumbai by Hindustan Times, a 72-year-old was arrested for practicing as a lawyer in family court for decades without a proper license.
Background:
Mordekai Rebecca Joub alias Mandakini Kashinath Sohini, a resident of Pali Hill in Bandra, was arrested on Saturday for allegedly practicing in various courts based on a fake lawyer's license.
While the police have said the licence is fake, it has now been forwarded to the Maharashtra and Goa Bar Council for further verification. The woman has been remanded in BKC police custody.
Former ACP's Wife & BJP Member Arrested For Impersonation Of Police, Extortion
Accused Woman Submitted Fake Vakalatnama
As per the report, the police stated that the woman had been practicing law by submitting a fake Vakalatnama (a document, by which the party filing the case authorises the Advocate to represent on their behalf) to each court before representing a client.
In July this year, the police had issued her a summons, after a lawyer from Borivali court identified as Akbarali Mohammed Khan challenged her credentials. However, Sohini did not turn up then.
Accused Woman Submits Fake License
On Saturday, Sohini went to the police station and submitted her licence along with her Aadhaar Card and Vakalatnama. On investigation, the officers learnt that her licence to practice law turned out to be fake. Police then contacted the Bar Council of Maharashtra and Goa to verify the woman's licence.
Delhi Police Gives Clean Chit To Girl Who Impersonated Herself As Boy & Sent Rape Threats
Statement by Police
Speaking with HT, the officers said that as per the FIR, Sohini claimed that she has got a valid licence to practice and submitted the 'Sanad' or 'licence' number (MAH/253/1979). However, one of the officers from BKC police station said,
Her licence number showed that she had been practicing with the licence that was issued to one lawyer Kanbeshwar Pandrinath Yashwant from Solapur.

Later, she claimed that her genuine licence is (MAH/253/1979). When verified, this too turned out to be issued in the name of lawyer Suresh Rambhau Gurde from Amarvati.
Lawyer Who Complained
44-year-old Khan from Borivali had alleged that Sohini was not a lawyer and had been practising since decades in the family and other courts of Mumbai illegally. Khan was tipped off about Sohini practicing without a valid licence by a source in the family court after which he filed a written application with the BKC police. Sohini was produced before the Bandra holiday court on Sunday.
Mother-Daughter Arrested For Rupees Twenty-Five Lakhs Student Scholarship Scam
Statement from Bar Council of Family Court
Advocate Sashi Nair, president of the bar council of family court, said that this practice is rampant in the family court. Nair also added,
There is an investigation going on at the family court about this and all the judges have made it clear that whoever appears for their client should attach their sanad (licence) along with the vakalatnama and submit it to the judge before representation.
LEAVE YOUR COMMENTS BELOW: 
Mumbai | 72-Year-Old Woman Arrested For Practicing At Family Court For Decades With Fake Lawyer's License

▪️President of Bar Council of Family Court: "This practice is rampant in the family court"#VoiceForMen #SpeakUpMen #CrimeHasNoGender @KirenRijijuhttps://t.co/y7MHEKpoTF

— Voice For Men India (@voiceformenind) September 20, 2022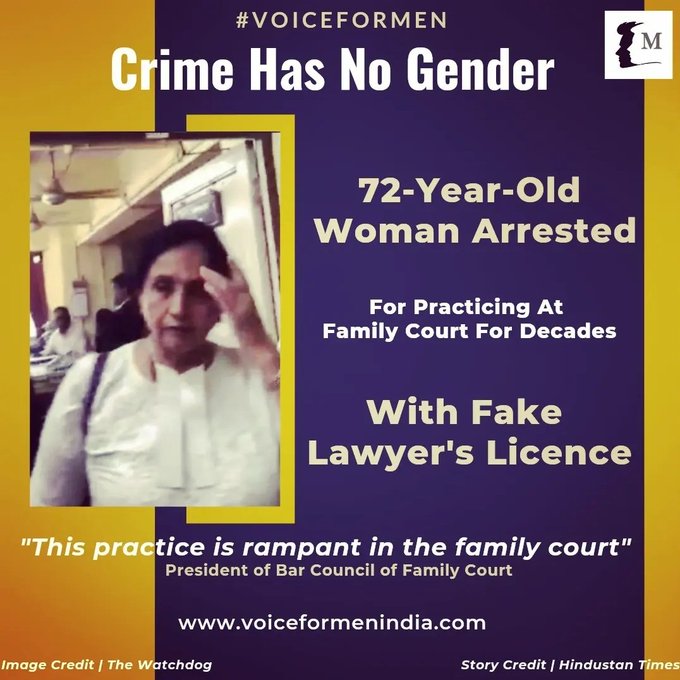 ALSO WATCH:
Shark Tank India Female Contestant | You Are Not Investing In My Business Because…"I Am A Woman"
Join our Facebook Group or follow us on social media by clicking on the icons below
Donate to Voice For Men India
Blogging about Equal Rights for Men or writing about Gender Biased Laws is often looked upon as controversial, as many 'perceive' it Anti-Women. Due to this grey area - where we demand Equality in the true sense for all genders - most brands distance themselves from advertising on a portal like ours.
We, therefore, look forward to your support as donors who understand our work and are willing to partner in this endeavour to spread this cause. Do support our work to counter one sided gender biased narratives in the media.
To make an instant donation, click on the "Donate Now" button above. For information regarding donation via Bank Transfer, click here.