The Madras High Court in its order dated February 27, 2023 set aside a Family Court order that had directed the wife to pay interim maintenance to her husband during the pendency of their divorce petition.
According to the High Court, the Family Court judge had "misplaced sympathy".
READ ORDER: Madras High Court Reduces Life Sentence Of Woman Who Set Minor Daughter On Fire As She Did Not Intend To Kill Her
Case:
The parties got married in April 2002. However, in the year 2017, the wife filed an application seeking nullity of the marriage on the ground that an earlier marriage between the respondent-husband and another woman was subsisting.
Subsequently, the husband filed for divorce on the ground of cruelty.
During the pendency of both these applications, the husband filed another application seeking maintenance from his wife.
Child Visitation Cannot Be Linked To Maintenance; Husband Duty Bound To Pay Even If Wife Has Own Income: Madras High Court
Submission by Husband
The husband primarily contended that he has been thrown out of the house which he was occupying and he was unable to do the business, which he was carrying on because of his health condition. The husband also submitted details about his health condition, where he had a heart ailment, had to undergo angioplasty and have a stent implanted.
Defense by Wife
This petition was resisted by the wife contending that at the time of marriage, the husband did not have a permanent job, she had pledged jewels and had a finance business started, which ended in loss. Thereafter, by obtaining a loan from Indian Bank, a house was purchased and the wife has been doing business in real estate and has been running a family while the husband, who is a habitual drinker, would drink and indulge in quarrels.
It is also claimed that the husband is doing a finance business and real estate business and earning lakhs of rupees and having a very luxurious life.
Madras High Court Mangalsutra (Thali) Judgement | How Mainstream Media Reported Misleading Headline | Read Full Judgement Here
Family Court
In 2018, the Family Court Judge took note of the fact that the husband has undergone angioplasty and has got a stent fixed and thus ordered the wife to pay Rs 20,000 per month as interim maintenance to her estranged husband. 
Aggrieved by this order, the wife appealed in the High Court. 
Madras High Court
Justice R SubramanianandJustice K Govindarajan Thilakavadi went through the evidences on record and noted that the Family Court judge had "magnified" a small procedure and had misplaced sympathy. The family judge had noted that the husband had undergone angioplasty and had a stent fixed which made him incapable to work.
The High Court then noted that the husband had failed to prove that he was unable to work for a livelihood and thus, in their opinion, the family court should not have directed interim maintenance. The High Court remarked:
The only reason that is projected by the husband for his inability to work and earn is that he had undergone an angioplasty. Angioplasty as commonly understood, is a fixation of a stent for widening the blood vessels. It does not incapacitate a person.

The husband can always do his business and work for his livelihood, despite such procedure having been done. It is not a major heart surgery, which would cripple a person.
READ JUDGEMENT | Suspecting Character Of Husband, Visiting His Office & Linking Him With Female Colleagues Is Mental Cruelty: Madras High Court
The High Court then noted the IT Returns of the husband submitted by the wife where the average income for the previous years summed upto Rs 6-8 lakh per annum.
Setting aside the impugned family court order, the High Court ruled:
In the light of the such evidence that has been placed before us, we do not think, we could sustain the order of the Family Court.

This Civil Miscellaneous Appeal is therefore allowed, the order granting interim maintenance is set aside. No costs. Consequently, connected miscellaneous petition is closed.
LEAVE YOUR COMMENTS BELOW:
https://twitter.com/voiceformenind/status/1633744346620088323?s=20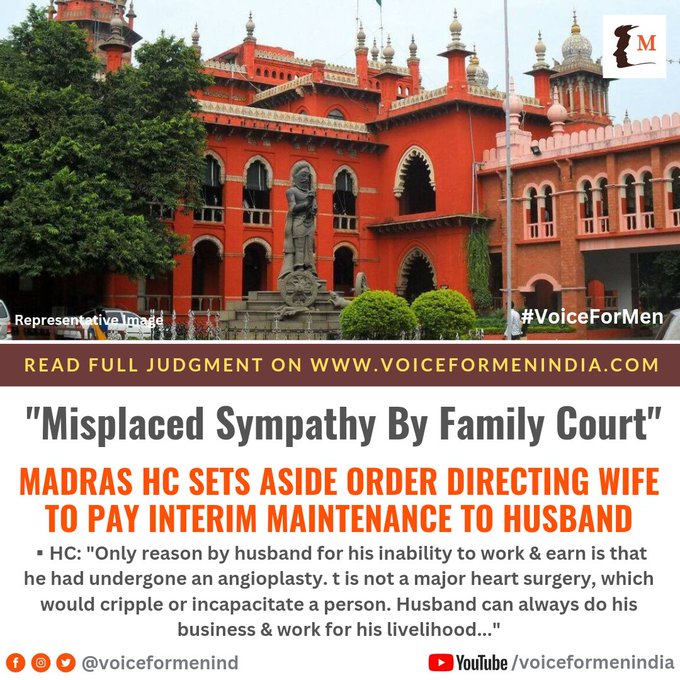 MUST WATCH:
#Bhopal

 | Working Woman Files Maintenance Case Against Ailing Husband Suffering From Cancer
Join our Facebook Group or follow us on social media by clicking on the icons below
Donate to Voice For Men India
Blogging about Equal Rights for Men or writing about Gender Biased Laws is often looked upon as controversial, as many 'perceive' it Anti-Women. Due to this grey area - where we demand Equality in the true sense for all genders - most brands distance themselves from advertising on a portal like ours.
We, therefore, look forward to your support as donors who understand our work and are willing to partner in this endeavour to spread this cause. Do support our work to counter one sided gender biased narratives in the media.
To make an instant donation, click on the "Donate Now" button above. For information regarding donation via Bank Transfer, click here.
Alternately, you can also donate to us via our UPI ID: [email protected]