A high-profile extortion racket that involved blackmailing politicians and government officials with videos was busted by Madhya Pradesh police officials in Bhopal last week.
Four women, including the wife of a former Congress IT cell official, and a man, have been arrested in connection with the case. The accused have been identified as:
48-year-old Shweta Jain
35-year-old Barkha Soni
34-year-old Arti Dayal
18-year-old college student
Omprakash Kori, 34, who drives Arti Dayal's car
The busted high-profile honey trap racket that used to swindle money from wealthy individuals like bureaucrats and politicians, was operated by a woman who ran a local NGO in the city, the police said.
The Racket Involved Targeting:
Politicians and;
Government officials
The data recovered from the cell phones and laptop of the women revealed that the gang was in touch with about 40 call girls who helped them lure and trap victims. The racket was reportedly operated by Shweta Jain, who runs the NGO and made women feign affairs with high-profile persons to extort hefty sums of money.
Modus Operandi
According to the police, the gang members first got in touch with wealthy men, befriended them and later asked them to meet in hotel rooms where their associates installed hidden cameras to capture men in a compromising position
These objectionable clips were then used to blackmail them
Sources said that half a dozen senior politicians, at least 10 IAS and IPS officers, civil engineers and builders were trapped by the gang in the last few years
As confirmed by Harbhajan Singh, Indore SSP, two members of the gang were arrested in Indore on Tuesday night when they came to collect money (first instalment of Rs 50 Lakhs) from senior engineer of Indore Municipal Corporation. The officer also claimed, that on receiving the information from arrested women, three more were arrested from Bhopal with the help of ATS. According to sources, one of the women, Barkha Soni, was employed with the Congress social media cell. The male accused is allegedly her husband, Amit Soni, and earlier worked with her before being expelled by the party in June this year.
The police have recovered Rs 14 lakh, mobile phones and a laptop from the accused. Sources claim that the racket, which went almost unnoticed for years, came under the scanner after the members started interfering in transfers and tenders.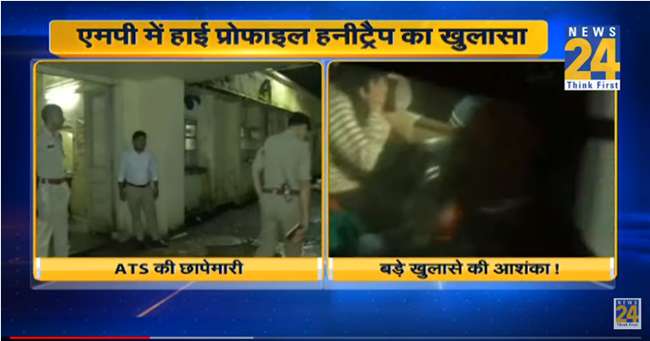 As per a report by hindi.news18.com, ATS has received strong inputs, that members of the Honey Trap gang were targeting Kamal Nath government legislators. The gang targeted 28 MLAs of the current Madhya Pradesh State Government, many of whom are ministers in the cabinet. 
MP Home Minister Bala Bachchan has said the government will ensure that the guilty are brought to justice.
ALSO READ –
http://voiceformenindia.com/in-the-news/faridabad-dcp-vikram-kapoor-suicide-case/
Join our Facebook Group or follow us on social media by clicking on the icons below
Donate to Voice For Men India
Blogging about Equal Rights for Men or writing about Gender Biased Laws is often looked upon as controversial, as many 'perceive' it Anti-Women. Due to this grey area - where we demand Equality in the true sense for all genders - most brands distance themselves from advertising on a portal like ours.
We, therefore, look forward to your support as donors who understand our work and are willing to partner in this endeavour to spread this cause. Do support our work to counter one sided gender biased narratives in the media.
To make an instant donation, click on the "Donate Now" button above. For information regarding donation via Bank Transfer, click here.
Alternately, you can also donate to us via our UPI ID: voiceformenindia@hdfcbank