In India, after a couple ties the knot, the daughter-in-law moves into the husband's house to live with his family. While this has been enforced to be believed as a tradition and patriarchal, there are several practical factors as well, why a woman agrees to live with her in-laws family.
When a couple is about to begin their new journey, especially where only the man is earning, they are surely conscious of their income and savings. Below are some of the reasons, why a woman initially affirms to live in a joint family :
Separate rentals, which can be a big chunk of the household income, is taken into account
All miscellaneous expenses such as utility bills, maids, etc. also get divided
On the other hand, if the wife is working as well, the responsibility of managing the day-to-day affairs of the home is taken care by husband's parents
Often, many women also prefer to mark the in-laws home as their matrimonial property, even if they reside there only for a few months
Some may feel the above pointers are too harsh on women, however, these are workable ground realities which we see in several marriages and surely it does not demean the wife if she gives her nod to live with in-laws. The complication arises when she agrees to live jointly, however, within a few months, pressurises the husband to move out of his parental home by taking his share of property.
Such is the case of Amit Kumar, who originally hails from Bihar, now working in Hyderabad, and is undergoing mental as well as physical trauma, due to unreasonable demands by wife, supported by lopsided women centric laws.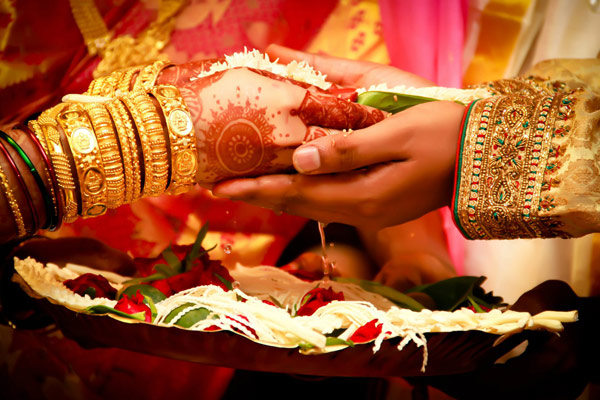 Case :
Amit, now 41, got married in June 2016
While Amit is working as a PO with a PSU bank since 2014, his wife, Seema, now 35, was a working as a lawyer at Ranchi Civil Court and High Court
Due to a near fatal bike accident in 2003, Amit is partially paralysed (60%) since 16-years and is working at the bank under 'Quota for the Disabled' since 2014
Together Amit and Seema have a two and a half year old baby girl
Initially Seema (who was 32 at the time of marriage), had agreed to live with Amit and his aged parents, however, soon within 20 days of marriage, she left her matrimonial home and returned after 15-days
Once again in August 2016, she left Amit's home for four months and this continued for several months for the next one year and on numerous accounts
With the on and off relationship, she returned again in September 2017 after their daughter's birth
However, Seema left Amit's home once again in March 2018 and filed a case of dowry harassment and domestic violence against Amit, his parents and his sister and brother-in-law who live in a different city (Amit's brother-in-law would have met Seema on not more than two occasions)
Amit's father passed away in December 2017
According to Amit, Seema's main demand is that Amit separates from his mother, moves into a separate home and also Seema must get a share in his mother's property
Amit expresses how his mother was the one who virtually got him back to his feet, after nearly five years of being bed ridden after the accident
Justifying respect towards his old mother, Amit refused to live separately from her, as demanded by his wife
After the case of 498A (dowry harassment charges), Amit had to apply for a bail by paying a lumpsum amount of Rs 50,000 to his wife and also the court ordered him to pay Rs 4,000 per month as maintenance for Seema and their child
The custody of the daughter remained with Seema and Amit has no access to meet his own child
The case is now pending since 2018
Our Take :
Cases like these, strongly echo the demand of a pre-nuptial agreement in India, else such personal matters which can be highly subjective in the eyes of judiciary, will never see the fate of justice, especially for the man who will end up paying the woman for a lifetime without access and rights over his own child.
Incidentally, the custody of children is given to the mother in 90% of the cases, with or without the fault of the father
Educated women are never coerced to find a job to become self dependent
Children who remain with separated vindictive mothers, are brainwashed to an extent that they refuse to recognise their fathers
Even if court orders visitation rights, the mothers make it almost impossible for the father to have a planned meeting under one pretext or the other
Virtually the man is left begging with multiple applications in front of the judiciary, to meet his own child
Even the physical disability of a man is overlooked and he is ordered to pay up because he is 'the man'
DISCLAIMER | Names have been changed since the case is ongoing
ALSO READ –
http://voiceformenindia.com/in-the-news/husband-dies-in-jail-due-to-kidney-failure/
Join our Facebook Group or follow us on social media by clicking on the icons below
Donate to Voice For Men India
Blogging about Equal Rights for Men or writing about Gender Biased Laws is often looked upon as controversial, as many 'perceive' it Anti-Women. Due to this grey area - where we demand Equality in the true sense for all genders - most brands distance themselves from advertising on a portal like ours.
We, therefore, look forward to your support as donors who understand our work and are willing to partner in this endeavour to spread this cause. Do support our work to counter one sided gender biased narratives in the media.
To make an instant donation, click on the "Donate Now" button above. For information regarding donation via Bank Transfer, click here.
Alternately, you can also donate to us via our UPI ID: [email protected]