Our Boyzzz Played Well……….Haven't we heard this several times from Team Captains and Players of not just Men in Blue, but also various other countries? "Boyz" is an absolutely acceptable and sporting term to address adult men who represent their respective teams.
No one for decades ever had a problem.
Myntra To Change Logo After Police Complaint By NGO Calling It 'Offensive Towards Women'
Welcome to Feminism 10.0
We want equality, we want equal pay……we want equal platforms………but here's how Harsha Bhogle was almost "tamed'"…!
Why Did Harsha Say "Sorry" To Gender Extremists?
Harsha Bhogle is an Indian cricket commentator who has not been spared by mindless criticism and wokeness – also referred by us as feminism 10.0.
Cricketer Mohd Shami Wanted To Commit Suicide Thrice Due To Harassment & False Cases By Wife
Amidst the ongoing Deepti Sharma controversy, Bhogle on September 30, took to twitter and expressed,
I find it very disturbing that a very large section of the media in England is asking questions of a girl who played by the laws of the game & none at all of another who was gaining an illegal advantage and was a habitual offender. That includes reasonable people & I think it is a cultural thing. The English thought it was wrong to do so & because they ruled over a large part of the cricket world, they told everyone it was wrong.

The colonial domination was so powerful that few questioned it. As a result, the mindset still is that what England considers wrong should be considered wrong by the rest of the cricket world, much like the "line" the Aussies say you must not cross having decided what the line should be which is fine in their culture but may not be for others. The rest of the world is no longer obligated to think the way England does and so we see what is so plainly wrong. So too the notion that turning tracks are bad but seaming tracks are fine. The reason I say it is cultural is that it is what they are brought up to think. They don't think it is wrong.

The problem arises and we are guilty of it too, when people sit in judgement of each other's approach. England wants the rest of the world not to like running out batters at the non-striker's end and have been vitriolic and abusive towards Deepti and others who have done it. We come hard too asking others to wake up from centuries old colonial slumber. The easiest thing is to play by the laws of the game & stop worrying about subjective interpretation of the spirit of the game, stop forcing opinions on others.

The law says the non-striker must be behind the crease till the bowler's arm is at its highest point. If you obey that, the game will move along smoothly. If you point fingers at others, like many in England have at Deepti, you remain open to questions asked of you. It is best if those in power, or who were in power stop believing that the world must move at their bidding. As in society, where judges implement the law of the land, so too in cricket. But I remain disturbed by the vitriol directed towards Deepti.

She played by the laws of the game and criticism of what she did must stop…
Maharashtra Govt To Reduce Working Hours Of Women Police | Social Media Taunts At Equality & Pay Parity Campaigns
Despite Harsha coming out strongly in favour of Deepti, our hyper equal rights champions had a major major issue with him referring to Deepti as a…"GIRL". Read up again…..and you read that right!
The very next day, someone like Harsha who is highly educated, well-read and who has covered sports for decades, was almost compelled and pressurised by feminists to apologise for using the term GIRL, instead of WOMAN. In his tweet dated October 1, Bhogle wrote,
Some women have reached out to tell me that my choice of the word "girl" in a recent tweet could, even if unintentional, as it was, be offensive. I am sorry and thanks for telling me. I am putting this in the public domain so that other men are aware that it could hurt. Thanks.
Yuvraj Singh's Sister-In-Law Receives Rs 48 Lakhs As Alimony | Apologises & Drops All Domestic Violence Charges
Here are some interesting tweets by social media users who have mocked the ridiculousness of feminists, who seem to have completely gone berserk in the name of sexism and misogyny.
WATCH | Husband Pasand Nahi Aaya To Saat Din Mein Wapas | New Ad By CARS24
MESSAGE FROM VOICE FOR MEN INDIA
Dear Harsha,
Someone like you apologising for such mindless criticism, only boosts up confidence of these wokes!
SHARE YOUR THOUGHTS BELOW:
"I AM SORRY"…#HarshaBhogle Pressurised By Feminists To Apologise For Calling Deepti Sharma…"Girl" | Twitter Reacts

Dear @bhogleharsha, Someone like u apologising for such mindless criticism, only boosts up confidence of these wokes#VoiceForMenhttps://t.co/ClgEXIdmv2

— Voice For Men India (@voiceformenind) October 2, 2022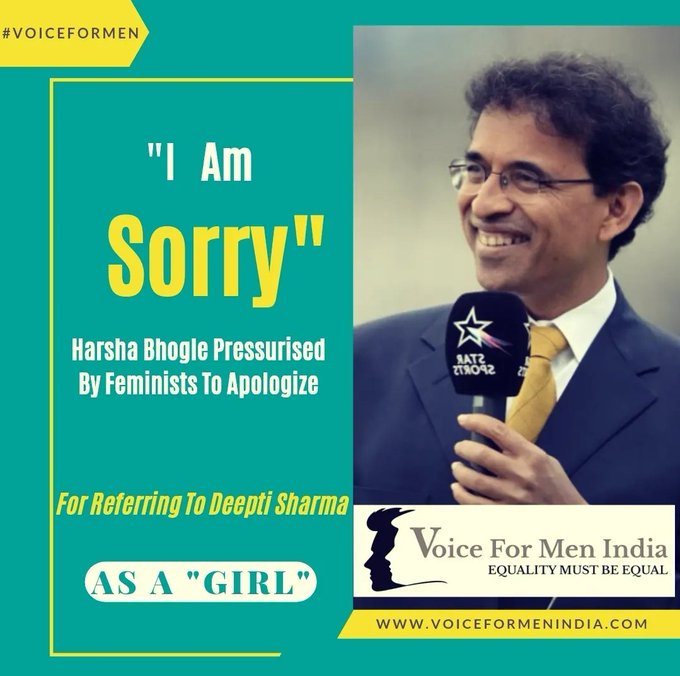 How Did Twitteratis React?
https://twitter.com/voiceformenind/status/1576136991061659648?s=20&t=m_E2wQ0bfVN2glH6m5KMQQ
"Inshallah, boys played well"??? Who tf has the time and fragility to be offended by such shit? https://t.co/NYTXBFcRgU

— Saransh Vatsa (@saransh_vatsa) October 1, 2022
India has lost the plot https://t.co/917ZkxH813

— Karl (@kaybeetweetz) October 1, 2022
This is such fucking bullshit man. You can't even begin to count how many times 'boys' is used in sports, and I assure you, not one dude gives a fuck. How can your egos be so fucking fragile. Get a grip honestly https://t.co/1pxrCdI7o3

— Rutvij (@FCBRutvij) October 1, 2022
This woke chu*iyapa is crossing its limits man! https://t.co/TbZZeyrdrN

— AV (@HanAbBol) October 1, 2022
I am an adult and I will be offended if someone calls me woman, pls call me a girl 😂😅 https://t.co/MuEu5e8nCj

— Nitali Jain (@NitaliJain) October 1, 2022
What on earth is this nonsense! Are we seriously going to act like snowflakes now? This is ridiculous! https://t.co/ot8YfqiSrL

— Initnamees 🇮🇳 (@SeemantiniBose) October 1, 2022
I'm sorry but this is rather unnecessary. Cricket playing men are referred to as 'boys' and I'm sure Harsha didn't use the word 'girls' in a condescending manner. People need to educate themselves on the context of a usage before trying to apply their blanket PC rules over it. https://t.co/GoEA7Bd8kc

— Couperman (@goddamnhunter) October 1, 2022
https://twitter.com/yashhitange/status/1576155888150532096?s=20&t=m_E2wQ0bfVN2glH6m5KMQQ
Nothing to apologise for. The word 'boys' is used for the men's team. How is this any different than women's team ?

Woke mob with their silly gender pronoun nonsense should stop.

All these trivializes and makes redundant the important struggle we women go through everyday. https://t.co/Ni7eVJWpzm

— Ishika Choudhury (@IshikaChoudhur1) October 1, 2022
How is that offensive? Women are just straight up annoying sometimes.

No boy/man/guy on my TL ever got offended with me calling the men's team as my "boys". https://t.co/kYKE8V2YjB

— Sejal 🏏 (@sejal_mokal) October 1, 2022
Hain? How's the word 'girl' offensive when used in reference to a girl? https://t.co/VA0mZ5RKqV

— Vipra Shrivastava☀️ (@Vipra_s) October 1, 2022
This guy is the Karan Johar of cricketing world. Rightly slapped by Dhoni & AB once. Thankfully isn't in cricket administration else we would have trans players playing for BCCI https://t.co/H7mKSnyf4T

— Chetan Anantharamu (@gandabherunda) October 1, 2022
Bad enough fragile and jobless people have time to take offense… But what's with the apology? Diffusing the situation is one thing, but caving in to loonies is plain timid. https://t.co/FJMcDa9dlP

— Vivek Gupta (@Veedo) October 1, 2022
A few weeks back someone had a problem with the word "Aunty", now someone has a problem with the word "girl". Really funny when I see someone moral policing on these issues. Even though the intention is clear, they try to make a fuss out of it.
Note : I respect women. https://t.co/4GchCrh3VE

— Hydrocker (@Hyd_Rocker) October 1, 2022
Classic example of "a woman is woman's biggest enemy". Things have gone from nobody noticing women's cricket to having controversies and intense debates. And here we have some idiots who are worried about calling her a girl. Talk about the bigger picture and woke shite. https://t.co/sJe5BXQIDP

— Mithun Koppal (@mithunkoppal) October 2, 2022
Sad that some 'women' even pointed this out to someone like @bhogleharsha who is brilliant with words himself !

'Boys played well' is fine but a girl who showed match awareness has to be called a 'Woman' who showed match awareness, otherwise it's 'offensive'#FrugalFeminism101 https://t.co/gqSPLAtere

— Devesh Dashrath Bhuwad (@deveshbhuwad) October 1, 2022
What a load of crap! This unnecessary wokeness of nothing is more serious than a bloody pandemic! https://t.co/P6GtR7Jdtx

— Divyesh (@iamdivyesh) October 1, 2022
When good people endorse it, stupidity flourishes.

Unfortunately, social media snowflakes have incredible power when it comes to cancel culture and hence we will continue to see tweets like this.

— Chickenlover (@Metchul_head) October 1, 2022
Join our Facebook Group or follow us on social media by clicking on the icons below
Donate to Voice For Men India
Blogging about Equal Rights for Men or writing about Gender Biased Laws is often looked upon as controversial, as many 'perceive' it Anti-Women. Due to this grey area - where we demand Equality in the true sense for all genders - most brands distance themselves from advertising on a portal like ours.
We, therefore, look forward to your support as donors who understand our work and are willing to partner in this endeavour to spread this cause. Do support our work to counter one sided gender biased narratives in the media.
To make an instant donation, click on the "Donate Now" button above. For information regarding donation via Bank Transfer, click here.