If you are embroiled in a matrimonial dispute in India, as per law, as a man, you are duty bound to share your income details with estranged wife. In a recent case reported from Uttar Pradesh – where the husband refused to part with his personal income details – the Central Information Commission (CIC) directed the Income Tax Department to inform the wife of her estranged husband's net taxable income/gross income within 15-days.
Case:
The appellant wife Sanju Gupta had filed an RTI application to know the details of her husband's Gross income in FY 2018-19 and FY 2019-20, along with his taxable income.
The Central Public Information Officer (CPIO) had asked Gupta's husband whether the information may be disclosed. Since the husband did not consent to share his personal details with wife with whom he has parted ways, the CPIO along with Income Tax Department office of the Income Tax Officer, Bareilly, denied providing the relevant details under Right to Information (RTI).
The wife was not pleased with the CPIO's decision, and thus she filed another appeal before the First Appellate Authority (FAA). The FAA's too, upheld the CPIO decision. Gupta then filed an instant Second Appeal before the CIC.
Court Orders FIR Against Woman, Her Sister, For Hacking Husband's Bank Account During Ongoing Matrimonial Dispute
Central Information Commission (CIC)
The CIC went through the matter on record and also evaluated some of the past orders and judgements from the High Courts and Supreme Court in similar cases.
CIC cited the below past orders:
1) 2016 Bombay High Court Nagpur bench order Rajesh Ramachandra Kidile vs. Maharashtra where the bench had observed:
In a litigation, where the issue involved is of maintenance of wife, the information relating to the salary details no longer remain confined to the category of personal information concerning both husband and wife, which is available with the husband hence accessible by the wife.
2) 2009 Delhi High Court order Vijay Prakash vs. Union of India where the Court observed,
In private disputes, the basic protection afforded by virtue of the exemption (from disclosure) enacted under Section 8 (1) (j) cannot be lifted for disturbed.
3) Even in 2020 Order in Rahmat Bano, the CIC had permitted disclosure of gross income to the estranged wife on the ground of sustenance and livelihood of the family.
READ ORDER | Husband Cannot Seek Information About Wife's Matrimonial Complaints Against Her Ex-Husbands: Delhi High Court
CIC Order
Relying on past orders from various Courts, the CIC directed the CPIO to inform the wife about the generic details of the net taxable income/gross income of her husband held and available with the Public Authority. The CIC order dated September 19, 2022, thus read,
The Commission directs the CPIO to provide the generic details of the net taxable income/gross income of the husband for the specified time period as contained in the RTI Application to the Appellant free of cost within 15-days from the date of receipt of this order.
What Does the Law State?
Details relating to assets, liabilities, income tax returns, details of investments, lending and borrowing etc. come under the category of personal information. As per Section 8(1)(j) of the RTI Act, such personal information is entitled to protection from unwarranted invasion.
Notwithstanding the above, the Supreme Court in its Supreme Court of India vs Subhash Chandra Agarwal (20210) case had held,
Conditional access is available when stipulation of larger public interest is satisfied.
Congress Leader DK Shivakumar Helps Jail Inmates By Paying Off Alimony To Their Ex-Wives
VFMI Take:
All men are no saints and no women are not victims
In matrimonial disputes, if either spouse refuses to support the lesser earning one, there should be some mechanism to get access to his/her financial details in order to impart justice
However, we do not live in an ideal world where matrimonial laws are fair for the men
Without justifying any act against the law, there are multiple reasons why separated men refrain from submitting their real income
According to the law, interim maintenance is granted to the wife, even before any charge is proven against the husband
India has nearly 4.7 crore cases pending across all courts as on August 2022
Once the interim maintenance is awarded to the wife, there is no fixed term to end this 'interim' benefit
Effectively, wives stop coming to court for evidence in main divorce matter, while husbands keep dragging endlessly to court for decades, thereby, continuing to pay that interim maintenance
There are several instances, where after years and years of separation, wives file for enhancement of maintenance against the husband's present income
Even in these scenarios, the court merely accept such cases without prima facie verification of past facts on record, and directly order husbands to submit their latest income affidavits
Feminists have got all laws in favour of women, however, men are fighting back now and not giving into alimony settlements without their fault
Unless the laws have a fixed deadline, these frivolous cases will keep piling up, and both men and women will keep finding loopholes in the system to suit their way
Lastly, do read the article below, where in a reverse case, where CIC had denied access to husband to seek his wife's income tax returns
CIC Permits Wife To Access Estranged Husband's Income Details Through RTI | Read Our Take

▪️Section 8(1)(j) of RTI Act: Information such as assets, liabilities, IT returns, details of investments, lending & borrowing etc is 'Personal'#VoiceForMenhttps://t.co/gJuSYPC4v5

— Voice For Men India (@voiceformenind) October 3, 2022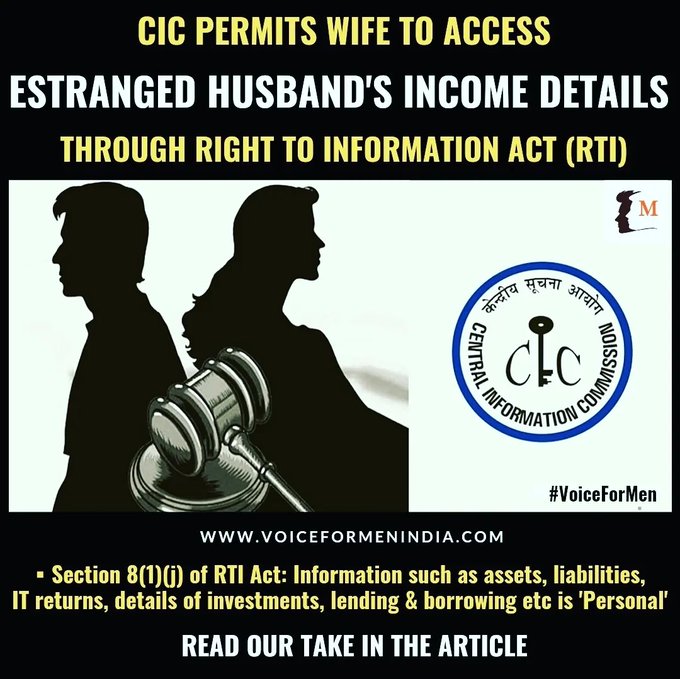 MUST READ:
Wife Can Ask Husband's Salary But Husband Cannot Seek Wife's Bank Details Under RTI | Two Contrasting CIC Orders
Join our Facebook Group or follow us on social media by clicking on the icons below
Donate to Voice For Men India
Blogging about Equal Rights for Men or writing about Gender Biased Laws is often looked upon as controversial, as many 'perceive' it Anti-Women. Due to this grey area - where we demand Equality in the true sense for all genders - most brands distance themselves from advertising on a portal like ours.
We, therefore, look forward to your support as donors who understand our work and are willing to partner in this endeavour to spread this cause. Do support our work to counter one sided gender biased narratives in the media.
To make an instant donation, click on the "Donate Now" button above. For information regarding donation via Bank Transfer, click here.