Few years ago, this could have been unimaginable and also unbelievable. However, educated and working women filing false rape cases to extort money from men is rapidly increasing in India.
In a recent case reported from Haryana, a 22-year-old woman was nabbed after she blackmailed two men in a false gang rape case.
Gurugram Woman Arrested For Filing False Gang Rape Case & Extorting Rs 30 Lakhs
Background:
22-year-old woman, a resident of Karnal, had being staying as a PG in Noida Sector 62. The woman is a web designer by profession who works in a media company.
According to a PTI report, the woman registered a gang rape case against two men on March 17 at Sector 53 police station in Gurugram. Initially, she demanded Rs 2 lakh from the men to withdraw the case, however, later she pressurised them to pay Rs 4 lakh more.
The duo agreed to pay Rs 2 lakh, but when the blackmailing didn't end there with demand for more money, they decided to approach police with call records and bank transaction details.
Subsequently, the woman was arrested on Thursday on charges of extortion.
After Filing 19 False Gang Rape Cases, Haryana Woman Arrested; Lady SI Who Helped Her Is Absconding
Police Statement
Speaking with media, SHO Amit Kumar said,
Acting on a complaint filed by the men, a case was registered under sections 384 (extortion), 385 (putting any person in fear of injury in order to commit extortion), and 389 (putting a person in fear of accusation) of the IPC at Sector 53 police station. The woman has been arrested.
Speaking with TOI, Virender Vij, DCP (east) added,
She has registered similar rape cases in Aman Vihar and Rohini in New Delhi.
According to the police, when the woman was produced in the court for recording her statement under section 164 of CrPC, she retracted her statement. Kumar said,
Later we got the information that she had also filed a similar rape complaint in Delhi earlier. On suspicion, we started the investigation and her allegations were found to be false.
Ghaziabad Gang Rape Case False: Why Has DCW Chief Swati Maliwal Not Deleted Her Misleading Tweets & Video Yet?
VFMI Take:
Is it time identities of all women who file false rape cases are made public?
Is it time India introduces strictest laws against all such women who have turned rape laws into business?
LEAVE YOUR COMMENTS BELOW:
#GURUGRAM: 22-Year-Old Web Designer Arrested For Blackmailing Two Men In False Gang Rape Case

▪️Police: "She has earlier registered similar rape cases in Aman Vihar and Rohini in New Delhi"#VoiceForMen#CrimeHasNoGender#FalseRape https://t.co/aM7v24rWYg

— Voice For Men India (@voiceformenind) March 25, 2023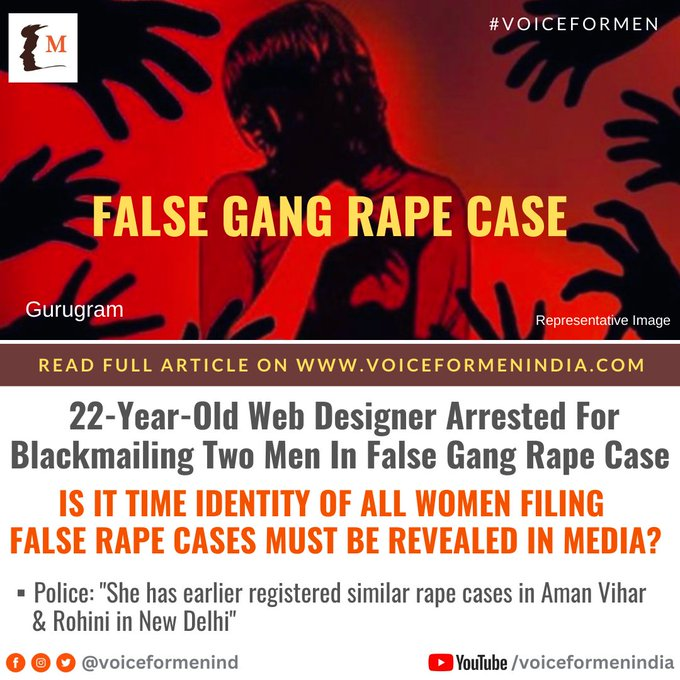 MUST WATCH:
Gurgaon Girl Files 7-Rape Cases On 7-Different Men | Deepika Narayan Bhardwaj
https://www.youtube.com/watch?v=e7aGU36Dn04
Noida Uber Driver Records Lady Passenger Giving Him Threats Of False Molestation Case
Join our Facebook Group or follow us on social media by clicking on the icons below
Donate to Voice For Men India
Blogging about Equal Rights for Men or writing about Gender Biased Laws is often looked upon as controversial, as many 'perceive' it Anti-Women. Due to this grey area - where we demand Equality in the true sense for all genders - most brands distance themselves from advertising on a portal like ours.
We, therefore, look forward to your support as donors who understand our work and are willing to partner in this endeavour to spread this cause. Do support our work to counter one sided gender biased narratives in the media.
To make an instant donation, click on the "Donate Now" button above. For information regarding donation via Bank Transfer, click here.
Alternately, you can also donate to us via our UPI ID: [email protected]