Women Rights Activists globally have pushed and created laws which are completely anti-men. When it comes to child custody cases in bitter matrimonial battles, the trauma for separated fathers cannot be expressed in words. Most often, in almost every jurisdiction, custody of the children is handed over to the mothers due to their biological needs, thereby, leaving fathers to almost begging to see their kids.
Get Child To Speak To Father Before He Says 'Hello Uncle' | Gujarat HC To Separated Mother In Child Custody Case
His Story
In a unique case reported, a man from Ecuador, has changed his gender identity to win custody of his two daughters. The man has been legally separated from his wife and claimed his girls were living in an abusive environment at their mother's home and that he had not seen them over the past five-monthS.
As per a New York Post report, Salinas Ramos' official ID card now lists him as "FEMENINO".
47-year-old Salinas is reportedly the first man in Ecuador to use gender laws to gain the upper hand in a custody battle, and news of the gender change has set off criticism from transgender activists in the South American country.
READ ORDER | If Adult Daughter Expects Father To Support Her Education, She Also Has To Play Role As A Daughter: Supreme Court
Ecuador passed a law in 2015 that allows people to legally change their gender on government-issued documents.
Speaking to the New York Post, Salinas said,
What I have been looking for is to give the love and protection that a mother can give her children. However, I still see myself as a cisgender male.
Meanwhile, the battle over the daughters' custody is still ongoing.
#HopeWalkToPuri | Separated Fathers March From Bhubaneswar To Puri To Spread Awareness About Parental Alienation During Divorce | Watch Videos
Adding further, Ramos said the law in Ecuador gives a child's rights to women. He quoted,
As of this moment, I am female. Now I'm also a mom. 

The law is taking away our right to be parents. [Changing my official documents] is a proof of love."
READ ORDER | Mere 30-Minutes In A Month Granted For Child Visitation To Non-Custodial Parent Is Insufficient: Delhi High Court
Ramos' daughters will continue staying with their mother until the matter is resolved. He concluded,
I am very sure of my sexuality. What I have sought is that I want to be a mother, so that I can also give the love and protection of a mother.
LEAVE YOUR COMMENTS ON THE CASE BELOW:
Ecuador Man Changes Gender Identity To Win Custody Of His Daughters…"Have Not Seen Them Since 5-Months"

▪️"Now I'm also Mom. Law is taking away our right to be parents. Changing my official documents is proof of love"#VoiceForMen#ParentalAlienationhttps://t.co/KswKkDOdPA

— Voice For Men India (@voiceformenind) January 11, 2023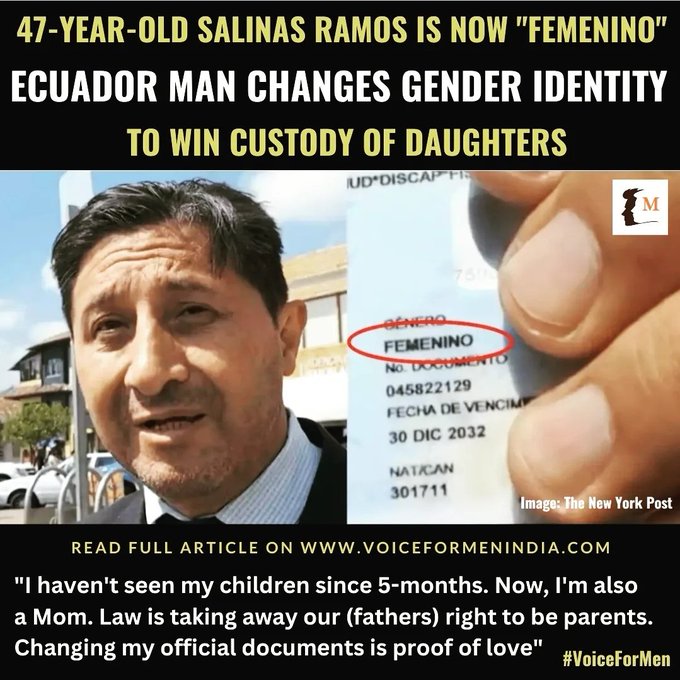 WATCH VIDEO:
MP Anubhav Mohanty Discusses Parental Alienation & Need For Separate Child Ministry In Lok Sabha
Join our Facebook Group or follow us on social media by clicking on the icons below
Donate to Voice For Men India
Blogging about Equal Rights for Men or writing about Gender Biased Laws is often looked upon as controversial, as many 'perceive' it Anti-Women. Due to this grey area - where we demand Equality in the true sense for all genders - most brands distance themselves from advertising on a portal like ours.
We, therefore, look forward to your support as donors who understand our work and are willing to partner in this endeavour to spread this cause. Do support our work to counter one sided gender biased narratives in the media.
To make an instant donation, click on the "Donate Now" button above. For information regarding donation via Bank Transfer, click here.
Alternately, you can also donate to us via our UPI ID: [email protected]