The Karnataka High Court in its order dated May 25, 2023 ruled that a cruelty and dowry harassment case filed by wife after receiving divorce notice from her husband loses its significance.
Justice S Rachaiah of the Kalaburagi bench of the Karnataka High Court thus quashed the FIR registered against the in-laws of the complainant.
Karnataka High Court Quashes FIR Against In-Laws In False 498A|Women Naming All Relatives Without Evidence
Case:
Suma, a resident of Deodurga in Raichur district, got married to Gopal Gundyal in May 2013. Gopal worked with a private company at Pune.
According to Suma, her husband did not take her along with him to Pune since she did not understand Hindi or Marathi, and thus she was compelled to live with her in-laws in Solapur.
Since there were daily disputes between in-laws and Suma, she allegedly convinced her husband to allow her to stay with him, with this condition that she would never ask any of her relatives over to their Pune residence.
Gopal filed a divorce petition on December 17, 2018, at the Solapur family court. Within a week from the divorce petition, Suma retaliated with a criminal case against her husband, in-laws Nagesh Gundyal, his wife Vijaya, sister-in-law Anjana and her husband Anil charging them with cruelty and dowry harassment.
Karnataka High Court Fines Rs 25,000 To Woman For Filing False 498A Case On Husband
Allegations by Wife:
In her complaint, Suma alleged that her in-laws harassed her continuously and kept insisting that she join her husband in Pune.
Suma also alleged that on December 22, 2018, around 10.30pm, she and her parents were assaulted by her husband and in-laws.
Defense by In-laws
Suma's in-laws argued that the allegations were absurd and in retaliation to the divorce proceedings initiated by Suma's husband before the Solapur family court.
READ ORDER | Karnataka HC Dissolves Marriage As Wife Filed False Dowry Harassment Case After Divorce Granted By USA Court
Karnataka High Court
At the outset, the Karnataka High Court noted that Suma had not lodged any complaint against her in-laws until December 25, 2018. Justice Rachaiah said:
It appears that the allegations are absurd in nature and are not sufficient to invoke the provisions mentioned.
Calling the allegations vague, the high court said,
Unless there are allegations made out against each petitioner independently, it cannot be construed that the petitioners committed the offence.
READ JUDGEMENT | Mere Demand For Separate House By Wife Not 'Cruelty': Karnataka HC Sets Aside Divorce Decree Despite Couple Being Separated Since 15YRS
While quashing the FIR against Suma's in-laws, Justice Rachaiah said,
The husband of respondent No 2 (Suma) had filed a divorce petition on December 17, 2018, at Solapur family court. As a token of retaliation, respondent No 2 had filed a complaint against all the petitioners and this assumes greater significance.
LEAVE YOUR COMMENTS BELOW:
https://twitter.com/voiceformenind/status/1663128433629487104?s=20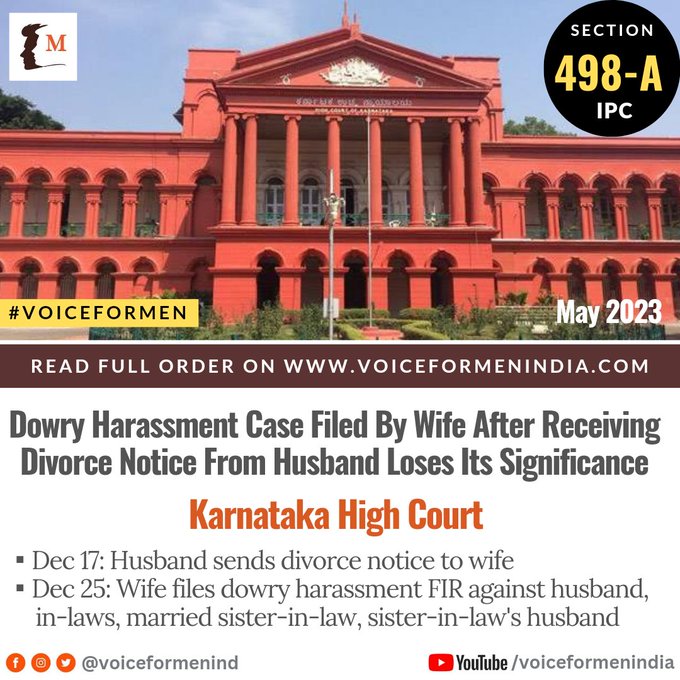 DO WATCH:
Are Divorce Laws Biased Against Indian Men? | Justice Markandey Katju | Voice For Men India
Join our Facebook Group or follow us on social media by clicking on the icons below
Donate to Voice For Men India
Blogging about Equal Rights for Men or writing about Gender Biased Laws is often looked upon as controversial, as many 'perceive' it Anti-Women. Due to this grey area - where we demand Equality in the true sense for all genders - most brands distance themselves from advertising on a portal like ours.
We, therefore, look forward to your support as donors who understand our work and are willing to partner in this endeavour to spread this cause. Do support our work to counter one sided gender biased narratives in the media.
To make an instant donation, click on the "Donate Now" button above. For information regarding donation via Bank Transfer, click here.
Alternately, you can also donate to us via our UPI ID: voiceformenindia@hdfcbank