A Delhi Court on April 29 ordered an FIR against a father-daughter duo for implicating the latter's husband and in-laws in a false dowry harassment and false gang rape case. 
In it's 73-page judgement, Additional Session's Judge of the Tis Hazari court said,
Rape is a heinous crime which is required to be dealt strictly but simultaneously false allegations qua rape are also required to be dealt firmly since these allegations cause huge humiliation to the accused and have potential to isolate the concerned, including his family and near ones, from society.
Citizen of India Requests CJI To Reconsider Formation Of Bench In Marital Rape PIL; 2 Out Of 3 Judges' Opinion Already In Public Domain
Case:
Vipul Gupta got married to Ashima Goel in January 2014. In August 2014, Ashima filed an FIR against Vipul, his father Rajendra Gupta and Vipul's sister Astha Gupta. Vipul's wife had also levelled serious charges of gang rape against her father-in-law and sister-in-law. 
The wife's false charges were backed her own father, C D Goel, who is an advocate himself. 
In 2014, a case was registered at the Janak Puri Police Station, Delhi against husband and his family under:
Section 498A
Section 406
Section 323
Section 342
Section 506
…of the IPC.
Marital Rape Law In India: The Greys Around An Issue Being Seen As Legal Black & White | Writes Deepika Narayan Bhardwaj
Tis Hazari Court, Delhi
After the matter was under trial for more than 8-years, the Tis Hazari court passed it's order last month acquitting the husband, charged under sections 498A (cruelty by husband or relative of husband), 342 (wrongful confinement), 323 (hurt), 406 (criminal breach of trust), 506 (criminal intimidation) and 34 (acts done by several persons in furtherance of common intention) along with the father-in-law and sister-in-law who were additionally charged under section 376D (gang rape) of IPC.
While acquitting the husband and his family, the court noted that the prosecution miserably failed to prove the commission of alleged offences.
It further added that the complaint filed, by the father of the woman, against the three accused, presented distorted and imaginary facts to make them agree to her terms.
Some of the allegations made by the wife against her father-in-law and sister-in-law:
"I was called in a room by my sister-in-law & forced to drink milk. After sipping it, I fell unconscious on the bed. When I woke up, I had no clothes on my body & saw my father-in-law standing in front of me without clothes. My father-in-law was using his finger in my vagina. When I shouted, my husband came into the room…"
When there was a matrimonial discord between the couple, the wife, aided by her advocate father, resorted to filing false criminal cases against her husband and his family. Coming down heavily on the father-daughter for making a false claim, Additional Session's Judge Aanchal said,
The entire system worked believing the woman the most and valuing her statement at par that of injured witness, but the woman and her father seem to have exploited even the liberal interpretation and evaluation of evidence.
The Court added,
This Court is in agreement with the submissions made on behalf of accused persons that matrimonial discord has been malafidely given colour of rape and criminal offence. 
READ JUDGEMENT | Abortion Can Be Permitted If Wife Alleges Marital Rape: Supreme Court
The Judge made a strong statement against the wife's father, who himself is an advocate. She said,
Being an advocate himself, he did not keep the sanctity of the oath and kept on making false stories. 

What they did is not just exaggeration, but also falls within the purview of an illegal act. It is an offence to make a false charge and this court is of the view that stern action against them is required.
The court also noted how, the wife who was a law student and had graduated by the time trial took place, and her father who was an advocate by profession, showed scant regard to their duty to depose truth and kept on making stories. The Court added,
Their act is not what could be called simpliciter exaggeration but the same is what will definitely fall within the purview of an illegal act and is an offence of making false charge of offence punishable with imprisonment extending to life.
"Rape Laws Should Be Gender Neutral": Delhi High Court Judge Who Supported Criminalisation Of Marital Rape
FIR Ordered
After concluding that the cases filed against the husband and his family were concocted and false, the Court ordered an FIR against the wife and her father. The order read:
Concerned SHO PS Janakpuri is hereby directed to register FIR U/s 211 (false charge of offence made with intent to injure) IPC against the woman and her father within 24 hours of receipt of the present judgment.
The police was also directed to file a detailed report of the investigation before the metropolitan magistrate preferably within three months.
Karnataka HC Order On Marital Rape Exposes Passion, Not Road To Justice | Men's Rights NGO Writes To CJI
Voice For Men India Note:
Supreme Court is currently hearing a PIL to criminalise marital sex on word of the wife (#MaritalRape)
The extent of misuse in every single matrimonial dispute, is what the Men's Rights NGO (Men Welfare Trust, Delhi, intervenors in Marital Rape PIL) has been opposing
It takes almost a decade for a trial in a criminal case to come to any conclusion
The husband and his family are charged as criminals, until they are acquitted
While all laws are misused, Marital Rape law will solely rest on the testimony of a disgruntled wife, who even after consensual sex can file a complaint of rape against her husband
It's time society debates these issues, instead of terming everything as black and white and bashing all who are opposing this one sided law
P.S. : Women facing sexual violence from husbands, already have recourse under Section 498-A IPC, Section 377 IPC and Domestic Violence Act 2005.
LEAVE YOUR COMMENTS ON THIS CASE BELOW:
Delhi Court Orders FIR Against Wife, Her Advocate Father Who Filed False Dowry & Gang Rape Cases Against Husband, In-Laws

-Jan 2014: Marriage
-Aug 2014: FIR
-Apr 2023: "Matrimonial discord has been malafidely given colour of rape, criminal offence"

1/2https://t.co/RuxGl1QC75

— Voice For Men India (@voiceformenind) May 22, 2023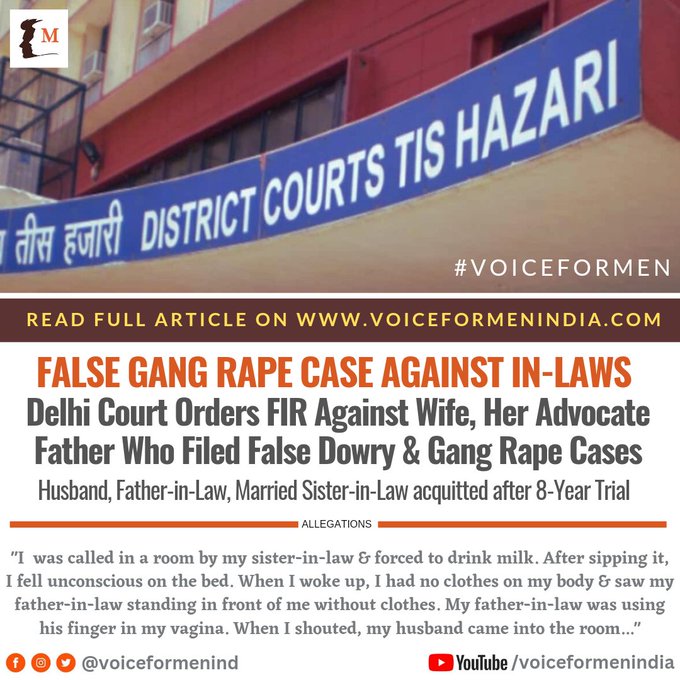 MUST WATCH:
Marital Rape Verdict | Advocate J Sai Deepak | Other Side
MUST READ:
NO, Men's Rights NGO Is Not Fighting To Keep Marital Rape Legal In India | Read Other Side Of Media Propaganda
Join our Facebook Group or follow us on social media by clicking on the icons below
Donate to Voice For Men India
Blogging about Equal Rights for Men or writing about Gender Biased Laws is often looked upon as controversial, as many 'perceive' it Anti-Women. Due to this grey area - where we demand Equality in the true sense for all genders - most brands distance themselves from advertising on a portal like ours.
We, therefore, look forward to your support as donors who understand our work and are willing to partner in this endeavour to spread this cause. Do support our work to counter one sided gender biased narratives in the media.
To make an instant donation, click on the "Donate Now" button above. For information regarding donation via Bank Transfer, click here.
Alternately, you can also donate to us via our UPI ID: [email protected]