A lot of random media debates have already taken place on the below Supreme Court Judgement (Sep 29, 2022) today.
Many have painted the matter, as if the Court has allowed abortion in a rape case. This is absolutely misleading. Let us break it down for you and analyse what was the matter and what did the Judges say.
Case Background:
This case pertains to an appeal filed by an unmarried woman against a July 2022 order, where the Delhi High Court did not permit her termination of 24-week-old foetus. The appellant is a resident of Manipur and currently residing in Delhi. 
Plea To Delhi High Court
Permit the Petitioner to terminate her ongoing pregnancy through registered medical practitioners at any approved private or government center or Hospital before 15.07.2022 as her relief will be infructuous after that as the pregnancy will be of around 24 Weeks by that time
Restrain the Respondent from taking any coercive action or criminal proceedings against the Petitioner or any Registered Medical Practitioner terminating the pregnancy of the petitioner at any approved private center or hospital registered by Govt NCT of Delhi
Direct the Respondent to include unmarried woman also within the ambit of the Rule 3B of the Medical Termination of Pregnancy Rules 2003 (as amended on 21.10.2021) for termination of pregnancy under clause (b) of sub-section (2) Section 3 of the MTP Act, for a period of up to twenty-four weeks
Order an immediate Interim Relief of Stay during the course of proceedings
Delhi High Court Order
The Delhi High Court in July 2022 had refused relief to the woman, holding that an unmarried woman who is carrying a child out of a consensual sexual relationship cannot be permitted to terminate pregnancy older than 20-weeks. By its order dated July 15, 2022, the Delhi High Court said,
The Petitioner, who is an unmarried woman and whose pregnancy arises out of a consensual relationship, is clearly not covered by any of the Clauses under the Medical Termination of Pregnancy Rules, 2003. Therefore, Section 3(2)(b) of the Act is not applicable to the facts of this case.

Learned counsel for the Petitioner states that Rule 3B of the Medical Termination of Pregnancy Rules, 2003 is violative of Article 14 of the Constitution of India, 1950, in as much as it excludes an unmarried woman. Whether such rule is valid or not can be decided only after the said rule is held ultra vires, for which purpose, notice has to be issued in the writ petition and has been done so by this Court. 10.

As of today, Rule 3B of the Medical Termination of Pregnancy Rules, 2003, stands, and this Court, while exercising its power under Article 226 of the Constitution of India, 1950, cannot go beyond the Statute. Granting interim relief now would amount to allowing the writ petition itself.
The woman, subsequently, moved the Supreme Court.
Submissions Made By Doctor
Dr. Amit Mishra, learned counsel appearing on behalf of the appellant made the following submissions:
The appellant was an unmarried woman whose partner had refused to marry her. She did not wish to continue the pregnancy and have the child out of wedlock as she lacked the financial resources to do so. She was not employed and her parents were farmers.
She was also not mentally prepared to raise a child by herself. If she was compelled to do so, it would cause grave injury to her physical and mental health. The appellant was not prepared to face the social stigma surrounding unwed mothers
Section 3(2)(b) of the MTP Act and Rule 3B of the MTP Rules are arbitrary and discriminatory because they exclude unmarried women from their ambit. They discriminate against women on the ground of marital status, in violation of Article 14 of the Constitution
Supreme Court
A Bench of Justices DY Chandrachud, AS Bopanna, and JB Pardiwala on September 29, 2022 overturned the decision of the Delhi High Court which had declined to permit the abortion.
Allowing the plea, the Supreme Court observed that the Delhi High Court took an unduly restrictive view in interpreting the MTP Act and Rules.
SC Comment On Abortion Due To Marital Rape
The Supreme Court on Thursday said that for the purposes of the Medical Termination of Pregnancy (MTP) Act, marital rape has to be considered as falling within the meaning of 'rape' in order to save women from forceful pregnancy.
The bench further added that any pregnancy alleged by a pregnant woman to be caused by force is rape notwithstanding the exception to marital rape under Indian Penal Code (IPC). The bench observed,
Notwithstanding Exception 2 to Section 375 of the IPC,85 the meaning of the words "sexual assault" or "rape" in Rule 3B(a) (of MTP Rules) includes a husband's act of sexual assault or rape committed on his wife.

The meaning of rape must therefore be understood as including marital rape, solely for the purposes of the MTP Act and any rules and regulations framed thereunder.

Any other interpretation would have the effect of compelling a woman to give birth to and raise a child with a partner who inflicts mental and physical harm upon her.
The Court emphasised that married woman may also form part of class of survivors.
Supreme Court Defined 'Rape'
With regards to the term 'Rape', the top court said,
Rape means sexual intercourse without consent and intimate partner violence is a reality. In this case also woman may get forcefully pregnant.
The Supreme Court added that the meaning of rape must, therefore, be understood as including marital rape, for the purpose of the MTP Act and any rules and regulations framed under the Act.
On the matter of Marital Rape, the apex court further said,
It is only by a legal fiction that Exception 2 to Section 375 of the IPC removes marital rape from the ambit of rape, as defined in Section 375.
The Court, however, clarified that understanding "rape" under the MTP Act and the rules as including marital rape does not have the effect of striking down Exception 2 to Section 375 of the India Penal Code (IPC) or changing the contours of the offence of rape as defined in the IPC.
Speaking about pendency of the Marital Rape PIL, the Supreme Court said,
Since the challenge to Exception 2 to Section 375 of the IPC is pending consideration before a different Bench of this Court, we would leave the constitutional validity to be decided in that or any other appropriate proceeding.
VFMI Take:
The main matter before Supreme Court was whether to allow an unmarried woman terminate her 24-month foetus
In our opinion, it is only fair, that the unmarried woman cannot be left to shoulder the burden of a child, especially when her partner has backed out – from marriage or taking any responsibility
The medical practitioner too had given his consent, and we see no reason why the Court should not have allowed this abortion
However, for all social media activists, there was no rape – it was a matter where a woman approached Supreme Court for abortion, since her partner did not consent to marriage
Now, coming to the point of using the term Marital Rape, in a case which is completely disconnected from its context
The PIL for Marital Rape is pending in Supreme Court and the next date given is February 2023
However, the bench has planted this term in the judgement, almost confirming their opinion on the outcome of the main PIL
The bench no where states, how would the Courts view an allegation of pregnancy due to rape within marriage?
Effectively, what we understand, that a married woman can come to court, allege Marital Rape, for a physical relationship that would have taken place with her husband, weeks or months ago
Every social media user must understand basic difference on approaching abortion, between married Vs unmarried couples
When it comes to unmarried couples, the reasons could vary, most often the justification would remain that the marriage did not take place
However, when it comes to married couples, word of the woman terming marital sex as rape, should not be taken as final
This is the main disconnect we have with this judgement – We totally concur that rape is rape, and there can't be difference between married and unmarried couples – However, SC must clearly define guidelines how what defence would a husband have in all such scenarios 
Having said everything that we wanted to, we also feel that spouses should have a liberal view on abortion, if they have already separated before the birth of the child
But to term every application for abortion by a married woman as "Marital Rape" is going to another extreme, virtually shaming and stripping the husband – for faster Justice to the Wife
LEAVE YOUR THOUGHTS BELOW:
READ JUDGEMENT | Abortion Can Be Permitted If Wife Alleges #MaritalRape: SC

▪️Case pertained to allowing abortion for UNMARRIED WOMAN, whose partner refused marriage – NO RAPE

▪️SC states MR in the judgement, almost confirming their view on pending PILhttps://t.co/WqXldphXQL

— Voice For Men India (@voiceformenind) September 29, 2022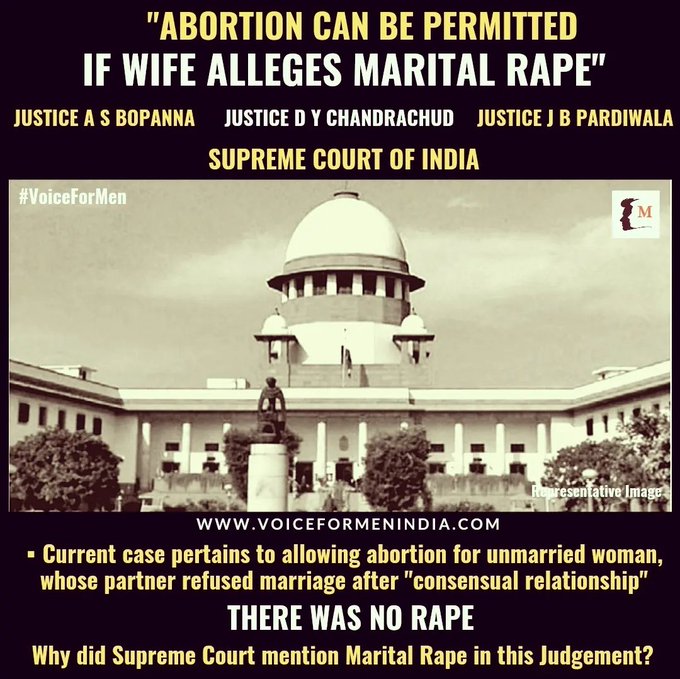 Join our Facebook Group or follow us on social media by clicking on the icons below
Donate to Voice For Men India
Blogging about Equal Rights for Men or writing about Gender Biased Laws is often looked upon as controversial, as many 'perceive' it Anti-Women. Due to this grey area - where we demand Equality in the true sense for all genders - most brands distance themselves from advertising on a portal like ours.
We, therefore, look forward to your support as donors who understand our work and are willing to partner in this endeavour to spread this cause. Do support our work to counter one sided gender biased narratives in the media.
To make an instant donation, click on the "Donate Now" button above. For information regarding donation via Bank Transfer, click here.