In India, if a wife dies by suicide or even due to accidental death within seven years of marriage, by default the husband and in-laws are booked, and often arrested without investigation.
A recent case from Bengaluru raises questions on the arrest of a married man, after his wife died by suicide on receiving divorce notice.
Ludhiana Man Dies By Suicide Accusing Wife, In-Laws, Wife's Friend Of Harassment & Parental Alienation | #HusbandSuicide
Case:
Nihar Ranjan Routray (software engineer) was married to 34-year-old Upasana Rawat, (HR manager) for the past eight years. The couple was having domestic issues since last two years. The couple did not have children.
On Tuesday morning, Rawat died by suicide after receiving a legal notice for divorce. In a note she left behind, Rawat allegedly blamed her husband's mental abuse and torture, reported The Indian Express.
Nihar was arrested from Bengaluru's Varthur on Wednesday.
30-Year-Old Man Dies By Suicide After Women Empowerment NGO Pressurises Him To Pay Rs 20 Lakh Alimony – Despite Wife's Extra Marital Affair
Police Statement
The husband has been booked on abetment to suicide charges following a complaint filed by the woman's family.
Speaking to media, an officer said,
We have booked Nihar under IPC Section 306 (abetment to suicide). The probe revealed that Nihar had recorded some videos of Upasana where she was seen fighting with her husband and abusing him. When asked, he said that he was building some evidence to prove in the court that she was abusing him.
VFMI Take:
Whenever anyone ends life abruptly, it is extremely traumatic for their families and it is not about Gender
Such cases often make us question, whether complicated divorce laws in India are a major reason behind people dying by suicide in matrimonial disputes
If the marriage is not working out, or it has turned so bitter that you are only engaging in abuses and fights, it is best to end such toxic relationships
Divorce is not taboo – your life is more precious than what the society thinks
We will equally blame parents and family of the woman here – why is a police complaint only filed after the child is dead? Why are they not held equally accountable to bring their daughter back home (if she has been facing domestic violence in her matrimonial home)?
We also bring to you other side below, where when genders are reversed, the system is extremely soft on accused wife and in-laws, despite evidences and suicide videos left by husband
Gujarat HC Stays Arrest Of Mother-in-Law Despite Man Leaving Video Blaming Her For Alimony Harassment
Suicide Prevention Helpline
Men in distress due to family problems or facing threats of false cases from in-laws can contact either of the Men's Rights NGOs:
You can also contact Government of India 24×7 toll-free mental health rehabilitation helpline 'KIRAN' on 1800-599-0019
Bengaluru Woman Ends Life After Receiving Divorce Notice; Husband Arrested For Abetment To Suicide

▪️Police: "Husband recorded videos of Wife fighting & abusing him. When asked, he said that he was building some evidence for divorce case"

▪️Comments?https://t.co/7GmNwKzxGB

— Voice For Men India (@voiceformenind) October 27, 2022

OTHER SIDE:
Rahul Agarwal Died By Suicide On May 5, 2022 leaving detailed suicide video accusing wife and in-laws of harassment. Despite arrest orders from HC, wife and family are absconding and police is unable to "trace the culprits" even after nearly 6-months. Rahul's family continues running around courts for justice.
Rahul Agarwal from Rourkela, Odisha, has ended life due to the draconian Section #498A law.

He leaves behind his last video accusing his father-in-law, mother-in-law & brother-in-law of harassment.

Cont… pic.twitter.com/ZbR6i0qhyu

— Voice For Men India (@voiceformenind) May 6, 2022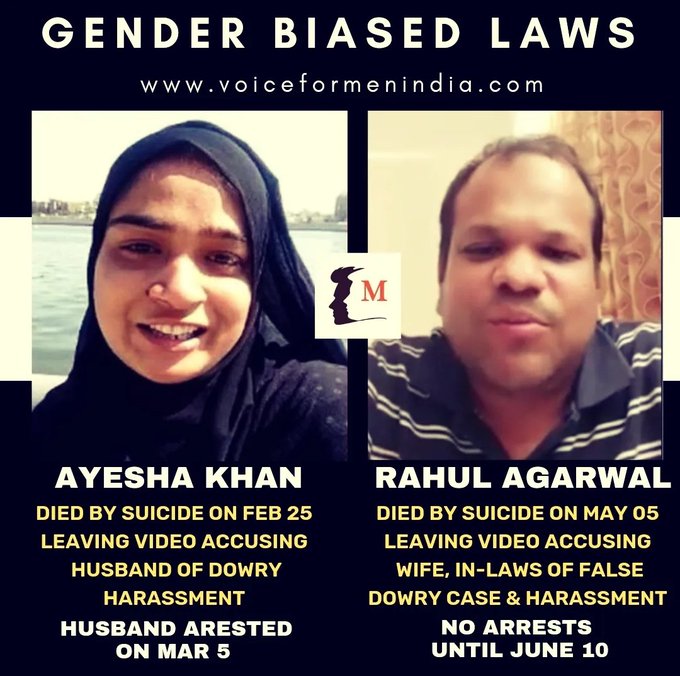 Join our Facebook Group or follow us on social media by clicking on the icons below
Donate to Voice For Men India
Blogging about Equal Rights for Men or writing about Gender Biased Laws is often looked upon as controversial, as many 'perceive' it Anti-Women. Due to this grey area - where we demand Equality in the true sense for all genders - most brands distance themselves from advertising on a portal like ours.
We, therefore, look forward to your support as donors who understand our work and are willing to partner in this endeavour to spread this cause. Do support our work to counter one sided gender biased narratives in the media.
To make an instant donation, click on the "Donate Now" button above. For information regarding donation via Bank Transfer, click here.