CRIME HAS NO GENDER…PERIOD…
We need to look at criminals without having any Gender Analysis of who the perpetrator or victim is.
In a shocking incident recently reported from Karnataka, a female Anganwadi daycare centre teacher has been arrested for brutally burning a minor boy's private parts.
Female Tutor Arrested For Inserting Pencil In Minor Student's Private Part & Sending Video To Her Boyfriend
Case:
KP Rashmi (accused woman) works as a teacher with the Anganwadi daycare centre in the Tumkur district of Karnataka.
She, along with her assistant burnt a 3-year-old boy's genitals with matchstick for urinating in his underpants. Police officials informed media that the horrific crime took place on Monday and the FIR was filed on Friday.
Police Statement
Superintendent of Police (SP) Rahulkumar Shahapurwad informed media personnels,
The Anganwadi has been booked under Juvenile Justice (Care and Protection of Children) Act 2015 and also under Section 285 IPC.
Elaborating on the reason for this horrendous crime, the cop said,
The child was wetting himself often. To stop it…they burnt him.
Rashmi had earlier tried to issue an apology and resolve the matter to avoid any legal action. However, the parents of the 3-year-old victim insisted on strict actions, and filed an FIR against her on Friday. The Women and Child Welfare Department (WCD) has also issued notice to the teacher, as reported by local media.
In another media report, the female teacher lit a match stick near the child's scrotum and said that she would not extinguish it, if he didn't stop wetting his pants. In the pursuit, she ended up injuring the child's private parts.
As per media reports, the victim has sustained burns on his private parts and thighs, however, the boy is reportedly out of danger.
The incident has shocked and angered the local community. Further probe into the brutal crime is said to be underway.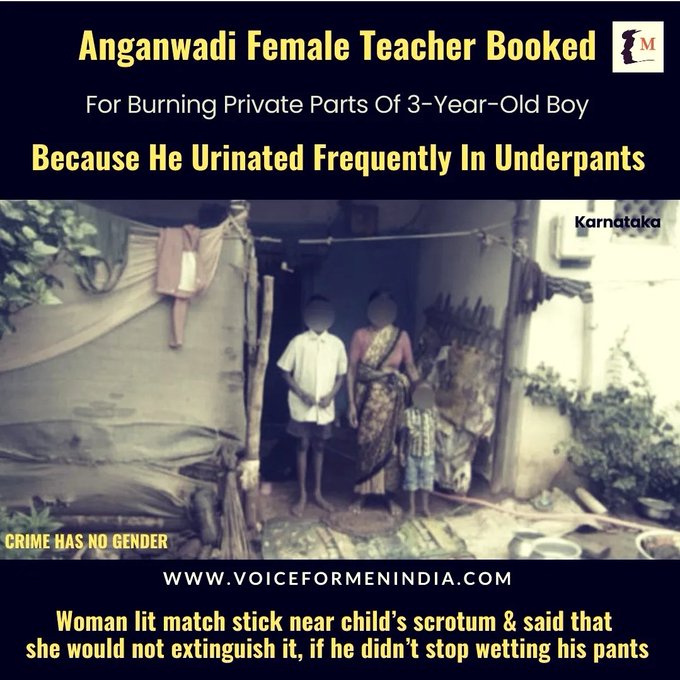 MUST WATCH:
VFMI Take:
Unfortunately NCRB does not record Crimes Against Men and thus the overall Gender analysis picture always remains skewed
Every crime is a crime, if we want to specially break it down into gender based crimes, why only report for one gender (Crimes Against Women)?
#Karnataka | Anganwadi Female Teacher Booked For Burning Private Parts Of 3YR Boy As He Urinated In Underpants

▪️Woman lit match stick near child's scrotum & said that she would not extinguish it, if he didn't stop wetting his pants

CRIME HAS NO GENDERhttps://t.co/c4IuAYyXwa

— Voice For Men India (@voiceformenind) September 5, 2022
ALSO WATCH:
Join our Facebook Group or follow us on social media by clicking on the icons below
Donate to Voice For Men India
Blogging about Equal Rights for Men or writing about Gender Biased Laws is often looked upon as controversial, as many 'perceive' it Anti-Women. Due to this grey area - where we demand Equality in the true sense for all genders - most brands distance themselves from advertising on a portal like ours.
We, therefore, look forward to your support as donors who understand our work and are willing to partner in this endeavour to spread this cause. Do support our work to counter one sided gender biased narratives in the media.
To make an instant donation, click on the "Donate Now" button above. For information regarding donation via Bank Transfer, click here.