Cyber crimes are on the rise and most often it is the women or fraudsters posing as women who are trapping young men. In an unfortunate incident reported from Pune, a male student died by suicide after he was blackmailed for money and threatened to make his private video public.
Case:
A 22-year-old ITI student in Pune ended life after falling for an online scam. The young boy was allegedly being blackmailed by a fraudster for money, who threatened to make his private video public.
The police have now booked an unidentified online fraudster who allegedly used a WhatsApp number with the profile picture of a woman to chat with the deceased, reported The Indian Express. 
Bengaluru Engineer Dies By Suicide After Being Blackmailed By Nude Gang On Instagram
Police Statement
As informed to media, the student died by suicide on September 30 at his Tanaji Nagar home. The local police initially received a complaint of accidental death and an enquiry was launched in the matter.
Investigation revealed that the victim had several Whatsapp conversations with the suspected fraudster.
Berad, Assistant Police Inspector said,
On September 30, the deceased and the suspect engaged in lengthy conversations for about two and a half hours. The deceased and the accused have engaged in text conversations as well as voice and video calls.

By threatening to post the pornographic video of the deceased on sites like Instagram, Facebook, and YouTube, the accused first demanded money from the victim.
Adding further, the police officer shared,
As a result of her fear, the deceased transferred the accused Rs 4,500 in several online transactions using PhonePe. But the accused pressed for more cash.

The accuser was asked by the victim to stop intimidating him. Additionally, he announced his impending suicide in a WhatsApp message to the accused. The accused nevertheless threatened to go viral with his video. The victim later died by suicide.
The police have filed charges under:
Section 306 (abetting suicide)
Section 384 (extortion)
Sections of the IT Act
The accused's cell phone number and the accounts to which the funds were transferred are both being tracked by the police. Investigation is ongoing.
Social Media User Shares His Shocking Experience Of Nude Call By Unknown Woman At Midnight
VFMI Take:
Nude call gangs and online fraudsters are increasing daily
Usual modus operandi by these gangs are sending random messages to chat or video call
Once the victim falls prey and answers the call, he will see a nude girl on the screen
This is immediately recorded and the clip is forwarded to the victim, blackmailing him for money
Do not fall for any such blackmail or threats
Firstly, refrain from engaging with any unknown number – whether text or video chat
Even if you happen to do so ignorantly and you get messages for money, immediately report the same to the police
Never ever fear for loss of shame or any action against you
Please do not end precious life for such scams
Do watch a detailed video below by Jammu Police in this matter
Suicide Prevention Helpline
Men in distress due to family problems or facing threats of false cases from in-laws can contact either of the Men's Rights NGOs:
Men Welfare Trust, My Nation Hope Foundation, Save Indian Family Foundation, & Vaastav Foundation.
You can also contact Government of India 24×7 toll-free mental health rehabilitation helpline 'KIRAN' on 1800-599-0019
22-Year-Old Pune Student Dies By Suicide After Being Blackmailed To Make Private Video Public | Watch Police Advice In Such Cases

▪️Do not answer/chat with unknown numbers
▪️Even if you get trapped, report to police immediately
▪️Never end precious lifehttps://t.co/bgBrpS7ySy

— Voice For Men India (@voiceformenind) October 11, 2022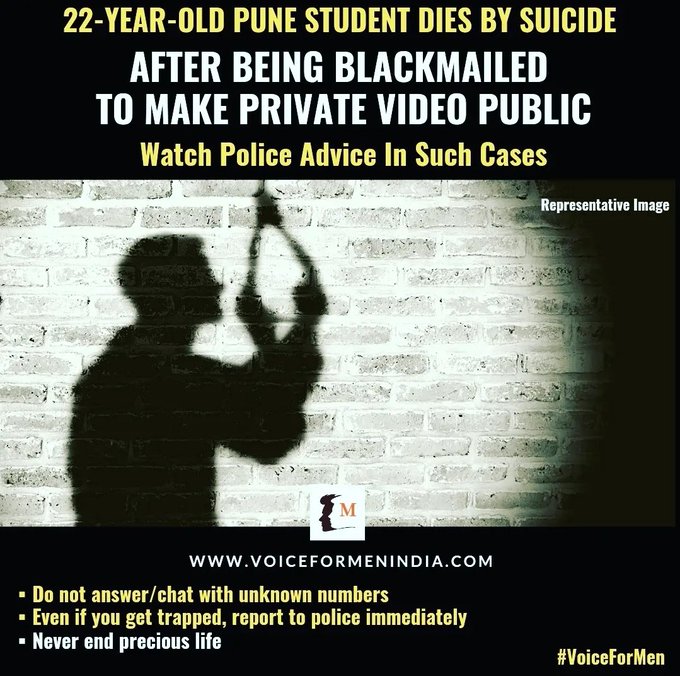 WATCH:
Join our Facebook Group or follow us on social media by clicking on the icons below
Donate to Voice For Men India
Blogging about Equal Rights for Men or writing about Gender Biased Laws is often looked upon as controversial, as many 'perceive' it Anti-Women. Due to this grey area - where we demand Equality in the true sense for all genders - most brands distance themselves from advertising on a portal like ours.
We, therefore, look forward to your support as donors who understand our work and are willing to partner in this endeavour to spread this cause. Do support our work to counter one sided gender biased narratives in the media.
To make an instant donation, click on the "Donate Now" button above. For information regarding donation via Bank Transfer, click here.