According to the rape laws in India, a woman can charge her male partner of rape, if he backs out from marriage after consensual sex. While the accusations levied are sexual exploitation on promise of marriage, various courts have interpreted respective cases differently. 
On the other hand, men have no recourse whatsoever, when their girlfriends dump them and leave to marry a better prospect…..even after years of dating and making them wait in the hope of marriage. 
One such Voice For Men India Reader reached out to us, sharing #HisStory and also sharing an RTI response if, as a man, he could take any action in such a scenario. Here's what he has to say!
Message From Reader | Thread

"My brother was dating a girl since college. It was clear from Day 1 tht they won't marry if either side parents disagree

GF got job first, started getting marriage proposals. While brother was preparing for comepetive exams, he told her…"

CONT..

— Voice For Men India (@voiceformenind) October 10, 2022
His Story
While pursuing a certificate course in 2013, I became friends with one of the girls in our batch. Once our academic session was completed in October 2014, she moved to Mumbai for a job, while I stayed back in Delhi.
In the same month, while talking over phone, she expressed her love towards me – we were just good friends at this point in time. Since I was also fond of her, we mutually got into a relationship, of course…had to be a long distance one.
We would call each other almost daily, and eventually, I also started visiting Mumbai to meet her. We would take short trips nearby and needless to mention that we shared physical relationship as well.
All was well until April 2020…things were normal, we were happy, used to go on trips together but suddenly in May 2020 during lockdown, she moved on with one of her office colleagues.
All through the 8-9 years of our friendship and then relationship, I never spoke to her badly, forget about hitting or abusing her. I truly loved her and was almost under her complete control. Whatever she would say, I would just agree to avoid unnecessary fights or arguments. 
Since we were mostly in a long distance relationship, I would not know if she had been meeting someone else as well in my absence. I never doubted her…Yet, I was dropped like a hot potato without reasoning, leaving me in distress and complete trauma. 
Uttar Pradesh NCRB Rape Report 2019|57% Cases Account For Rape On Promise Of Marriage
She Wanted To Migrate To Canada
Later, I learnt that she had got acquainted with this other man on a common site while searching for a job in Canada in the year 2019. I am assuming they would have been in touch since then.
She would forward Obscene Photographs to me
Our relationship was not some fly by night sexual encounter, but we shared very personal moments with each other. During our happy times, she even shared several of her obscene photographs with me….I never asked for the same, yet she would forward the same across.
I had been a good boyfriend, ordered apparels, birthday cakes, gifts, etc. for her several times…but guess that is not enough to be a good partner. 
READ ORDER | Fiancée Files Rape Case Against Fiancé After He Breaks Up Engagement Citing Her Alleged Affairs: Punjab & Haryana HC Refuses Anticipatory Bail
Had Informal Marriage Too
My girlfriend had made me swear in the name of Lord Mahadev, that we will not leave each other ever. We also did 7-times parikrama at a temple, but unfortunately, I don't have any photographs as evidence.
I Wanted To End Life…
I was so much traumatised when she left me abruptly, that I even thought of dying by suicide, several times…but somehow I refrained myself from doing so.
I feel Sexually Exploited after being Dumped
I tried reaching out to her parents but there was no response.
After she left me suddenly, I feel sexually exploited on the promise of marriage and am mentally troubled as well.
When a man leaves his girlfriend, she files multiple cases against him, including that of rape. As a man, I also want to take some action against her, who literally used me and later just vanished with another man. 
In order to explore, if I had any rights as a male to file a case of sexual exploitation on pretext of marriage, I filed an RTI with Delhi Police. 
Interview | Rape Law On Ground Of False Promise Of Marriage Is Highly Archaic: Hemant Batra (Public Policy Advocate)
RTI Filed by Self
Mention the Criminal Procedure Code (CrPC) under which an Indian unmarried female can be booked for sexual exploitation of an Indian unmarried male on the pretext of marriage
Mention the Criminal Procedure Code (CrPC) under which an Indian unmarried female may be booked for sending her own obscene and/or
nude photographs to her Indian male friend
Provide Sections, Sub-Section, Clause(s) and/or Rule(s) of Indian Constitution where rape and/or sexual abuse to an Indian male has been
described or mentioned
RTI Response
Below is the response received with regards to the RTI filed by me:
Interpretation of law does not come under the purview of 2(f) of RTI Act 2005. However, you are advised to seek opinion of legal consultant. 
Should men be charged for rape if they back out from marriage?
If yes, why is there no action against girlfriends who leave their boyfriends?
Leave your thoughts below:
Does Man Have Any Law To Take Action Against Girlfriend Who Used Him Sexually On Promise Of Marriage?

▪️Read RTI Response#VoiceForMen #HisStory https://t.co/IM2A02Qh0w

— Voice For Men India (@voiceformenind) October 11, 2022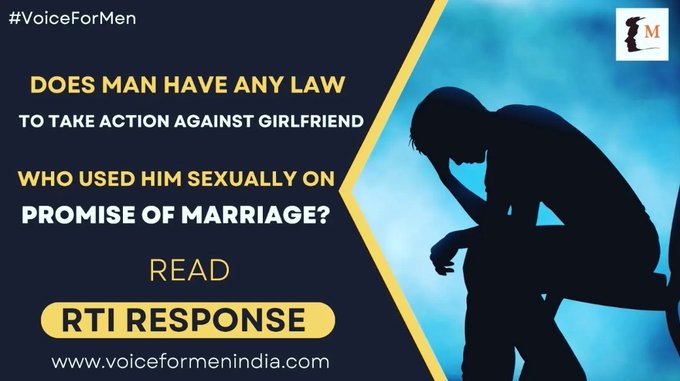 WATCH:
Vijay Babu Pre-Arrest Bail Granted By Kerala HC | Discussion With Activist Mithun Vijay Kumar
ALSO READ –
If A Woman Tricks A Man Under False Promise Of Marriage, She Can't Be Prosecuted; What Kind Of Law Is This? | Questions Kerala High Court
#JusticeForJeet | UPSC Aspirant Ends Life After Girlfriend Of Nine Years Backed Out From Marriage
Join our Facebook Group or follow us on social media by clicking on the icons below
Donate to Voice For Men India
Blogging about Equal Rights for Men or writing about Gender Biased Laws is often looked upon as controversial, as many 'perceive' it Anti-Women. Due to this grey area - where we demand Equality in the true sense for all genders - most brands distance themselves from advertising on a portal like ours.
We, therefore, look forward to your support as donors who understand our work and are willing to partner in this endeavour to spread this cause. Do support our work to counter one sided gender biased narratives in the media.
To make an instant donation, click on the "Donate Now" button above. For information regarding donation via Bank Transfer, click here.