Con Brides in Punjab continue to fool their Husbands and in-laws, as government looks the other way with no stringent laws to against such women.
In yet another case reported from the state of Punjab, a married woman made her in-laws fund for her immigration to Australia, and once her motive had been achieved, she disconnected all ties with her husband and in-laws back in India.
Must Have Law Against Runaway NRI Brides: Congress MP Jasbir Singh Gill
Case:
Karandeep Kaur got engaged to Ajmer in 2018. During the period between engagement and marriage, it was agreed that Ajmer's family would fund for Karandeep's relocation to Australia. It was also decided that Karandeep would later take Ajmer abroad with her on a spouse visa.
In 2020, Karandeep returned to India and got married to Ajmer. The couple stayed together for around a week, before the bride left for Australia alone and disconnected all communication with husband and in-laws.
Husband Sends Wife To NZ On Study Visa By Paying Rs 21 Lakhs | Wife Blocks His Mobile After Reaching
Sukhjit Kaur, Ajmer's mother, lodged a complaint with the police accusing her daughter-in-law and her parents of duping her son and their family. In her complaint, Sukhjit said,
On July 1, 2018, Karandeep was sent to Australia, after we spent around Rs 26 lakh to facilitate her relocation. She came to India after two years and then married Ajmer at a gurdwara in Rania. After the wedding, the couple stayed in Budhi Mari for about a week as Karandeep insisted on flying back to Australia and said she would get all the formalities done to call Ajmer there.
Punjab Youth Commits Suicide As NRI Wife Constantly Harassed Him For Money
Adding further, Sukhjit said,
Karandeep went to meet her parents before leaving for Australia, but she left the country without informing her husband.

When Ajmer spoke to her, Karandeep said she would not call him as they had planned to cheat us only for our money. When we contacted Karandeep's family members, even they gave similar reply. 
Police Investigation & Statement
In their preliminary investigation, police have found the allegations to be true. A case has been registered at Ellenabad police station, on the complaint of Sukhjit Kaur.
The complaint has been registered not just against Karandeep, but also her parents Mahinder Singh and Jaswinder Kaur, all from Dhani Balasar village of Rania area of Sirsa district. Police has also booked one Harmel Singh, a resident of Adamke village in Mansa district, in the matter.
3600 Punjab Men Have Been Duped Of Rs 150 Crore In Last 5-Years Due To Contract Marriage Fraud
VFMI Take:
This form of arrangement is termed as 'contract marriage' in Punjab
While young grooms and their families are equally to be blamed for getting lured into such contracts, often it is the middlemen who bring potential brides for marriage – women who have passed their IETLS exams and who are eligible to go abroad
A deal is struck between both sides, that groom's family would pay X lakhs to relocate the 'English Speaking' daughter-in-law, who would eventually sponsor spouse visa for the groom
In several cases, these con brides do not return to India and cut off all ties with husband and their families
As per a detailed report (as above) this contract marriage scam running into hundreds of crores
If a man would desert his wife back in India, Ministry of External Affairs would also get involved to drag him back, however, there is no such law when a woman deserts her husband back home
Often, the police registers a case of fraud, and the con bride is rarely traced back from a foreign land
Woman Disconnects Communication With Husband In Punjab After In-Laws Fund Lakhs For Her Australian Immigration

▪️Groom's Mother: "We spent around Rs 26 lakh to facilitate her relocation. She left without informing us & cut all ties"@BhagwantMann @CMOPbhttps://t.co/zAcMJFIPEp

— Voice For Men India (@voiceformenind) September 28, 2022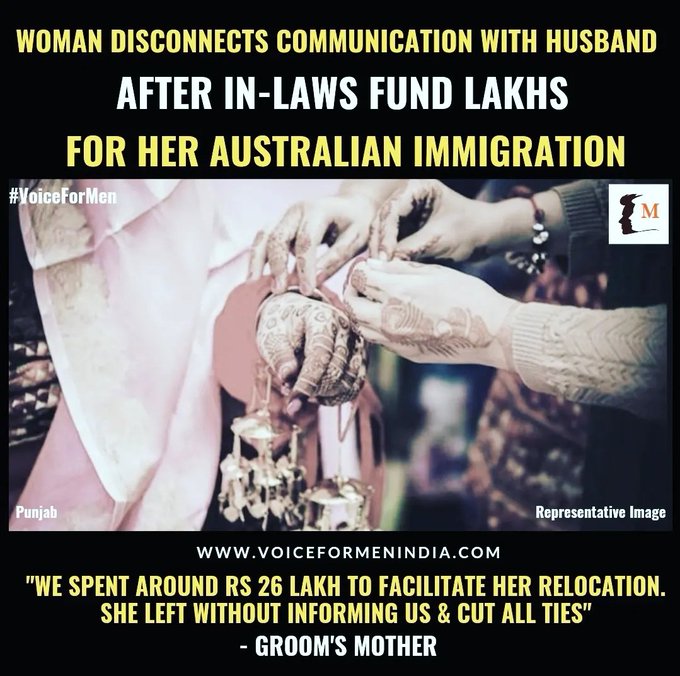 MUST WATCH:
Sarvjeet Singh Bedi | Cant Prosecute Jasleen Kaur U/s 340 CrPC For Mere Loss Of Reputation: Delhi HC
Join our Facebook Group or follow us on social media by clicking on the icons below
Donate to Voice For Men India
Blogging about Equal Rights for Men or writing about Gender Biased Laws is often looked upon as controversial, as many 'perceive' it Anti-Women. Due to this grey area - where we demand Equality in the true sense for all genders - most brands distance themselves from advertising on a portal like ours.
We, therefore, look forward to your support as donors who understand our work and are willing to partner in this endeavour to spread this cause. Do support our work to counter one sided gender biased narratives in the media.
To make an instant donation, click on the "Donate Now" button above. For information regarding donation via Bank Transfer, click here.