Too many 'Gone Girl' stories in India! In a recent case reported from Uttar Pradesh's Vrindavan this time, a man and his friend spent months in jail on charges of murdering his wife, while the woman has been found alive, re-married and living with her second husband.
These cases raise serious questions on our investigation process and judiciary before throwing innocent men in jail.
Bihar Woman Found Living With Lover While Husband Was Serving Jail Term On Charges Of Her Murder
Case:
31-year-old Sonu Saini spent eighteen months in jail and his 30-year-old friend Gopal Saini spent nince months in jail – on charges of murdering Sonu's wife Arti Devi. Both are currently out on bail. The husband and his friend used to work at a local eatery.
According to police, Sonu and his wife Arti were living in a rented home in Vrindavan. In 2015, within eight days of marriage, Arti started demanding money from her husband. When he couldn't fulfil her demand, she suddenly disappeared from her husband's home and her father Suraj Kumar Gupta had then lodged a missing complaint.
Later, in 2016, the father claimed an unidentified body as his daughter Arti, which landed both Sonu and his friend Gopal behind bars on mere suspicion.
Interestingly, the cops probing the case were even rewarded with Rs 15,000 for nabbing the two accused men.
2022! Woman found alive
Six years later, Sonu and Gopal managed to tracked down Arti and intimated Mathura police. Shockingly, she is now remarried and living happily with her second husband in Dausa, Rajasthan, even while her first husband and his friend are facing charges of her murder.
The woman has been detained and the police have launched a detailed probe. A DNA test will also be undertaken shortly.
UP Man In Jail Since 7-Years On Charges Of Murdering Woman…Who Is Now Found To Be Alive Living With Husband & Kids
Police Statement
While speaking to media, a police officer said,
Sonu Saini met Aarti Devi when she had visited Mehandipur Balaji temple, situated on the border of Karauli and Dausa districts of Rajasthan, along with her father Suraj Prakash Gupta. They had a court marriage in 2015 without informing her father who lodged a complaint.

The murder charge was added to the FIR in March 2016, against three named accused and Sonu and Gopal were arrested. They were later granted bail by the Allahabad high court.
After her detention on Sunday, Arti Devi has been found with two Aadhaar cards carrying two different dates of birth.
Watch Video & Leave your thoughts on this case below:
https://twitter.com/voiceformenind/status/1602603206734929921?s=20&t=Msv4B1aRKBZpHPPgR5XVIw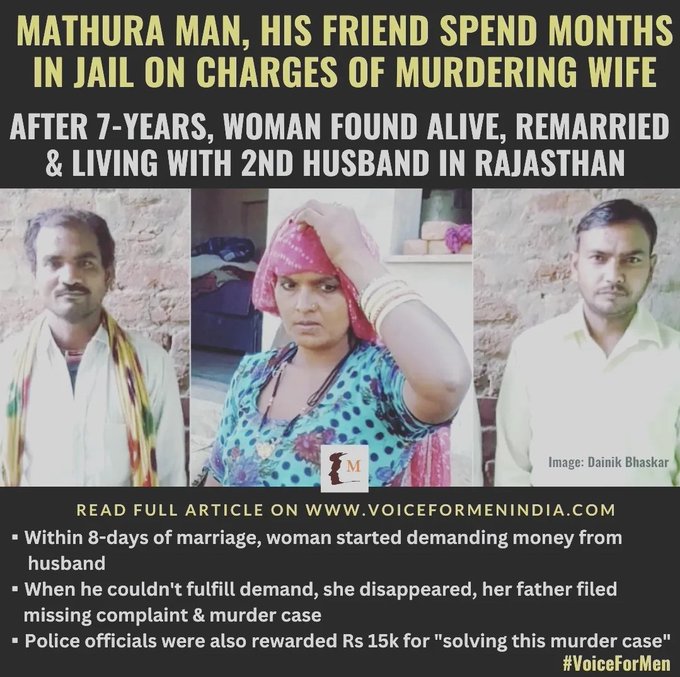 Join our Facebook Group or follow us on social media by clicking on the icons below
Donate to Voice For Men India
Blogging about Equal Rights for Men or writing about Gender Biased Laws is often looked upon as controversial, as many 'perceive' it Anti-Women. Due to this grey area - where we demand Equality in the true sense for all genders - most brands distance themselves from advertising on a portal like ours.
We, therefore, look forward to your support as donors who understand our work and are willing to partner in this endeavour to spread this cause. Do support our work to counter one sided gender biased narratives in the media.
To make an instant donation, click on the "Donate Now" button above. For information regarding donation via Bank Transfer, click here.