Finally Men are waking up and at least taking the initiative to demand justice after being falsely implicated by women in serious crimes such as rape.
A tribal man from Madhya Pradesh has sued the state government seeking a compensation of Rs 10,000 crore, after he was jailed for 666 days on fake gangrape charges.
Mumbai Brothers Spend Nearly Two Weeks In Jail In False Gang Rape Case; Bail Granted After Intervention Of Mumbai Police Commissioner
Case:
Kantu alias Kantilal Bheel, (35), from Ratlam, was booked by police for gang rape in January 2018, after a woman filed a complaint accusing him of taking her on his bike, promising to give her a lift to her brother's house, but instead drove to a forest where he raped her.
According to the complaint, Kantu then called co-accused Bheru Amliyar and "handed her to him". She then accused Bheru of taking her towards Indore on the pretext of labour work but raped her for six months there.
Subsequently, a case was registered on July 20, 2018, against Kantu and Bheru on IPC charges 366 (kidnap) and 376 (gang rape). Kantu was on the run, however, got arrested on December 23, 2020. On October 10 last year, a sessions court acquitted both the accused, observing that the prosecution failed to establish guilt beyond reasonable doubt.
Nagpur False Gang Rape Case | DCP, 25 Officers Remained Without Food Throughout Investigation
Kantilal's Petition Demanding Compensation
Sharing his pain with the media, Kantilal said that he was still tormented by his ordeal in prison. Adding further he stated that the accusation and jail time turned his world upside down and put his wife, children and elderly mother through great pain.
Speaking with TOI, the petitioner expressed,
I can't describe the suffering I went through during those two years of imprisonment. My family can't even afford innerwear. I faced extreme weather, like heat and cold, without clothes in prison.
After Negative Rape Reports, Two Women Confess Filing False Gang Rape Case Against Amritsar Priests
Being a bread-earner for a family of six, he said,
The jail ordeal caused a skin disease and some other ailments, including a permanent headache that torments me even after my release. Imagine what my family went through without me.

By goddess' grace, I got out of the prison. I want payback for every day that I was falsely locked up behind bars.
Kantilal's petition accuses police of giving "false, fabricated and defamatory statements" against him and says that the false charge ruined his life and career. He seeks compensation from the state government:
Rs 1 crore compensation each for loss of business and profession, loss of reputation and credit, on account of bodily harm and mental pain, loss of family life and loss of opportunities for education and career progression
Rs 10,000 crore for "loss of God's gift to humans e.g sexual pleasure"
Rs 2 lakh to cover litigation costs during his time in prison
After Filing 19 False Gang Rape Cases, Haryana Woman Arrested; Lady SI Who Helped Her Is Absconding
Kantu is being represented by lawyer Vijay Singh Yadav, and the district court is scheduled to hear the matter on January 10.
LEAVE YOUR COMMENTS BELOW:
Tribal Man Sues Madhya Pradesh Government Demanding Rs 10,000 Crore Compensation For Sending Him To Jail In False Gangrape Case

"Accusation & jail time turned my world upside down…put my wife, kids, elderly mother through great pain"#VoiceForMenhttps://t.co/cI6Qprglgs

— Voice For Men India (@voiceformenind) January 5, 2023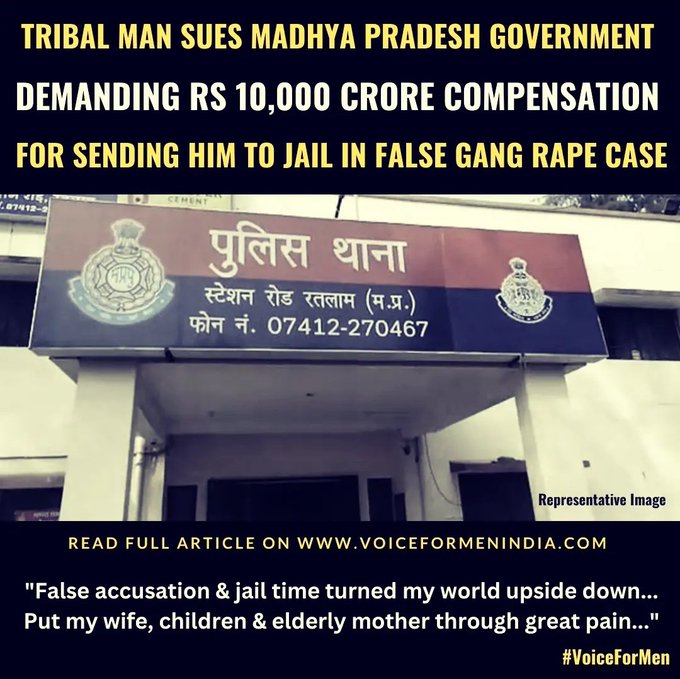 MUST WATCH:
Ghaziabad Gang Rape Case False: Police
Join our Facebook Group or follow us on social media by clicking on the icons below
Donate to Voice For Men India
Blogging about Equal Rights for Men or writing about Gender Biased Laws is often looked upon as controversial, as many 'perceive' it Anti-Women. Due to this grey area - where we demand Equality in the true sense for all genders - most brands distance themselves from advertising on a portal like ours.
We, therefore, look forward to your support as donors who understand our work and are willing to partner in this endeavour to spread this cause. Do support our work to counter one sided gender biased narratives in the media.
To make an instant donation, click on the "Donate Now" button above. For information regarding donation via Bank Transfer, click here.
Alternately, you can also donate to us via our UPI ID: [email protected]