Is women empowerment in India going completely wrong? Have we reduced feminism and women's issues to appeasement and vote bank politics instead of making women truly equal?
In a recent report from Telangana, the state government on Sunday has announced a special holiday for all government and private sector female employees on the occasion of Women's Day 2023 (March 08). 
Women Rights Activists Threaten Dharna Over Rajasthan State Commission For Women's Order To Prosecute All Who File False Rape Cases
The KCR government issued an order on March 5 stating all women employees in the state will be given a holiday on Women's Day. The order also stated that all women working in private companies could avail this in the form of special casual leave.
In fact, as per the report, the state government has instructed compulsory leave to women employees on this day. 
Chhattisgarh Women's Commission Boasts Of Settlement Between Couple After Husband Agrees To Pay 75% Monthly Salary To Wife | Social Media Reacts
The state has been maintaining this practice since some years now. In 2021, speaking with media, Governor Tamilisai Soundararajan then said,
Our heritage, culture, and traditions for centuries respect and honour women and worship them as the personification of Goddess Shakti.
Adding further, Soundararajan said,
It is high time that we truly imbibe and implement the spirit of gender equality and promote women in decision-making in all spheres of life for a more equitable, and inclusive world.

Let us all resolve and work for the all-round development of women and gender equality in true spirit of the International Women's Day-2021 theme- "Women in leadership: Achieving an equal future in a COVID-19 world.
In Absence Of Men's Commission, Husbands Are Approaching Women's Cell Complaining Of Domestic Abuse By Wives
In 2022 as well, Chief Secretary Somesh Kumar had issued a 'Government Order' (GO) for special casual leave for all women employees on International Women's Day.
2012 | UPA II Cabinet's Proposal Of Making Rape Gender Neutral Offence Was Opposed By Women's Groups
VFMI Take:
India seems to be losing its plot on women empowerment
Instead of making women equal, each and every government is outperforming the other, to appease women
It actually suits political leaders to give privileges to women, keeping them as weaker sex, thereby, re-asserting that women are not equal to men
There is also a new PIL in the Supreme Court for paid menstrual leaves for women employees
Such drastic orders may only lead to many mid-size and small-size set ups to stop hiring women in the future
Leave your comments below:
Special Casual Leave For All Female Employees On #InternationalWomensDay: @TelanganaCMO

🔹VFMI:

▪️#WomensDay holiday has been ongoing in the state since some years now

▪️Is Women Empowerment going completely wrong?#EqualityMustBeEqual#VoiceForMenhttps://t.co/XeYHdQijsB

— Voice For Men India (@voiceformenind) March 6, 2023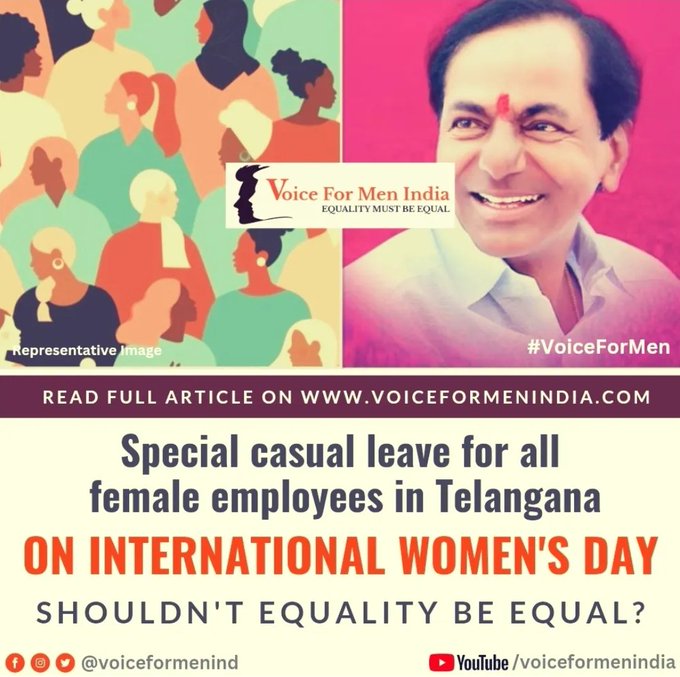 DO WATCH:
Schools With More Female Staff See More Fights | Rajasthan Education Minister
ALSO READ –
Andhra Pradesh High Court Terms 100% Women Reservation In Govt House Allotment Scheme Unconstitutional; Discriminates Against Men
Join our Facebook Group or follow us on social media by clicking on the icons below
Donate to Voice For Men India
Blogging about Equal Rights for Men or writing about Gender Biased Laws is often looked upon as controversial, as many 'perceive' it Anti-Women. Due to this grey area - where we demand Equality in the true sense for all genders - most brands distance themselves from advertising on a portal like ours.
We, therefore, look forward to your support as donors who understand our work and are willing to partner in this endeavour to spread this cause. Do support our work to counter one sided gender biased narratives in the media.
To make an instant donation, click on the "Donate Now" button above. For information regarding donation via Bank Transfer, click here.
Alternately, you can also donate to us via our UPI ID: voiceformenindia@hdfcbank