The Union government has defended before the Supreme Court legal provisions on restitution of conjugal rights, saying it was aimed at bringing in cohabitation between estranged parties so that they can live together in the matrimonial home in amity.
Responding to a petition challenging the provisions of RCR (Restitution of Conjugal Rights), the Modi Government said,
The remedy of restitution of conjugal rights, is a positive, useful and practical matrimonial remedy, available to both spouses in equal measure and vigour, which is widely used by estranged couples in an endeavour to find solutions to matrimonial differences and problems, which may not be so grave so as to warrant taking recourse to more serious remedies, that invariably push the already strained marital relationship to a point of no reconciliation.
Lok Sabha Winter Session 2021 | Government Refrains From Commenting On Uniform Civil Code
What is RCR?
In simple terms, Restitution of Conjugal Rights is a provision avaiable to either spouse to continue matrimonial relationship, even when the other has filed for divorce. The same can be filed under:
Section 9 of the Hindu Marriage Act
Section 22 of the Special Marriage Act and Rules 32
33 of Order XXI of the Code of Civil Procedure
These provisions empower courts to pass a decree of restitution of conjugal rights to an estranged couple.
Bengaluru Techie Writes Open Letter To PM Modi To Stop Legal Extortion By Wives From Men & Their Families
About the Plea
Pleas have been filed by Ojaswa Pathak and Mayank Gupta, the students of Gujarat National Law University at Gandhinagar, who challenged the validity of section 9 of the Hindu Marriage Act (HMA), Section 22 of the Special Marriage Act (SMA) and certain provisions of the Code of Civil Procedure (CPC). The petitioners are being represented by Senior advocate Indira Jaising.
On January 14 2019, the top court had sought assistance of the Attorney General in the matter. On March 5, 2019, the top court had referred to a three-judge bench a plea challenging the Constitutional validity of provisions in the matrimonial laws empowering courts to ask estranged spouses to "cohabit".
The plea has referred to the nine-judge verdict that held privacy as one of the fundamental rights and assailed the legal provisions of the HMA and the SMA, saying that they force mostly unwilling women to cohabit with their estranged husbands.
The plea said,
Courts in India have understood 'Conjugal rights' to have two key ingredients: cohabitation and sexual intercourse. Under the legal scheme in India, a spouse is entitled to a decree directing his other spouse to cohabit and take part in sexual intercourse. He or she is also entitled to coercive measures in the form of attachment of property in case the spouses wilfully disobey the decree of restitution.
The plea added,
The legal framework is "facially neutral" and places a "disproportionate burden on women"…it is "based on feudal English law which regarded a woman as 'chattel' of her husband".

The remedy of restitution of conjugal rights was not recognized by any of the personal law systems of India. The same has its origins in feudal English Law, which at that time considered a wife to be the chattel of the husband. The United Kingdom itself has abolished the remedy of restitution of conjugal rights in 1970.

It is steeped in a patriarchal gender stereotype and is violative of Article 15(1) (prohibition of discrimination on the ground of gender etc) of the Constitution.
Government Of India Begins Process To Amend IPC, CrPC & Indian Evidence Act
Modi Government's Response 
The Centre under the leadership of PM Narendra Modi has submitted that the provisions provide for the remedy of restitution of conjugal rights without any discrimination on the basis of gender.
It has been pointed out that provisions of restitution of conjugal rights are available under the personal law of every major religion prevalent in the country. However, the challenge in the present petition has been restricted to the provisions under the Hindu Marriage Act, 1955 and the Special Marriage Act, 1954.
It has been submitted that the statutory mechanism provided in the various enactments for restitution of conjugal rights is aimed at bringing in cohabitation between estranged parties so that they can live together in a matrimonial home.
According to the government, enactments for restitution of conjugal rights allow spouses access to a relatively soft legal remedy by which they can iron out differences arising out of the normal wear and tear of matrimonial life with judicial intervention. Further, they are aimed towards cohabitation and consortium and not merely sexual intercourse.
According to the Centre, the remedy of conjugal rights is gender neutral in the constitution and gender neutral in its operation, and in reality the remedy is availed of by spouses of both sexes and no evidence has been led to establish any discrimination in the operationalisation of the remedy. The Centre further added,
It is submitted that, in fact, the remedy enables both sexes to enforce their marital rights within a reasonable framework and in no way does it create an unequal playing field.
The Centre has submitted that through the enactments under question, the state does not seek to violate the privacy of any individual. It is submitted that the restitution of conjugal is available to either spouse and operate within the framework of marriage, within judicial parameters and interventions without any intervention or role on part of the state. The Centre said,
The remedy of conjugal rights is in sync with the ecosystem of marriage laws and has enough checks and balances to ensure that the same is just, fair and reasonable in order to not fall foul of article 21.
Remedy To Either Spouse Who Has Been Deserted By Other
The Union Government has submitted that section 9 of the Hindu Marriage Act, 1955 and section 22 of the Special Marriage Act, 1954, provide for a remedy to a married male and a female by seeking a decree of restitution of his or her conjugal rights which may be used by a deserted spouse against the other who has withdrawn from the society of his or her spouse without any reasonable excuse.
Former Women & Child Minister Maneka Gandhi Wanted To Arm NCW With More Criminal Court Powers; Modi Govt Withdrew Proposal
VFMI Take:
Marriage is a sacred institution…period
Couples should be willing to adjust and give it ample chance before filing for divorce
RCR is one of the remedies that allows some scope of compromise, even after a divorce is filed
This can be exercised, particularly, in cases that arise out of trivial matrimonial disputes which land up at court
Family Courts are already directed to explore if there is any scope of reconciliation between the husband and wife, for which we also have mediation centres
Having said the above, in our humble opinion, it is also not right to compel either spouses to co-habit with the other, where a marriage is long dead or there are instances of abuse and violence from either side
Where successive governments have failed miserably, is that they have not made these provisions or the right to challenge divorce time bound
Even after all attempts to unite a warring couple fails, currently there is no ground to end the dead bond which only exists on paper
Infact, the Centre has also currently dismissed to bring in Irretrievable Breakdown in Marriage as Grounds for Divorce (read end of the article)
RCR is surely Gender Neutral, however, what we need to understand is whether any court of law can force either a man or a woman to co-habit with their respective spouse against their wishes?
While the above plea is extremely biased projecting only women as chattels of husbands, the petitioners fail to recognise how disgruntled wives too, demand the same under RCR after being abusive and causing mental trauma to their husbands
To conclude, RCR can be a remedy, but should have a time limit – If either spouse refuses to co-habit with the other…say after 3-years of separation, a divorce must be granted by default
Currently, infact it is the estranged wives who are having the last laugh, because even without a divorce or co-habitation, the husband is duty bound to pay them maintenance for life
Women Rights Activists only approach court for what is beneficial in their interest, instead of demanding fair and gender neutral laws
LEAVE YOUR COMMENTS BELOW:
Restitution Of Conjugal Rights Is Positive, Useful & Practical Matrimonial Remedy For Both Spouses | Centre Defends RCR

▪️Plea In SC: "RCR places disproportionate burden on Women. Based on feudal English law which regarded woman as chattel of husband"https://t.co/G9vJY1Nagm

— Voice For Men India (@voiceformenind) September 8, 2022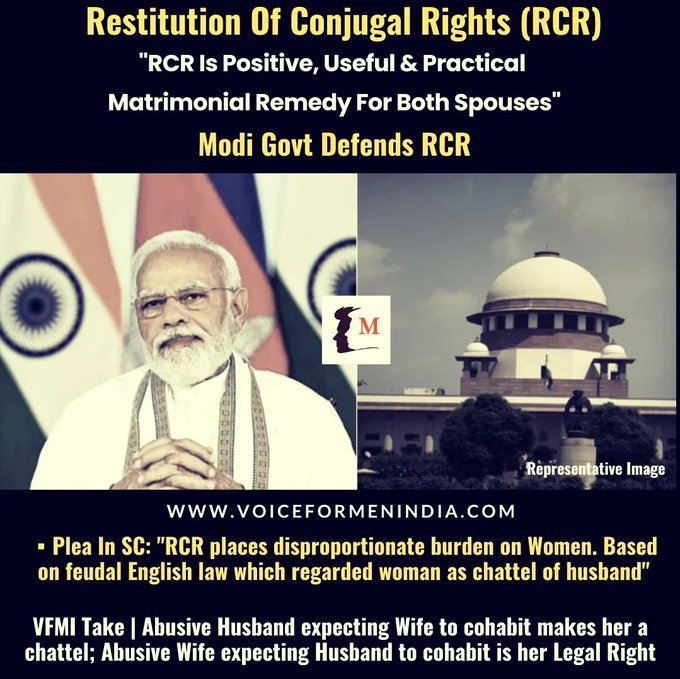 ALSO READ –
No Proposal To Allow Both Parties File For Divorce On Grounds Of "Irretrievable Breakdown" Of Marriage | Modi Government
Join our Facebook Group or follow us on social media by clicking on the icons below
Donate to Voice For Men India
Blogging about Equal Rights for Men or writing about Gender Biased Laws is often looked upon as controversial, as many 'perceive' it Anti-Women. Due to this grey area - where we demand Equality in the true sense for all genders - most brands distance themselves from advertising on a portal like ours.
We, therefore, look forward to your support as donors who understand our work and are willing to partner in this endeavour to spread this cause. Do support our work to counter one sided gender biased narratives in the media.
To make an instant donation, click on the "Donate Now" button above. For information regarding donation via Bank Transfer, click here.